Gold explorer Meteoric Resources had a stagnating share price before announcing the company's acquisition of a Rare Earth Elements (REE) asset in Brazil.
The Caldeira Rare Earth Project is classified as a Tier 1 Ionic Clay Rare Earth Element Project.
The project had a history of prior exploration.
On 27th November of 2022, Meteoric Resources announced to the market that the company had completed its drilling campaign on the Palm Springs Gold Mine in Western Australia. At the time, this was the company's flagship project.
In a matter of days, the company went into a trading halt. On 16th December, however, the company announced a major realignment in its primary focus, with the binding agreement to acquire a Rare Earth Elements (REE) asset in Brazil. The announcement stirred slumbering investors who began bumping up the share price.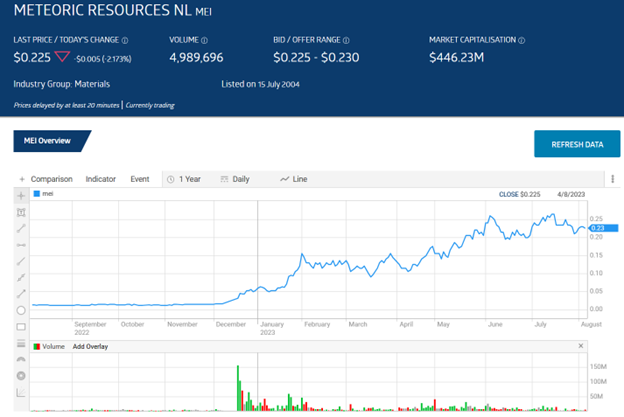 Source: ASX 
[spxArticleCta target='https://thebull.com.au/go/etoro-shares' text='Trade These Shares'] 
Year-over-year, the Meteoric share price is up 1,507%. Year-to-date, the share price is up 324.5%.
The Caldeira had a prior history of drilling between 2016 and 2019. Meteoric claimed early on that the Tier 1 Ionic Clay project had world class potential. By 24th July,  the assay results showed the presence of elements at a greater depth than the earlier drilling had found.
Rare earth elements from hard rock are more expensive to mine and process than Ionic clay rare earth deposits, which adds to the attraction of the Caldeira Project.
The maiden resource estimate at Caldeira was billed as "world class", with the possibility of substantial upgrades based on the depth of new drilling.
An analyst at Seneca Financial Solutions has a HOLD recommendation on MEI stock, citing that the project's zones of high-grade rare earths may be larger than anticipated.
Related Articles