In December 2022, Polynovo raised AUD$30m from an institutional placement.
Proceeds went towards the company's aggressive expansion efforts.
The company has been reporting record sales and revenue throughout 2023.
Polynovo has joined the ASX 200.
Polynovo has grown revenue in each of the last four fiscal years and is nearing profitability.
Polynovo Financial Performance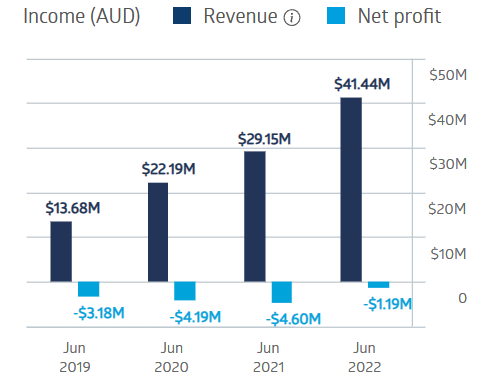 Source: ASX
On 6th June, the company reported sales for the month of May of AUD$7m, the highest monthly sales in the company's history. The result was led by record sales in the US market of AUD$5.2m (unaudited), a 97.3% increase over the same time last year.
The sales records have been increasing month to month, yet year to date the stock price is down 22.77% (as of 1:05pm on 2nd August).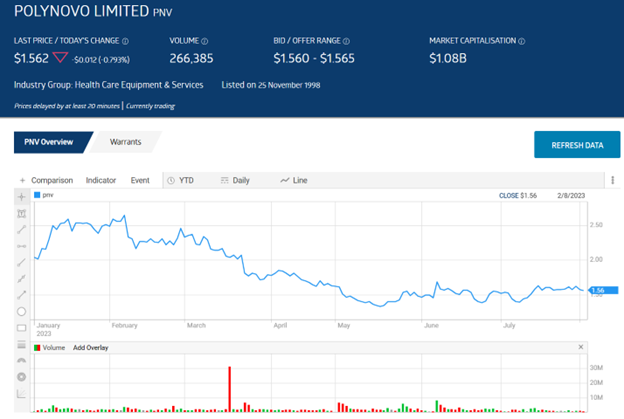 Source: ASX
The company's flagship project, NovoSorb, is a family of patented polymer-based tissue repair treatments. When applied, the NovoSorb treatment speeds healing and eventually 'biodegrades', uniting with the patient's own tissue.
NovoSorb is available here in Australia, in the US, in India and internationally.
The company's Half Year 2023 Financial Results showed global revenue growth of 62.2%, with US revenues increasing 61.10%, and in the rest of the world (ROW) revenues rose 110.1%. In December 2022, Polynovo expanded into Canada and Hong Kong.
An analyst at Medallion Financial Group has a BUY rating on PNV shares based on investments in sales in the US market, spurred by the company's strong financial position following a successful AUD$30m capital raise in December 2022.
In a 2nd May research report, Macquarie placed an OUTPERFORM rating on the stock with a 12-month price target of $2.75.
Related Articles