Fortescue Metals is the fourth largest producer or iron ore in the world.
The price of iron ore has seen volatility this year.
The Chinese economy is stuttering, risking a lowered demand for metals.
Over five years, Fortescue Metals has seen share price appreciation of 398.28% (as of 11:11 AM on 2 August), average dividend payments of $1.65 per share, and a five year average yield of 9.73%.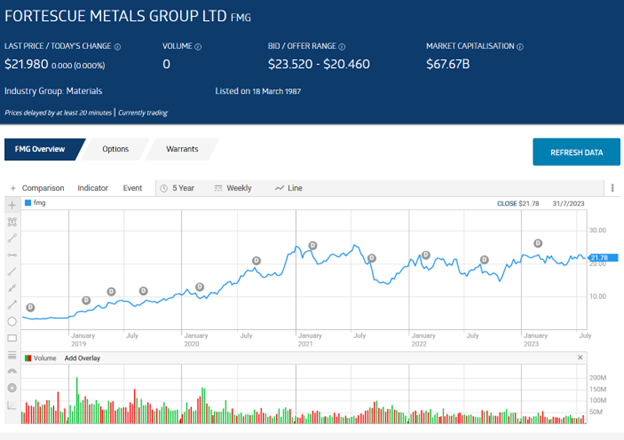 The price of iron ore over the past year has shown significant volatility. The price has been falling from a high of USD$162 per dry metric tonne in 2021.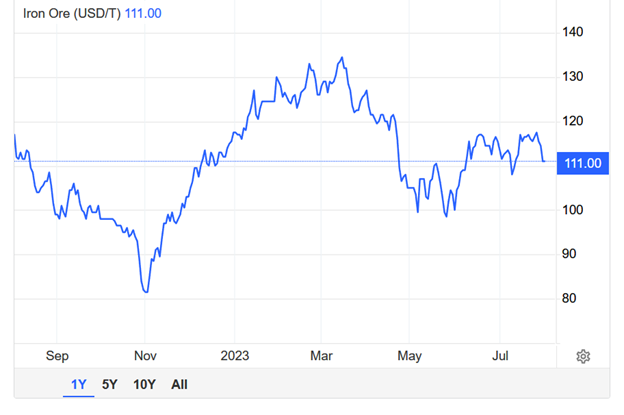 Source: Trading Economics
Fortescue Metals increased both revenue and profit from FY 2019 to FY 2021 before falling in FY 2022.
Fortescue Metals Group Financial Performance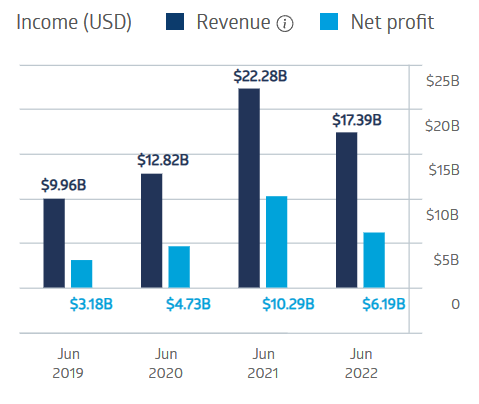 The Half Year 2023 Financial Results were less than encouraging, with a 4% reduction in revenue and a 15% drop in net profit.
The company added a new mine – Iron Bridge – to its stable, with production commencing in May of 2023. The latest Quarterly Activities Report released on 27 July touted record iron ore shipments, as well as the addition of a another new mine coming into production: the Belinga Iron Ore Project, which is based Gabon, Africa.
Buried in the report were updates on the new initiative at Fortescue; much of the market seems to be ignoring this new initiative of entry into green hydrogen. Fortescue acquired the Phoenix Hydrogen Hub in the US, and the company's Norwegian hydrogen project is now supported by the clean energy fund.
An analyst at Fairmont Equities has a BUY rating on Fortescue stock, calling the company a contrarian trade, given the possibility of Chinese stimulus measures.
Fairmont's BUY is a minority opinion; According to a report on 31th July report on markets.businessinsider.com, FMG shares have an analyst consensus rating of MODERATE SELL, with a target price of $12.11.
Related Articles