Echo IQ has its first sale of the company's EchoSolv™ diagnostic software for aortic stenosis identification to an Australian hospital.
The company is actively pursuing additional opportunities in Australia and the US.
Echo IQ has added a component for diagnosing mitral regurgitation to the EchoSolv™ platform.
Aortic stenosis – a heart valve disease – and mitral regurgitation – failure of the heart's mitral valve to close completely – are common and often underdiagnosed conditions.
Echo IQ has harnessed the power of artificial intelligence in a software platform for accurately diagnosing both conditions — EchoSolv™. On 22 June 2023, Echo IQ announced its first sale of the EchoSolv™ platform for diagnosing aortic stenosis to an Australian hospital. This followed the successful use of EchoSolv™ in a private clinic.
On 19 July, the company announced the inclusion of a diagnostic tool for assessing mitral regurgitation into EchoSolv™, available for commercial release in August of 2023.
The European Society of Cardiology Conference to be held in Amsterdam in August 2023 will include the results of clinical studies demonstrating the effective use of EchoSolv™ in diagnosing severe aortic stenosis.
The company's financial performance reflects the challenges of start-up companies with minimal revenues and maximal expenses.
Echo IQ Financial Performance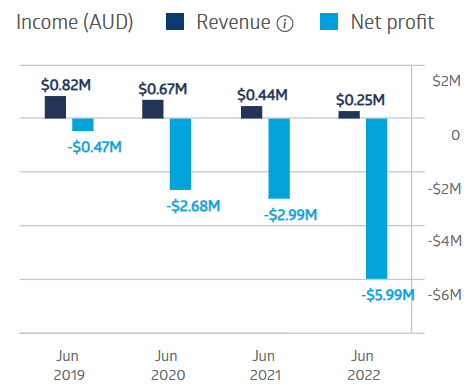 Over five years, the EIQ share price is up 280.9% but is lagging year to date, down 11.1%.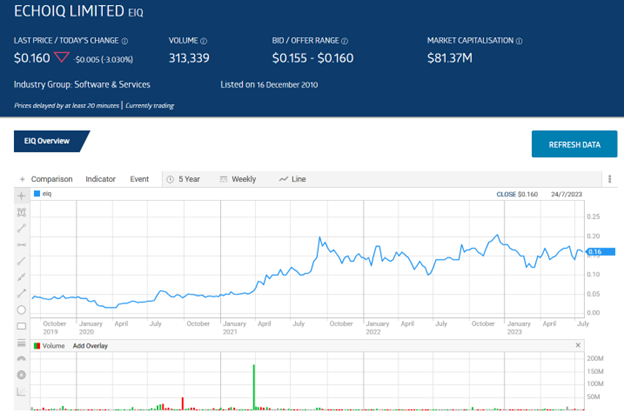 The company operates in two sectors with explosive growth prospects – AI-based solutions and healthcare diagnostics.
Red Leaf Securities has a BUY recommendation on EIQ, citing the company's first sale of its EchoSolv™ platform for cardiac diagnosis and Echo IQ's potential for expansion into the US market.
Related Articles