Since listing on the ASX in 2015, IDP Education has posted a strong record of share price appreciation and financial performance.
The company's global dominance with its partially owned IELTS testing system now faces a new challenge.
IDP is now on the ASX Top Ten Short List.
IDP Education has grown into a multi-faceted educational services provider, primarily to international students seeking entry into English-speaking schools. IDP offers a range of services to assist students in school placement as well as operating its own English language schools and consulting with educational institutions. The company has 50% ownership in the International English Language Testing System (IELTS) required for admission in many English language schools around the world.
COVID-19 impacted the company's financial performance as border closures and travel restrictions crushed student placement, but the company rebounded strongly in FY 2022.
IDP Education Financial Performance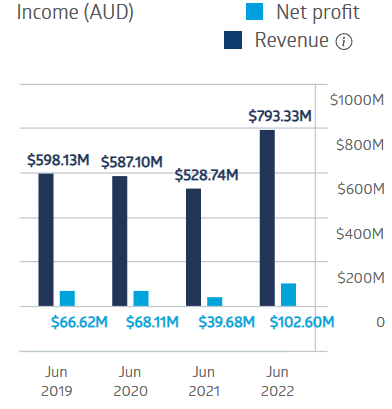 Source: ASX 
Investors now find IDP in third place on the ASX Top Ten Short List due to Canada allowing competition to the monopoly of IELTS in that country.
At this point, no one knows with any certainty how the educational institutions in Canada that determine the English language test required for admission will react to new competitors. IDP's revenue generation in FY 2022 points to that concern, because of total revenue of $793.3 million dollars, $ 511.4 million came from IELTS, while $215.4 million came from student placement.
Year-to-date IDP is down 15.3%. Over five years, the share price is up 118.9%. Since listing on the ASX in November 2015, the share price is up 570.8%.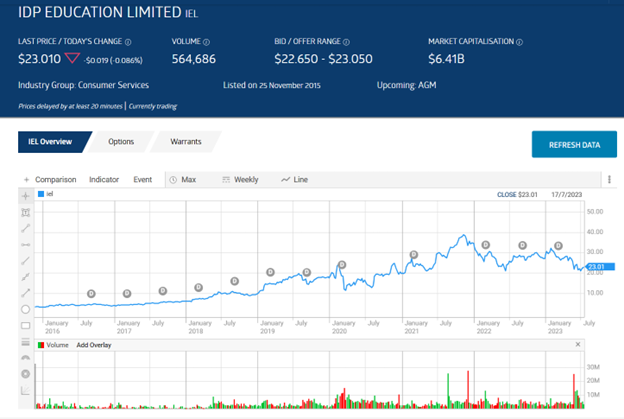 Source: ASX 
Catapult Wealth has a HOLD recommendation on IDP, believing the market has oversold the shares because of the potential competition in Canada.
Of fifteen brokers covering the stock, four are at BUY, six at OUTPERFORM, three at HOLD, and one each at UNDERPERFORM and SELL.
Related Articles