More than 2,000 individual stocks are listed on the ASX, including Australia's best blue-chip stocks. Selecting the best ASX stocks from such a large pool can be a formidable challenge. 'Best' is a subjective term, but all investors can agree that there is one standard that makes an ASX stock a potential best buy: annual profit growth.
Investing is all about generating a return on the investment dollar. For traders looking to invest in Australian stocks, we have picked out some of the best ASX stocks to buy in 2023 based on positive opinions from the ASX analyst community.
STRONG BUY, BUY, and even HOLD recommendations virtually always reflect analyst research indicating that the stock has future growth potential.
Here are five of the best ASX stocks to buy now.
CSL Limited (ASX: CSL)
CSL Limited continues to grow, despite the wisdom quoted from legendary investor Peter Lynch that big companies don't make big moves.
The market for CSL's blood plasma treatments and influenza vaccines has multiple tailwinds propelling the stock that other large-cap stocks can only dream of. The largest generation that the US has ever seen – the baby boomers – continues to retire. The boomers and the Millennials – the newly anointed largest generation as of 2011 – and all the generations to follow are living longer, extending the time they could benefit from CSL products.
The company invests heavily in R&D (research and development), with multiple non-plasma products in its pipeline to promote growth.
CSL's financial performance throughout the COVID-19 pandemic did not go unscathed, as hospitals worldwide put elective treatments on hold. However, the company did manage to grow revenue, with net profit showing a decline between FY 2021 and FY 2022. By FY 2023, the company's financials eclipsed pre-COVID revenue and net profit.
CSL Limited Financials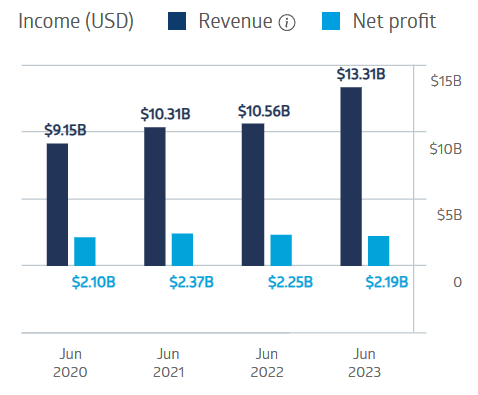 Source: ASX
Half-year 2023 financial results began the recovery, with revenues up 19% and net profit after tax up 10% after amortisation. Full Year 2023 results saw revenues rise 31%, and NPATA (net profit after tax excluding amortisation) rose 20%.
On 28 October 2013, the stock price closed at $59.86per share, rising to $236.05 on the 25 October 2023, an increase of 29.3%
Analyst coverage of CSL indicates the company is a strong contender for a spot on any best ASX shares to buy list. Two analysts have a STRONG BUY recommendation, and seven have a BUY recommendation, with one at HOLD and one at UNDERPERFORM. Analysts at Citi and Morgan Stanley have maintained BUY and OVERWEIGHT ratings on CSL shares despite the slide in the stock price – down 17.9% year to date.
ResMed Inc (ASX: RMD)
This US-based provider of high-tech solutions for two of life's essential functions – breathing and sleeping – has an additional tailwind at its back beyond an ageing, obese and long-life population.
Its flagship products are for the treatment of sleep apnoea. The distinguished British journal The Lancet Respiratory Medicine reported the startling estimate that one billion people between the ages of 30 and 69 are affected by obstructive sleep apnoea, suggesting that the condition is both "under-recognised and under-diagnosed".
Additionally, ResMed's primary competitor – Philips Respironics – is in the midst of a product recall. ResMed produces sophisticated, digitally connected sleep apnoea treatment products and other devices that relieve respiratory conditions.
Unfortunately, the COVID-19 pandemic shut down the sleep centre labs where clients undergo testing for sleep apnoea. Despite that setback, the company managed to grow revenues from FY 2020 to FY 2022, with net income slipping from $621m USD in FY 2020 to $474m in FY 2021. It rebounded strongly in FY 2022 with a net profit of $779m. By FY 2023, the company's financials appeared to have fully recovered, with revenues up 21% and net income up 15%.
ResMed Financials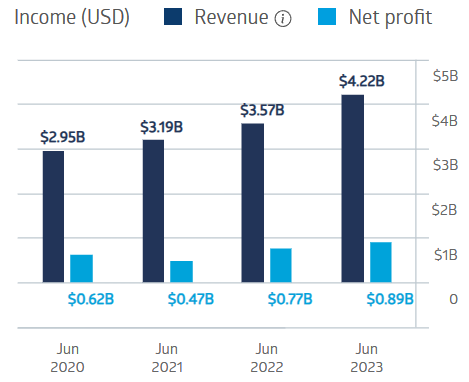 Source: ASX
The full-year 2023 results included a decline in the company's gross margins, leading to a sell-off in RMD shares. The sell-off was accelerated by concerns over the prospect of new obesity drugs impacting ResMed revenues. The analyst community considers investor concerns overblown. Over the past three months, the share price has dropped 31.5%.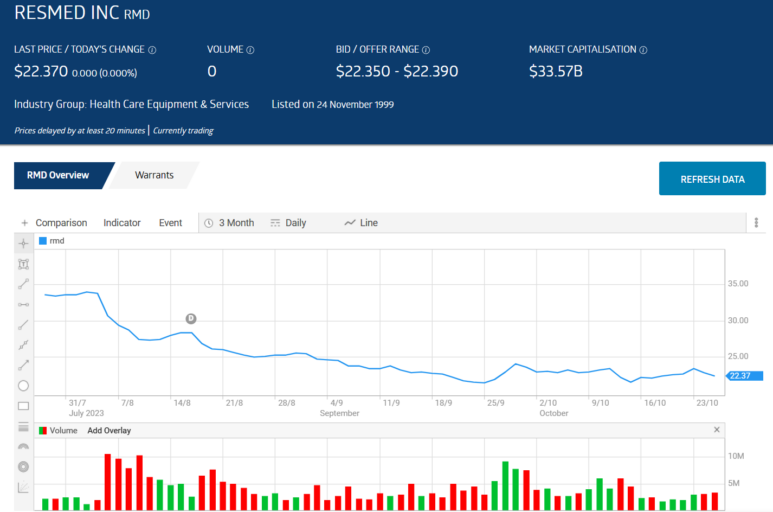 Source: ASX
Like CSL, some analysts see ResMed as a potential best Australian stock to buy. The consensus rating is BUY, with one STRONG BUY, three BUYS, three HOLDS, and one UNDERPERFORM.
Risk-averse investors should consider both ResMed and CSL as best ASX stocks right now, if for no other reason than that these two companies are as 'inflation proof' as possible. Both have high-demand products and the power to raise prices without cutting into demand, as Medicare and private insurance are the payers, not the end consumers.
WiseTech Global (ASX: WTC)
WiseTech Global provides software services that offer door-to-door solutions for the logistics sector. The company's flagship product is CargoWise, a complex analytical and control software platform for managing every facet of supply chains unique to each of the company's customers.
Listing on the ASX in April 2016 with a first-day closing price of $5.37 AUD per share, WTC shares have risen 1.014% to a close of $59.95 on 25 October 2023. The share price hit an all-time high of 81.76 on 31 July 2023.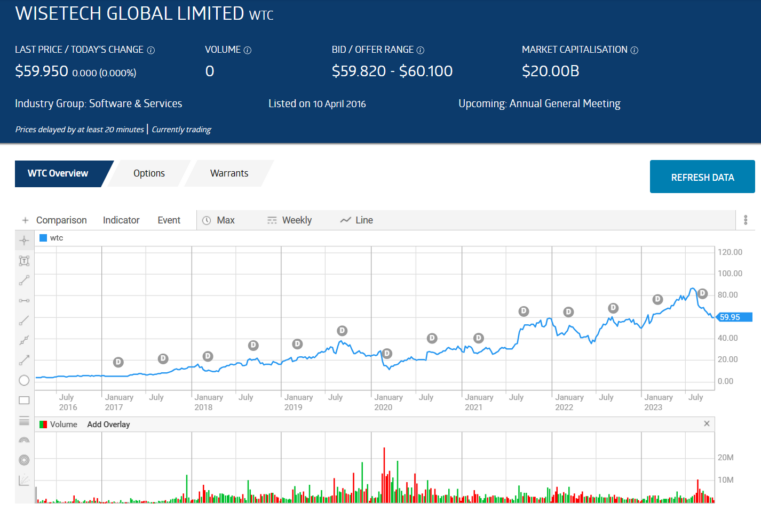 Source: ASX
The company began paying dividends in its full year of operation and has maintained dividend payments despite massive challenges as the COVID-19 pandemic wreaked havoc on global supply chains.
The share price fared worse than the company's financials as tech shares worldwide were pummelled by rising interest rates. WiseTech grew revenue in each of the last three fiscal years, with net income dropping from $160.8m AUD in FY 2020 to $108m AUD in FY 2021 before eclipsing pre-pandemic income with a reported $194.7m AUD in FY 2022. FY 2023 Financials were strong, with revenues up 29% and underlying net profit up 30%.
WiseTech Global Financials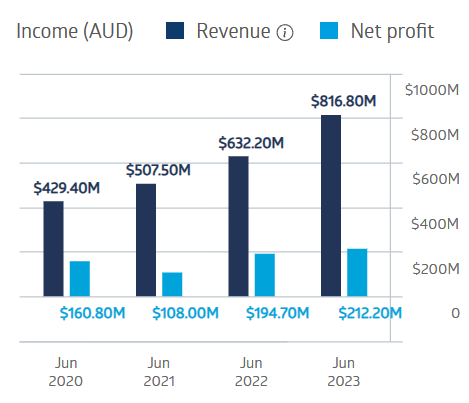 Source: ASX
Analysts are of mixed opinion regarding WiseTech's status as an ASX best stock to buy in 2023. Three recommend that investors BUY the stock, and two indicate HOLD. Others rate the stock at UNDERPERFORM, and one recommends investors SELL the stock.
NextDC Limited (ASX: NXT)
NextDC Limited owns and operates 11 independent data centres across Australia designed and developed by the company. Client servers can be 'colocated' or stored at a NextDC data centre, eliminating the need for expansion at the client site. NextDC offers a full range of connectivity services with other enterprises, information communications technology (ICT) providers, and telecommunication providers via the cloud.
NextDC clients have cloud access to Australia's leading ICT partners, value-added service providers, and managed and professional services providers. The share price did not escape the global tech stock meltdown, but the share price is up 34.8% year to date, rising from a 3 January closing price of $8.91 AUD per share to a 25 October close of $12.16.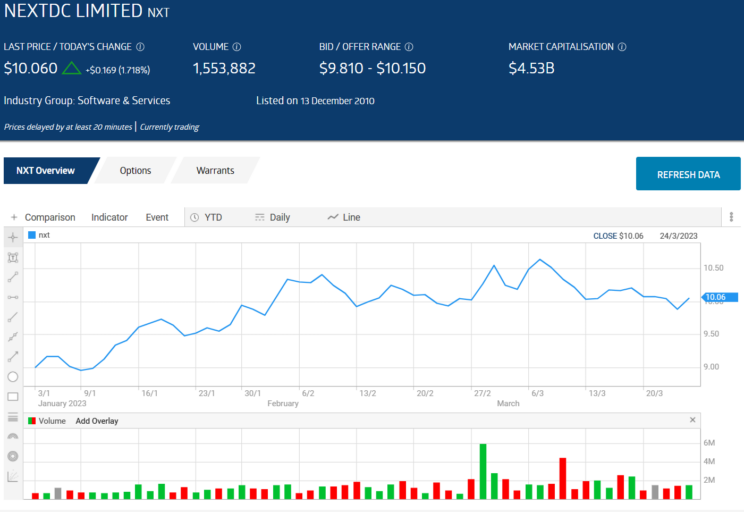 Source: ASX
The company posted losses in FY 2019, FY 2020, and FY 2021 before turning profitable in FY 2022 while increasing revenue in each of those years. FY 2023 saw profit again slipping into the red.
NextDC Financials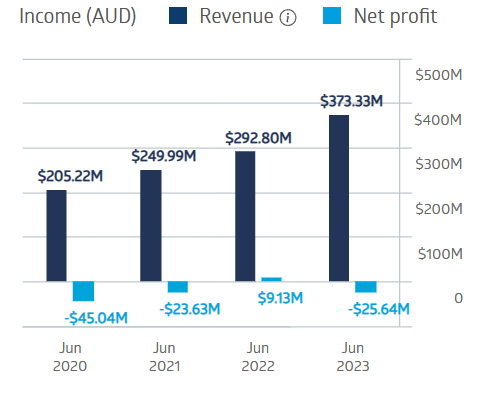 Source: ASX
The analyst community strongly concurs that NXT is an ASX best stock to buy right now. In September 2023, four of the ten analysts covering the company had STRONG BUY recommendations, and the remaining six recommended investors BUY shares of NXT. Not a single analyst has a HOLD, UNDERPERFORM or SELL recommendation.
Altium Limited (ASX: ALU)
Altium Limited creates software platforms used by professional designers of printed circuit boards (PCBs). In today's digital world, the PCB has virtually eliminated point-to-point wiring in electrical devices of all types. The market for PCBs seems limited only by the capacity of humans to reduce their reliance on electronic devices.
Altium 365 is the company's latest addition to its line of software design tools, allowing connection and collaboration between all stakeholders in the PCB design process via the cloud. According to the company, the core Altium Designer platform is used by more than 100,000 PCB designers around the world. Altium also has a platform called Octopart to search for parts for PCBs.
Most investors know that one sign of a best ASX stock to buy is confident management. In July 2021, Altium's management expressed the ultimate confidence in the future growth potential of the company when they turned down an unsolicited takeover offer from US rival Autodesk Software for $40 AUD per share. At that time, Altium stock price was trading at $34 AUD. The $5.25bn AUD deal undervalued the company in the eyes of Altium's management.
The company has consistently grown revenue over the last three fiscal years but saw a net profit dip in FY 2020 and again in FY 2022. Profit growth returned in FY 2023, with profits up 19.6% and revenues up 19.2%.
Altium Financials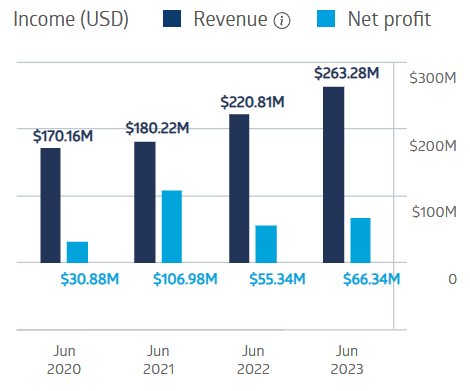 Source: ASX
Analysts remain largely positive on Altium's growth prospects, with three BUY recommendations, one HOLD and one SELL. Altium's management claims strong industry tailwinds will propel the company's revenue to $500m by FY 2026.
Year to date, the stock price is up 16.2%, with 3rd January closing price sitting at $40.78.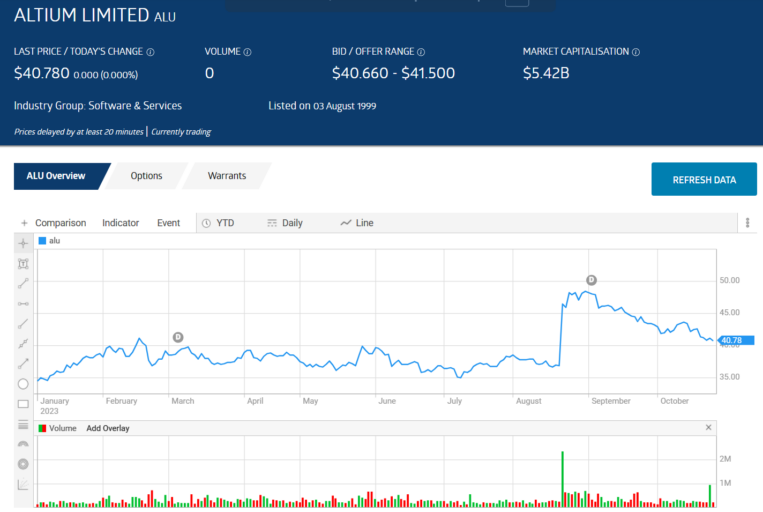 Source: ASX
For investors looking for the best Australian shares to buy, profit is the 'holy grail'. Profitable companies, over time, generate higher share prices, which create higher returns on an investor's initial investment in the stock.
Profit growth in the future, not in the past, is one measure of the best shares on the ASX. Professional analysts thoroughly research a company's business operations, opportunities, and competition, reserving STRONG BUY and BUY recommendations for stocks likely to grow profit.
---
FAQs
How Many Stocks are on the ASX?
The ASX has more than 2000 companies listed. The exact number changes from month to month, but it was reported as 2,121 in April 2023
How do you Short ASX Stocks?
To short ASX stocks, you first borrow a stock from a broker and sell it at the current price. You then buy it back at a later date once, hopefully, the price has moved in your favour. This method of short selling is usually only available to institutional investors. Retail investors instead use CFDs and take a sell position, as CFDs don't involve the underlying asset.
How do you Research ASX Stocks?
To research ASX stocks you need to gather data from several sources to identify ASX stocks that meet your investment needs. Stock screening tools allow you to search for ASX stocks that meet your criteria and create a shortlist of potential stocks to invest in. These companies will then need to be researched to find out if they are a good investment. Australian companies are required to produce annual reports providing information to investors. These reports contain a wealth of information that will help you decide if you should buy shares in the company.