Lindsay Australia provides its agricultural customers with door-to-door supply chain solutions.
Lindsay caters to food and food-related Australian industries, from agriculture to horticulture.
Lindsay's financial performance improved dramatically in FY 2022, continuing into the first half of FY 2023.
Lindsay Australia listed on the ASX in 1994, with the share price remaining well under the radar of most investors. It stayed essentially flat until August 2022, when the company's stellar financial performance for FY 2022 ignited interest as the share price and trading volume accelerated.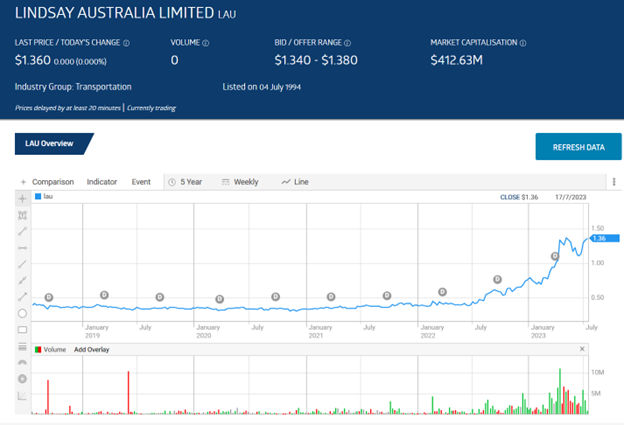 Source: ASX
Over five years, the stock price is up 257.8%, with most of the jump coming in the last year, with the stock price up 220% year over year.
Unlike many companies on the ASX, Lindsay did not eliminate or reduce its dividend payments during the COVID-19 Pandemic, remaining a consistent dividend payer for the last decade. The five-year average dividend payment is two cents per share, with a five-year average dividend yield of a respectable 4.92%.
Lindsay Australia
While the company grew revenue and remained profitable during COVID, net profit dropped in FY 2020 and again in FY 2021 before roaring back in FY 2022.
Lindsay Australia Financial Performance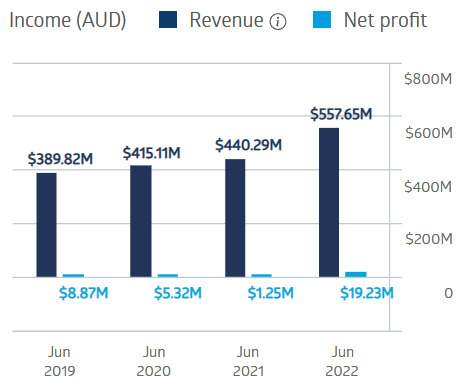 Source: ASX
Half Year 2023 results saw operating revenues up 23.2%, profit before tax (PBT) up 64.5% and net debt dropping 12%. Net profit after tax (NPAT) rose from 12,235 million dollars in the first half of 2022 to $16,817 million, an increase of 37.4%.
Lindsay offers three primary services; Lindsay Transport can pick up, store, and transport dry or refrigerated products to the end user. Lindsay Rural offers seed, nutrients, fertilizer, irrigation, farm consumables and packaging.  Lindsay Fresh Logistics offers ripening services, short-and long-term storage, and inspection and fumigation for export/import.
On 3 July, Lindsay announced the acquisition of rural merchandise company WB Hunter. An analyst at Stockopedia has a BUY rating on LAU, citing Lindsay management claiming continued strong demand and smaller companies exiting the market.

Related Articles