Coronado Global Resources claims to be one of the largest producers of metallurgical coal on the planet.
The company provides a variety of coal content to customers on five continents.
Coronado has a major coking coal operation here in Australia and three producing mining operations in the US.
Coronado saw a revenue dip and posted a loss of $220 million dollars in FY 2020, but by FY 2022, the company's financial results exceeded pre-COVID levels by a wide margin.
Coronado Global Resources Financial Performance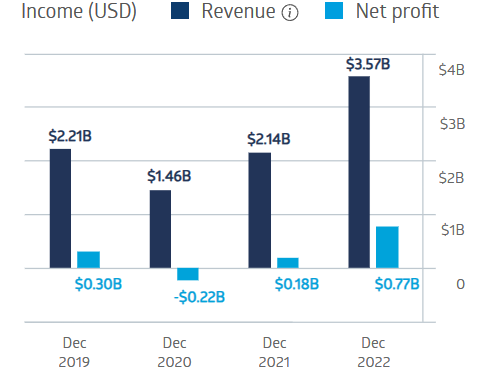 Source: ASX
The results set records for Coronado, spurred on by the high price of metallurgical coal. Record dividends for the full year amounted to $700.2 million dollars, and the company reduced its debt by $72.7 million dollars.
Coronado Global Resources
In 2019, metallurgical coal comprised 20% of the total global coal production, with thermal coal used for electricity generation making up 80%. While thermal coal has multiple competitive sources for generating electricity, metallurgical coal has only one competitor for steel production – the electric arc furnace, which accounts for about 30% of global steel production.
While risk-averse investors may be influenced by future declines in coal demand, experts have been predicting the demise of coal for some time. Right now, Coronado has an attractive P/E (price-to-earnings ratio) of 2.30 and a Forward Price to Earnings Ratio of 7.63.
In FY 2022, Coronado paid 48 cents per share in dividends for a yield of 8.11%. The forward dividend yield is 17.3%.
Year to date, the CRN share price is down 19.22%.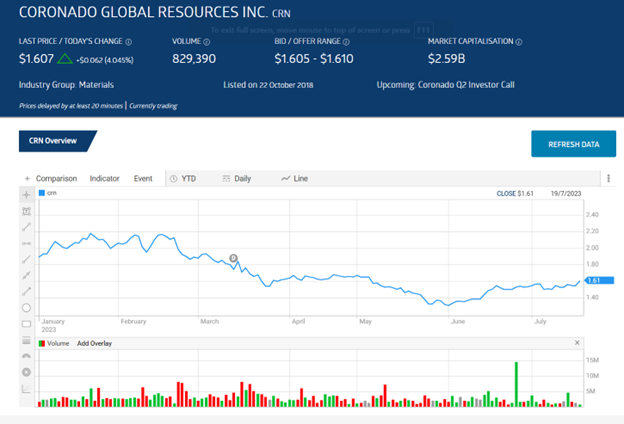 Source: ASX
An analyst at Stockopedia has a HOLD rating on CRN, citing a possible rise in Chinese prices for metallurgical coal.
Related Articles