Australia benefits greatly from having substantial natural resources that its mining companies efficiently extract. The country exports coal, lithium, nickel, copper, gold, silver, other metals, and minerals to customers worldwide.
For traders looking to invest in Australian mining stocks, we have selected some of the best ASX mining stocks to buy in 2023 by market cap.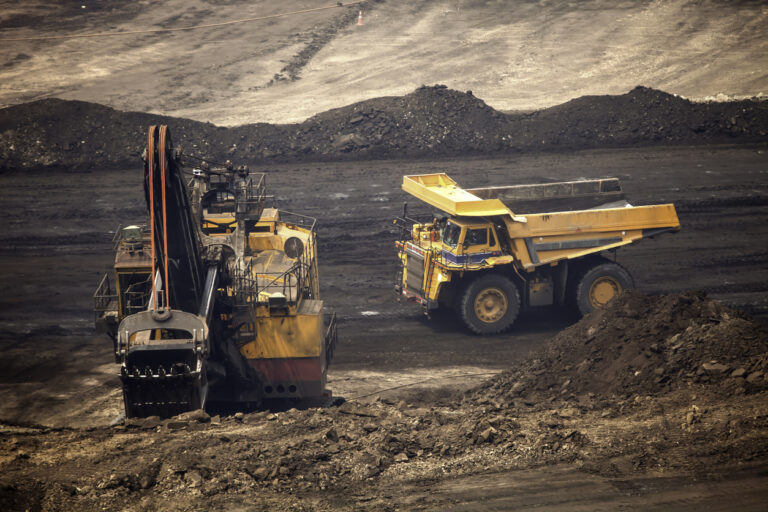 The world's economies are increasingly reliant on commodities mined from the earth. As a result, Australian investors are blessed with a wealth of the best mining stocks from which to choose in virtually all commodity categories. Australian mining stocks are the subject of much investment analysis by industry experts and stock market analysts, so plenty of investor research material is available.
Of course, there is no such thing as a 'best' stock that meets the needs of all Australian investors. The choice depends on the individual investor's strategy. Some are attracted to bargain or value stocks, while others prefer stocks with high growth potential.
Market capitalisation is a measure of how market participants perceive the value of the stock. Demand for commodities rises and falls, and large-cap stocks are more likely to have the financial resources to weather any storm. Therefore, large market caps provide some safety for the risk-averse.
In this article we will cover:
Lets dive in!
The Best ASX Lithium Stocks
Lithium is arguably the hottest commodity in the world. Demand for it is driven by the insatiable appetite for battery-powered electronic devices and the anticipated shift from internal combustion engine-powered vehicles to battery-powered cars, vans and buses.
Here are two of the best lithium stocks on the ASX.
Allkem Limited (ASX:AKE)
Lithium is extracted from hard-rock or evaporating salt brine ponds. In 2021, a leading hard-rock producer listed on the ASX – Galaxy Resources Limited (ASX: GXY) – merged with lithium-from-brine producer Orocobre Limited (ASX: ORE).
The new company began trading on the ASX in late August 2021 under the name Allkem Limited (ASX: AKE) with a market cap of $7.11bn AUD as of 14th March 2023.
The combination of production resources should give the newly christened company a competitive advantage over time. Allkem got off to a great start, reporting solid Full Year 2022 Financial Results.
The company achieved record production from its Mt. Cattlin hard-rock asset in Australia and its Olaroz brine asset in Argentina. Full Year 2022 Financial Results released on 25th August of 2022 showed that revenues for the combined entity rose 809%, while net profit was up 1,000%. The Half Year 2023  Financial Results showed a 209% revenue increase and a 1,592% rise in net profit after tax (NPAT).
Allkem is nearing the completion of a new brine-producing asset in Argentina – Sal da Vida – and has a new hard-rock-producing asset in development at James Bay in Canada. The company's financial performance marks it as one of the best lithium stocks ASX investors can buy.
Year over year, the stock price is up 5.10%.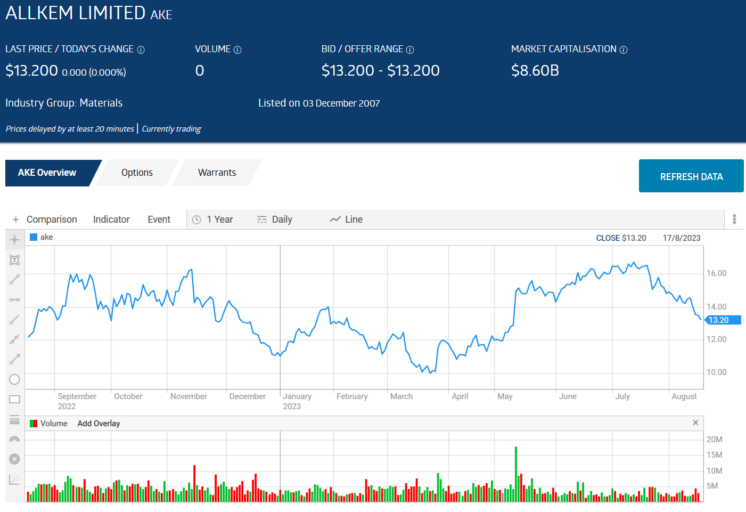 Source: ASX
Pilbara Minerals (ASX:PLS)
Pilbara claims that its wholly owned Pilgangoora Lithium-Tantalum Project is the world's largest independently owned hard-rock lithium operation, with two mines in production. The company also holds a 70% stake in the Mt. Francisco joint venture. Interested investors can look at the company's website to learn how it views its place in the Australian and global economies.
Pilbara is looking to expand into the entire lithium supply chain and has another joint venture in place with South Korea's POSCO. The POSCO-Pilbara JV Company is to build a lithium hydroxide chemical processing facility in South Korea.
Pilbara's Half Year 2023 Financial Results released on 23rd February 2023 showed a 647% increase in revenue and a 989% increase in net profit. The share price is up 48.26% year over year.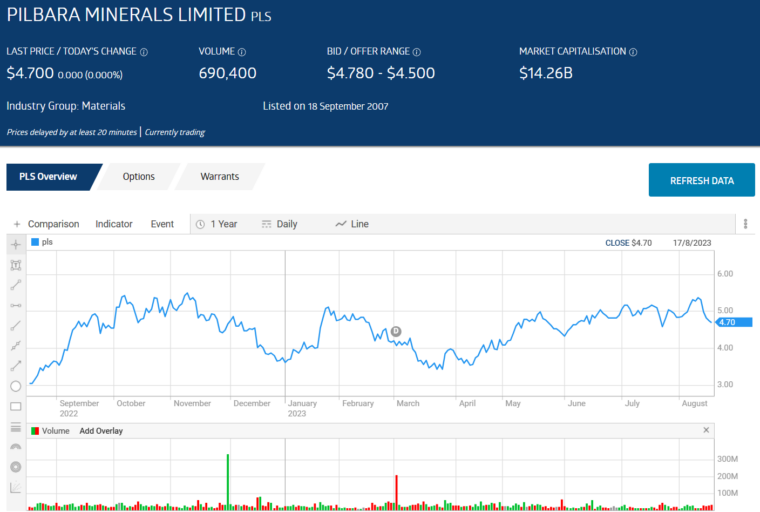 Source: ASX
Both Allkem and Pilbara benefited from significant upward spikes in the price of lithium, which has now stabilised. Expert opinion on the future of lithium prices is mixed, with both bulls and bears making their arguments.
The Best ASX Nickel Stocks
Demand for nickel has broken out of its traditional use in stainless steel, vaulting into the latest holy grail of investing: critical battery minerals. The commodity is now in high demand for its use in batteries for electronic devices and electric vehicles.

IGO Limited (ASX:IGO)
IGO's mission statement is to mine the metals needed for a clean energy future. IGO's primary focus is its three Australia-based nickel mining operations. The company also holds a 49% interest in a lithium joint venture project with privately held Tianqi Lithium and a 25% interest in another joint venture with ASX-listed lithium miner St George Mining Limited (ASX: SGQ).
The Full Year 2022 Financial Results showed a 34% revenue increase with a 40% profit decline due to a one-off charge from an asset divestment. Half Year 2023 financials were markedly improved, with revenues up 43% and profit up 552%.
The share price is flat year on year.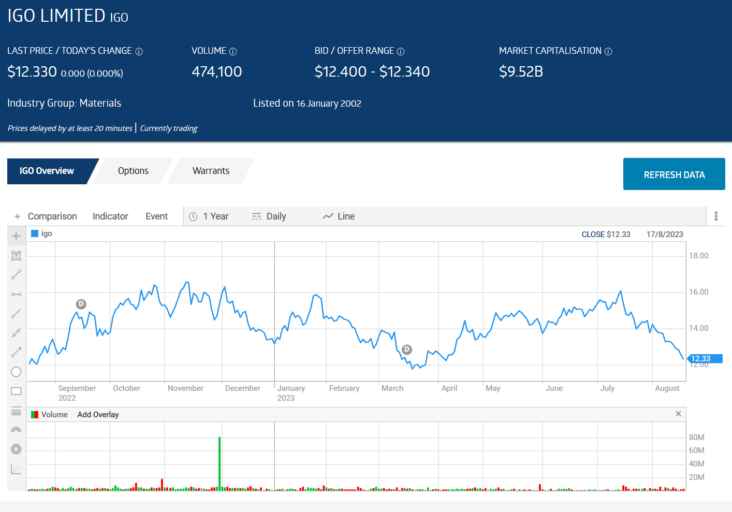 Source: ASX
Nickel Industries (ASX:NIC)
Nickel Industries has between 70% and 80% interests in four different nickel mining operations in Indonesia. The stock price is down 33.48% year on year. Despite its smaller market cap, the company is a consistent dividend payer. The calendar year 2022 was not kind to share market investors as inflation roared, interest rates rose and recession fears sometimes took centre stage. From the ASX website, the five-year share price movement chart paints a better picture: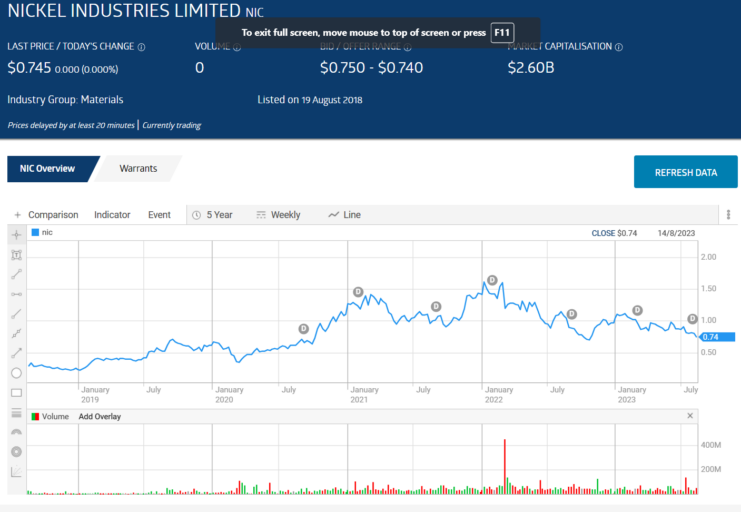 Source: ASX
Nickel's Full Year 2022 Financial Results released on 23rd February 2023 posted record production and record profit levels, up 18.9%, while revenues rose 88.4%.
The Best ASX Copper Stocks
Copper has long been considered a bellwether for the economy, given its use in many industrial applications. While not uniformly classified as a critical battery mineral, copper's role has long past evolved beyond electrical wiring and plumbing. It is now used in electronic components of all types, including the electricity grid, electric vehicles and renewable energy delivery systems.
Investors should check out the Department of Industry, Science and Resources website for more information on the Australian government's critical minerals strategy.
Australian investors have two of the world's largest copper mining companies listed on the ASX: BHP and Rio Tinto.
BHP Group (ASX:BHP)
With a market cap of $218.38bn AUD, BHP is the largest stock on the ASX. The company bills itself not as a mining company but as "a provider of the essential resources needed for global growth and a transition to cleaner energy".
The company operates in almost every corner of the world, producing copper, iron ore, nickel, metallurgical coal and potash. BHP is a prolific dividend payer that has repeatedly bounced back from challenging times over the last decade. From the ASX website: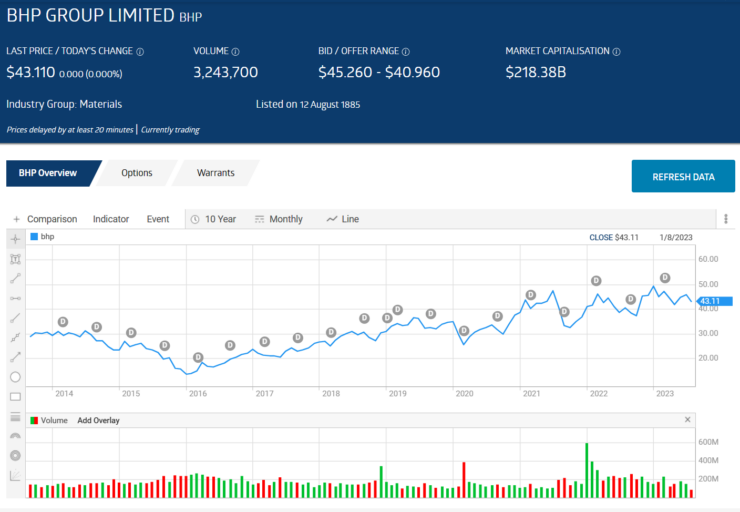 Source: ASX
The share price is up 6.42% year over year. The Full Year 2022 financials showed a 13% increase in revenue from operations and a 173% increase in profit. Half Year 2023 Financial Results saw a 16% drop in revenues and a 32% fall in net profit. BHP is in the process of acquiring Oz Minerals, an ASX-listed pure-play copper producer.
Rio Tinto Group (ASX:RIO)
Rio Tinto's stated mission is to "find better ways to produce what the world needs". The company operates in 35 countries, producing copper, gold, iron ore, aluminium, borates, titanium dioxide and other minerals and metals. Along with BHP, Rio ranks as one of the best copper stocks to buy ASX investors have to consider.
While BHP has decided to stay out of the lithium market, Rio has a demonstration plant in the US state of California to recover lithium from waste rock. Like BHP, Rio's share price performance over the last decade shows the company's resilience in recovering from troubled times.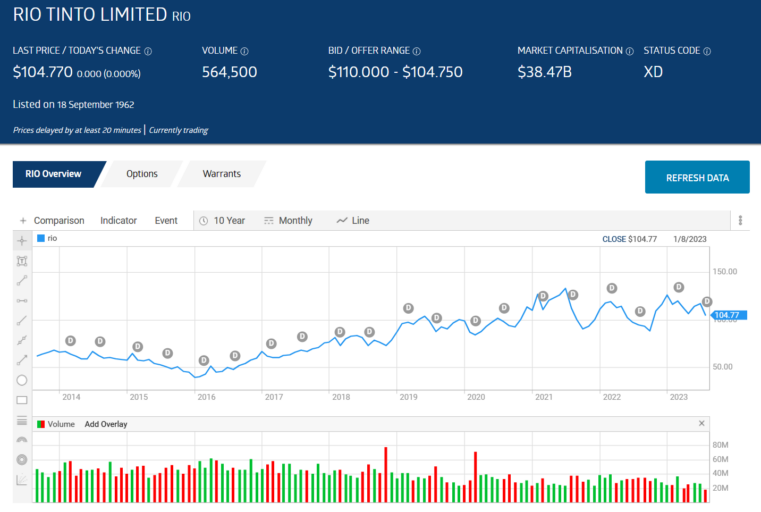 Source: ASX
Year on year, the stock price is up 9.22%. Rio's Full Year 2022 Financial Results reflected the challenging conditions of the year. Net cash from operations fell 36%, while net profit after tax dropped 41%. By contrast, the full-year 2021 results showed a 60% increase in net cash from operations and a 116% rise in profit after tax. Half Year 2023 Financial Results showed net cash from operations dropping 32% and net profit falling 43%.
---
Don't Buy Just Yet
You will want to see this before you make any decisions.
Before you decide which shares to add to your portfolio you might want to take a look at this special report we recently published.
Our experts picked out The 5 best ASX shares to buy in 2023.
We're giving away this valuable research for FREE.
Click below to secure your copy
---
The Best ASX Gold Stocks
Gold has always attracted investor interest as a safe haven in troubled times. Interest rates are still rising to combat inflation, and the prospect of an imminent downturn looms large in the eyes of some experts. Still, the anticipated recession appears to be on hold at the moment.
Acquisition activity is generally a welcome sight for investors in a specific sector, so the recent attempt by the world's largest gold miner – Newmont Mining (NYSE: NEM) – to acquire the largest gold producer on the ASX by market cap – Newcrest Mining (ASX: NCM) – should have piqued interest in investing in the best ASX gold stocks.
Newcrest Mining (ASX:NCM)
Newmont is back with a second offer to buy Newcrest, the largest gold producer on the ASX by market cap — $20.77bn AUD as of 9th March 2023. As of 2nd August, Newmont announced that it expected to complete the acquisition by Q4 2023. Newcrest has three operating gold mines in Australia, two in Canada and two in Papua New Guinea. The company has development projects in advanced stages in both Australia and Papua New Guinea.
While Newcrest lags other large-cap ASX gold mining stocks, the company has an admirable history of dividend payments.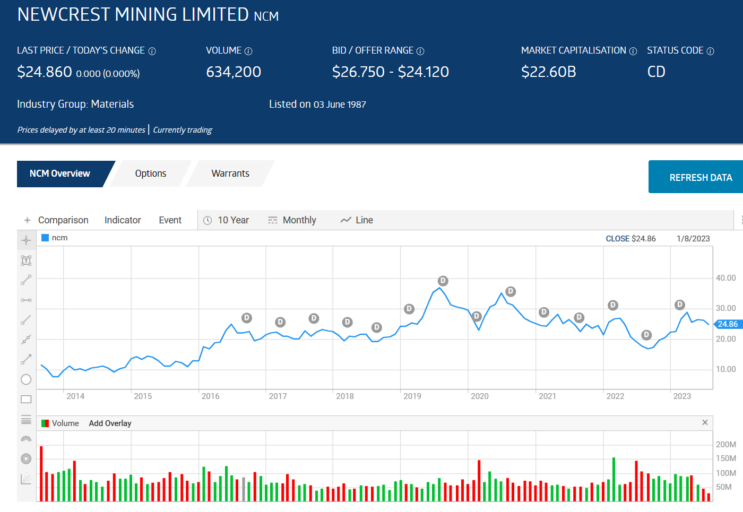 Source ASX
Despite its broad asset base and reputation for low-cost/long-life operating mines, Newcrest's financial results can disappoint investors. The Full Year 2022 Financial Results released on 19th August 2022 saw declines in both revenue and profit – an 8% fall in revenue and a 25% decline in statutory and underlying net profit.
Half Year 2023 financials released on 15th February showed a welcome 24% increase and an improvement in the profit picture – down only 2% year on year.
Full Year 2023 Financial Results released on 10th August showed revenues up 7% and underlying profit of $778m, down from FY 2022's $872m.
The Newcrest share price is up 33.85% year over year.
Northern Star Resources (ASX:NST)
With a market cap of $11.86bn AUD, Northern Star ranks second among ASX gold stocks. The company's share price performance over the last decade suggests that Northern Star may be the best ASX gold stock.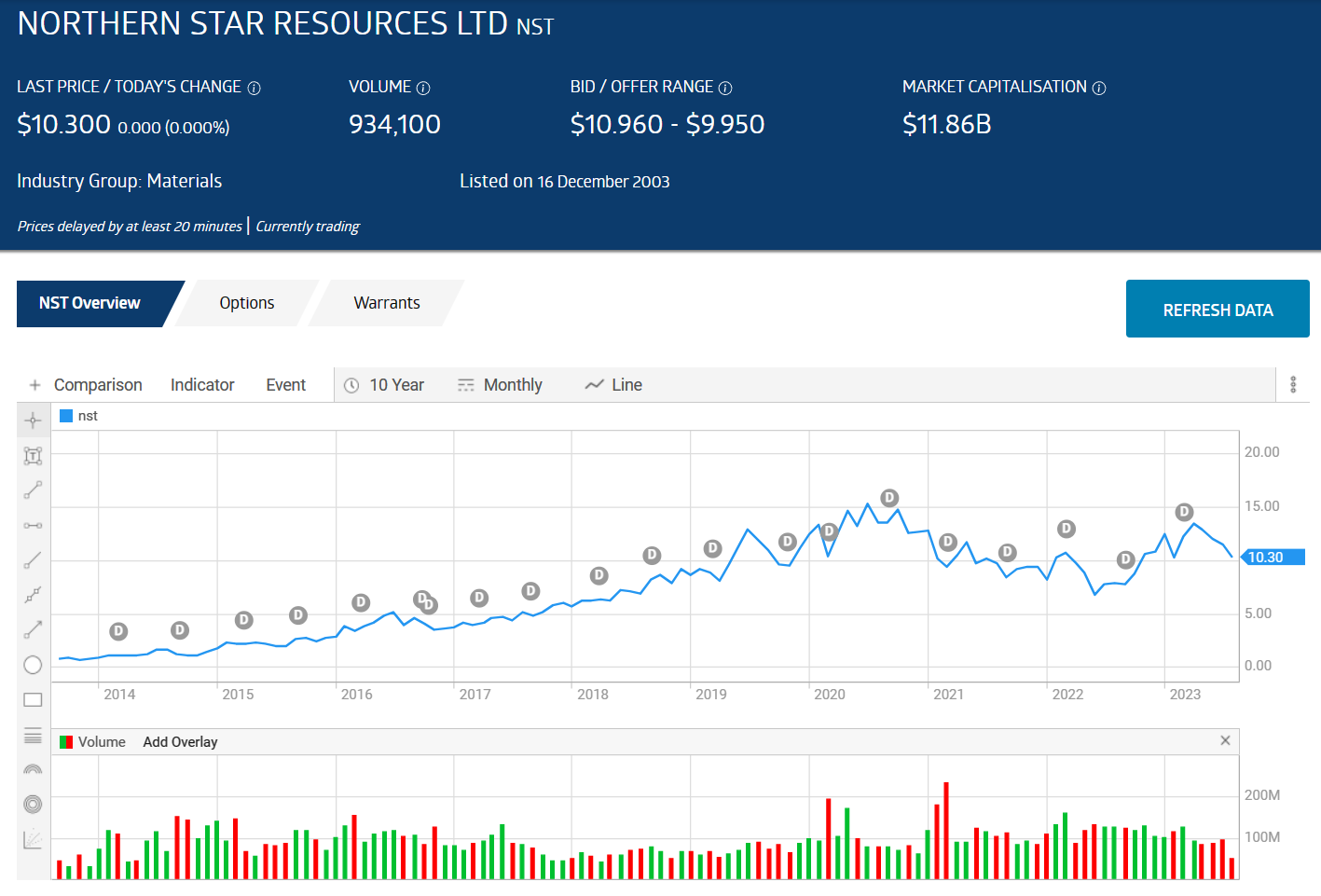 Source: ASX
Unlike Newcrest, Northern Star has managed significant growth while still paying dividends. The company began its climb in the ranks of ASX gold miners in 2010, with its first major acquisition, the Paulsens Gold Mine in Western Australia. The company continued its aggressive acquisition strategy by maintaining its pledge to pursue attractive acquisitions. The company has three operational gold mining centres: two in Australia and one in North America.
The Full Year 2022 Financial Results released on 28th August 2022 reflected challenging conditions for gold miners. Northern Star's solid revenue gains of 35% year on year were insufficient to counter a 27% decline in net profit after tax. Half Year 2023 Financial Results yielded more of the same investor pain, with revenues increasing only 5%, while net profit dropped 57% year over year. The company's share price is up 33.3% year on year.
The Best ASX Silver Stocks
Silver is also considered a safe-haven investment but does not match the allure of gold. The result of investor preference for gold is lower liquidity for investors in silver. Silver is thinly traded, but it is cheaper for retailers to buy and has industrial applications in various green technologies, including electric vehicles and solar panels.
Silver Mines Limited (ASX:SVL)
Silver Mines does not meet the large market cap standard at $2,038.7m AUD, but it is the only pure-play silver miner listed on the ASX. The company's share price did not escape the carnage of 2022, but over five years, the share price performance has been respectable.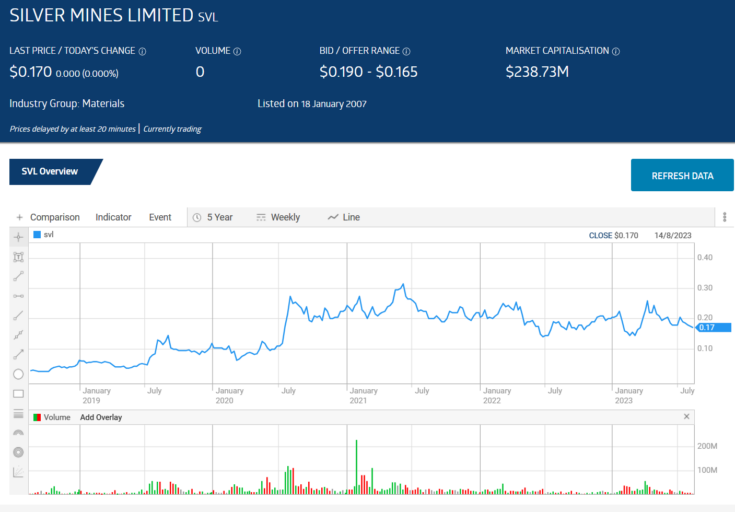 Source: ASX
The company owns the Bowden Silver Project in New South Wales, reportedly Australia's largest undeveloped silver deposit. A feasibility study is in place, and Silver Mines is seeking financing for the project.
South32 Limited (S32)
South32 has a market cap of $20.70bn AUD. It operates in Australia, South Africa and South America with a diversified asset base. The company's Cannington Mine in Queensland is one of the world's largest silver and zinc mines.
The stock price is down 9.8% year on year, but has an admirable history since listing on the ASX in 2015 following a spin-off from BHP. From the ASX website, here is the performance since the listing: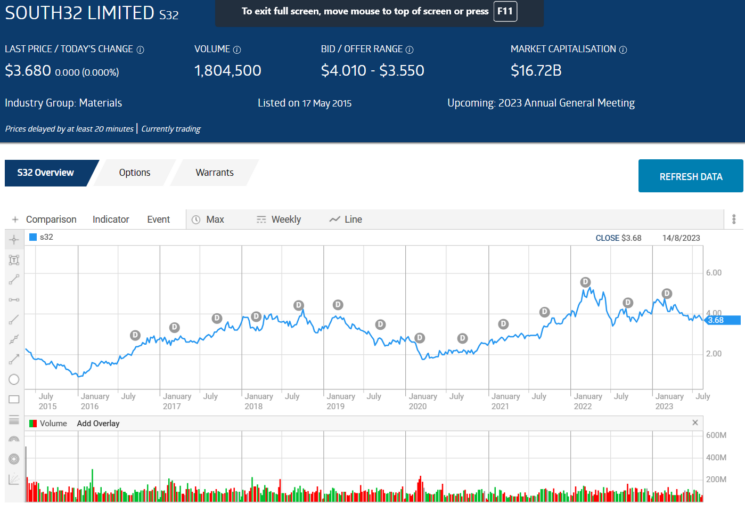 Source: ASX
The South32 Full Year 2022 Financial Results saw a 69% revenue increase and a 432% rise in underlying earnings.
Australia is blessed with abundant natural resources, placing the country in the top tier of mining operators in a wide range of commodities. So, how does an individual investor sort through ASX mining stocks in search of the 'best' to buy?
While defining 'best' varies according to investment strategy, there is one issue on which all investors agree: minimising risk.
Market capitalisation provides a measure of safety when seeking the best stocks. A large market cap tells the potential investor that other market participants regard the stock highly and the company has achieved stability of operations and financial performance. Junior miners face the gauntlet of expense after expense to bring a mining prospect into revenue and profit-generating production.
FAQs
How do you Invest in Junior Mining Stocks?
You can invest in Junior mining stocks by purchasing shares through a regulated broker. Junior mining stocks are new or smaller companies looking to develop a natural resource deposit. They are riskier than investing in major mining companies as they tend to have lower amounts of capital and shorter histories. Their popularity with Australian investors comes from the fact that their value can increase dramatically if they hit upon a large deposit of the resource they are mining. However there is no way to know how much of the natural resource is contained in the deposit, so their value can easily drop should the deposit not live up to expectation. Investors should always do their due diligence and have a risk management plan in place.
Which Companies are Mining Lithium?
Lithium is a commodity that is used in the manufacture of batteries. Demand for lithium has grown in recent years due to increasing sales of electric vehicles. Australian companies that mine lithium include Allkem Limited and Pilbara Minerals.
When is the Best Time to Buy Gold Stocks?
Gold stocks are companies whose value is closely tied to the price of gold, though their stock price is affected by other factors as well. Gold is an asset that is traditionally seen as a safe haven in times of uncertainty. Typically the price of gold rises in periods of high inflation and recession. On average the price of gold tends to climb during January and February before dropping off during the Spring and Summer months and climbing again in the Autumn. You should always do your own research before deciding to invest and never risk more than you can afford to lose.