Lithium, nickel, cobalt, and copper are considered critical minerals for a clean energy future, and IGO mines them all. The company owns and operates three nickel mining operations in Western Australia – Forrestania, Cosmos, and the Nova nickel/copper/cobalt operation.
In June 2022, IGO expanded its nickel resources, acquiring rival Western Australia nickel mine Western Areas (ASX: WSA). The company has majority ownership (51%) in a joint venture lithium mine with China's Tianqi Lithium Corporation and has 100% ownership of a downstream lithium hydroxide processing operation. The company also has a joint venture in place with Moho Resources to explore and develop rare earth elements (REE).
The stock price is up 66.5% over one year and 195.3% over five years.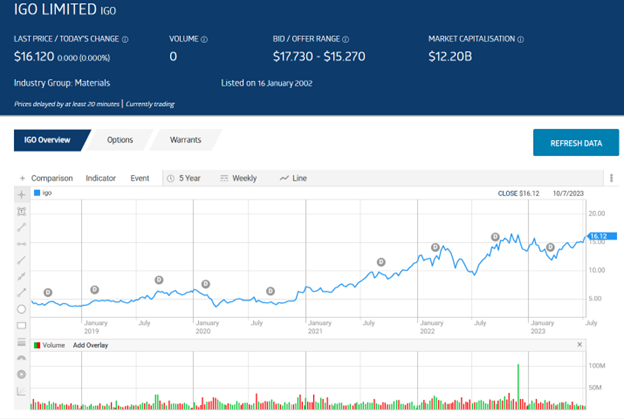 Source: ASX
IGO has not missed a dividend payment over the last decade, with a five-year average payment of 10 cents per share and a five-year average dividend yield of 1.2%.
IGO Limited
The company's financial performance has been on a roller coaster ride since FY 2019, but it turned in stellar Half Year 2023 Financial Results. Sales revenue was up 44%, while net profit after tax (NPAT) of AUD$ 591 million dollars went up 522%, despite a fire at the Nova operation.
IGO Financial Performance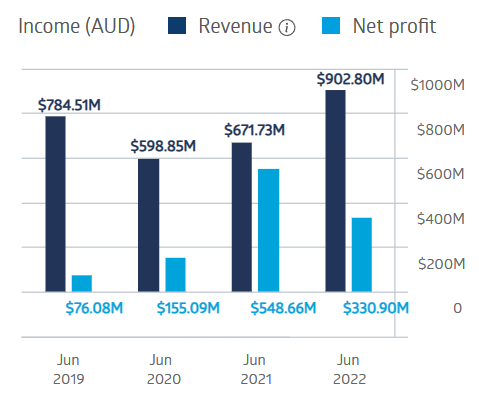 Source: ASX
A presentation at the BoA Global Metals, Mining and Steel Conference in the company highlighted its intent to add a nickel processing facility to its downstream operations and to progress a joint venture (JV) in the exploration and development of rare earth elements (REE) deposits with Moho Resources.
An analyst at Seneca Falls has a HOLD on IGO shares, citing the ore grade and long life of the company's lithium JV. At the end of June 2023, Yahoo! Finance Australia had 16 brokers covering the stock, three at STRONG BUY, four at BUY, seven at HOLD and one each at UNDERPERFORM and SELL.
Related Articles