Corporate Travel Management had a solid history of share price appreciation and dividend payments in the pre-pandemic era.
The global travel industry was arguably the hardest hit business sector by COVID and the variants in the aftermath of the initial phase.
The pace of online business meetings exploded because governments restricted travel.
Corporate Travel Management was listed on the ASX on 14 December 2010, with the share price appreciating 1,084.7% to early July 2023.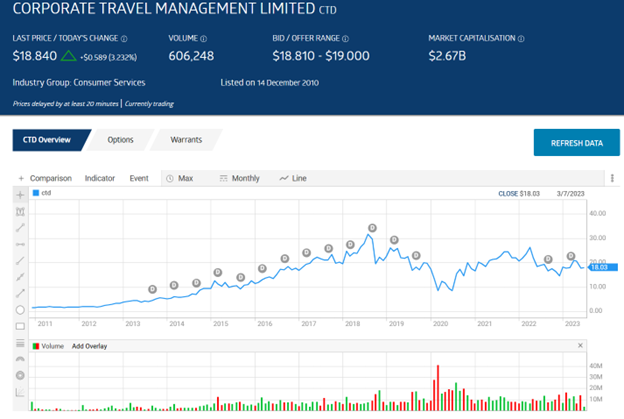 Source: ASX 
Corporate Travel Management
The company designs travel programmes for businesses of all sizes in Australia, New Zealand, North America, Europe, and Asia. Before the pandemic, CTD was the fourth largest manager of corporate travel in the world, deriving more than 60 per cent of its revenue in Australia and New Zealand.
The stock price began to slide following an attack by a noted short seller in late October 2018, accelerating with the news of COVID in China and its global spread. The company's revenues and profit fell dramatically in FY 2020 and FY 2021 before recovering in FY 2022.
Corporate Travel Management Financial Performance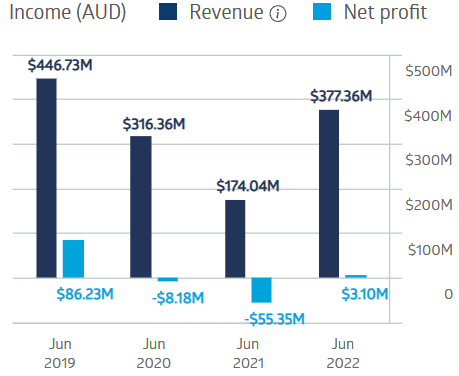 Source: ASX 
Half Year 2023 results showed an 84% revenue increase and a profit reversal, from a Half Year 2021 loss of $8.6 million dollars to a profit of $15.9 million.
On 25 June 2023, the company was awarded an initial four-year agreement with the whole of the Australian Government. The news did not stop investors concerned about global economic conditions from pushing the share price down 4.41% over the last month.
An analyst at Marcus Today has a SELL recommendation on CTD shares, citing competition from online business meetings in place of travel. A survey from global business intelligence company Morning Consult states business travel has changed for good following COVID, with larger companies using more online meetings and smaller companies cutting back on travel.
Other experts have a different view. Morgan Stanley released a study saying corporate travel is recovering to pre-Covid levels. Analysts at UBS, Goldman Sachs, and Morgan Stanley all have BUY  recommendations on CTD stock.
Related Articles