US-based EBR Systems listed on the ASX on 23 November 2021.
The share price immediately fell into a sustained downward trend, beginning a major reversal in November 2022.
The company has developed an innovative approach for Cardiac resynchronization therapy (CRT), an alternative to the traditional pacemaker.
Traditional pacemakers employ implantable devices with wire leads attached to the exterior of the heart's left ventricle to stimulate synchronization between the left and right ventricles.
Pacemakers are not suitable for all patients needing treatment, with three out of ten receiving no benefit, according to EBR. In addition, two out of ten can experience problems related directly to the wires attached.
EBR's patented WiSE Choice system uses ultrasound energy from an implanted transmitter passed to three electrodes implanted inside the left ventricle. This follows probing to identify the most appropriate electrode locations relative to the patient's condition.
On 22 November 2021, an article in the Australian Financial Review (AFR) quoted noted investor and venture capitalist Mark Carnegie claiming EBR could be the next Cochlear. EBR has conducted successful clinical trials in Europe and has been pursuing approvals from the US FDA (Food and Drug Administration) since 2019, with final approval anticipated by the end of the fourth quarter of 2024.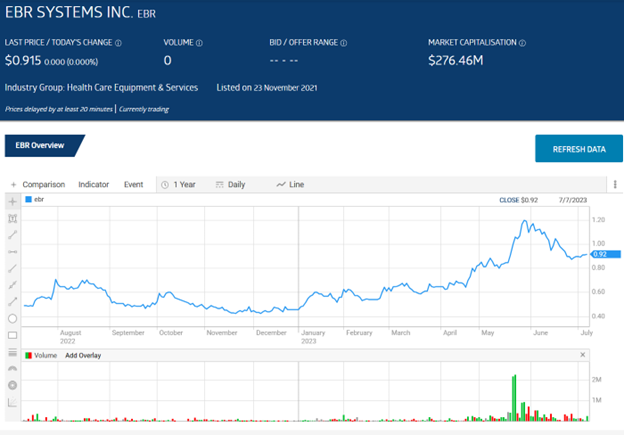 Source: ASX 
Despite this performance, the ninety-day average trading volume is 221,063 shares per day, trailing another ASX medical device stock – ImpediMed (ASX: IPD) – with an average per day trading volume of 5,317,799 shares.
An analyst on the 18 Share Tips has a speculative BUY rating on the ImpediMed stock.
Related Articles