Accent Group increased profits at the onset of COVID-19, but they declined in FY 2022.
The Half Year 2023 results signalled a return to form.
Inflation and rising interest rates appear to be impacting consumer discretionary spending.
From its origins in New Zealand in 1988, Accent Group has become an Australia/New Zealand powerhouse online and brick-and-mortar distributor of lifestyle footwear via its own products and internationally recognised brands.
Accent now has over 800 brick-and-mortar stores and 35 online platforms selling 34 brands. The company maintained profitability throughout the COVID-19 pandemic, but net profit dropped 59.1% in FY 2022. 
Accent Group Financial Performance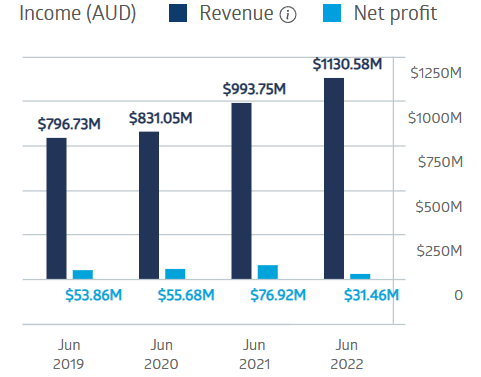 Source: ASX 
Half Year 2023 Financial Results showed significant improvements, with owned sales increasing 42.1% and net profit up 295.2%. However, the company pointed out that the comparison to the first half of FY 2022 reflects the store closures and the lockdowns that kept 400 stores idle for four months in 2022.
Figures from the ABS (Australian Bureau of Statistics) for the March Quarter of 2023 show a drop of 0.6% in retail sales, following a decline of 0.3% in the December quarter. National Australia Bank is reportedly calling the situation a "consumer recession."
An analyst at Sequoia Wealth Management has a on Accent Group stock, citing the challenge of sustaining sales in the face of the impact of interest rates on discretionary spending.
In contrast, an analyst at Bell Potter appears unphased, with a $2.50 per share price target on AX1 shares over the next 12 months based on Accent's diversified customer base and strong position in the footwear sector.
The share price is down 29.75% over the last three months.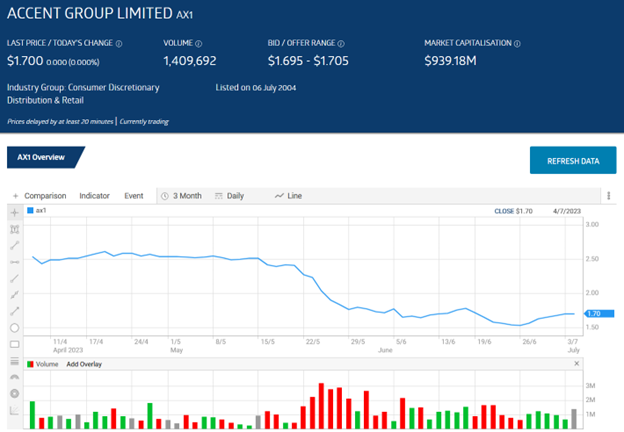 Source: ASX 
Related articles