Investment in nuclear energy declined drastically following the Fukushima disaster in 2011.
Uranium mines went into care and maintenance as the price of uranium collapsed.
Current events are boosting the outlook for uranium.
In 2013 Boss Energy (ASX: BOE) shuttered its flagship Honeymoon uranium mine in South Australia following the global rush to cut back on nuclear-powered electricity generation. The energy crisis spawned by the war in Ukraine saw international governments increasing their view that the aggressive carbon emission reduction targets towards a net zero carbon world required the return of nuclear energy.
Bloomberg New Energy Finance's 2021 energy outlook included the newer, smaller, modular class of nuclear reactors as a significant source of carbon emissions abatement (reduction) by 2050 – 26%, with wind power leading at 41%, followed by solar at 20%, and other renewables including hydrogen at 13%.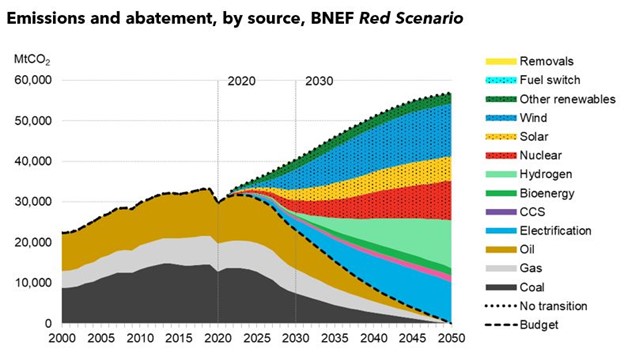 Source: BloombergNEF
Boss Energy is ready to resume production at Honeymoon by the fourth quarter of 2023, supported by the company's stockpile of 1.25 million pounds of physical uranium for offtake arrangements and contract delivery while the commissioning of Honeymoon is underway. Boss Energy also has an active exploration program in progress.
Boss Energy
The share price began to recover at the beginning of 2021, rising from $0.46 in July 2020 to the current share price of $3.10.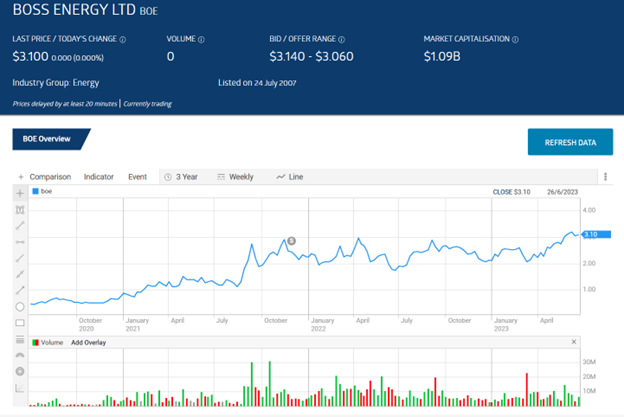 Source: ASX
Analysts are growing increasingly bullish on the uranium sector and on Boss Energy. An analyst at Medallion Financial Group points to the continual increase in the price of uranium, spurred on by tight supply and a decade of low investment in the sector.
An analyst at Bell Potter has Boss Energy as the preferred stock in the energy sector, backed by the rush to reactivate nuclear reactors in countries around the world, especially following the start of the war in Ukraine. In a company interview, the CEO of Boss told Bell Potter that it will generate its first sales in 2024, doubling them by 2025.
Related articles