Johns Lyng Group is a global provider of restoration services for insurance companies, commercial businesses, governments, and the retail sector.
The company has a solid history of financial performance, and it is growing.
International incidents of destructive events put the company amid a sector that is sure to prosper.
In December 2021, Johns Lyng Group – a provider of integrated building services in Australia since 1953, acquired US-based Reconstruction Experts to expand its presence in the US market significantly.
The company has a solid record of financial performance, with multiple earnings upgrades over the last two years.
Johns Lyng Group Financial Performance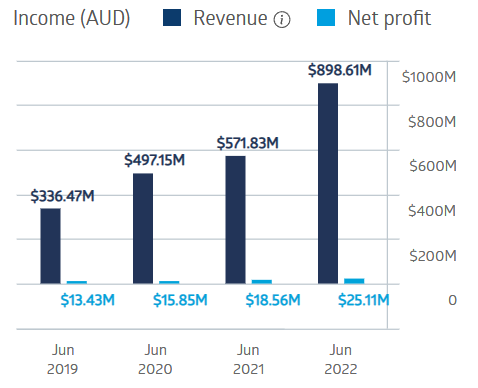 Source: ASX 
The latest earnings upgrade came on 22 June 2023, Anticipated revenue for FY 2023 was up by 10.2%, so guidance for FY 2023 shows expected total revenues up 47.7% over FY 2022.
Worthy of note was the decision to exclude waning revenues from the company's commercial construction business in the results. Management has decided to exit that segment to focus entirely on the core business of catastrophe-related repair and reconstruction.
Despite the positive outlook, the JLG share price is down 12.28%, year to date, putting the stock in attractive territory, according to analysts.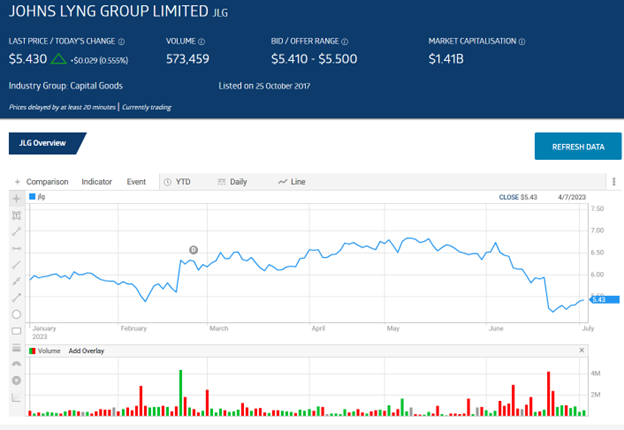 Source: ASX 
Medallion Financial Group expressed confidence in the company's outlook. Of the analysts surveyed on CMC markets, seven of 10 have BUY recommendations on the stock.
Although the consensus appears to be that the recent drop in stock price represents a buying opportunity, Sequoia Wealth Management has a HOLD recommendation on the company. However, it points to the company's confidence in increasing activity in the catastrophic event space in 2024.
Related articles