In 2021 BHP was ranked fifth among the top brands in Australia.
By market cap, BHP is the largest mining company in the world.
BHP has merged its oil and gas assets with ASX-listed Woodside Energy Group (ASX: WED) to focus on resources essential for the transition to reduced carbon emissions and global economic growth.
BHP is transitioning to a revised business model, abandoning its thermal coal and oil and gas assets to focus on copper and nickel production for battery minerals.
The company still derives most of its revenue from iron ore and is to maintain its production of metallurgical (coking) coal used in steel production.
The shift toward increased copper, nickel, and steel production will meet the growing demand for electrification, batteries, and wind turbines. The company's revenue base will also enlarge from potash production at the BHP Jansen Potash Project in western Canada. BHP has invested $5.7 billion Canadian dollars in the project, with the first production of 4.35 million tonnes expected in 2026. Potash is an essential fertiliser for use in global food production.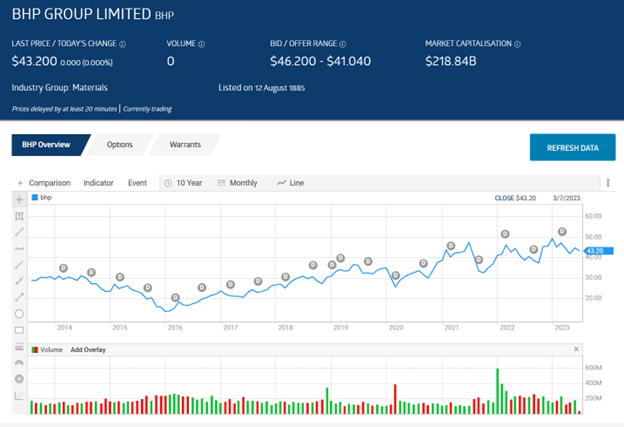 Source: ASX
As a commodities producer, BHP's share price is subject to the price volatility of the commodities BHP mines, most notably iron ore, from which BHP generates most of its revenue. The dips in share price following declines in commodity pricing create buying opportunities for investors.
BHP's financial performance declined slightly in FY 2020, but the rising price of iron ore led to strong rebounds in FY 2021, cresting in FY 2022.
BHP Financial Performance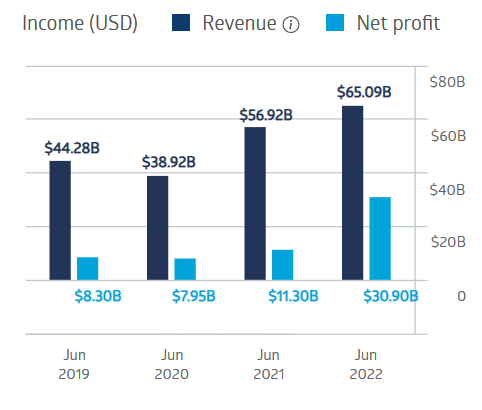 Source: ASX 
Over five years, the average dividend yield was 6.79%, with average annual dividend payments of $2.67 per share. As of 30 June 2023, two analysts had STRONG BUY recommendations on BHP stock, with eight at a BUY recommendation, six at HOLD, and three at UNDERPERFORM. 
Related Articles