Green Technology Metals (ASX: GT1) began its life on the ASX without sole ownership of its lithium projects in Canada.
Within a year the company secured 100% ownership.
Drilling began within a month of listing, with positive results announced repeatedly since.
The Green Technology Metals share price shot up shortly after listing on 9 November 2021 and is now up 76.9% as of mid-July 2023.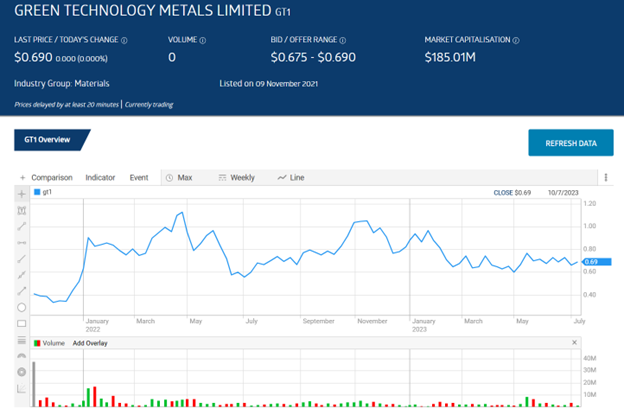 Source:  ASX
Unlike some newcomers to the lithium space that focus on a single flagship asset, Green Technology Metals is simultaneously exploring and developing multiple prospects in two areas of its holdings.
The company focuses on the Root Project in the Western Hub, with three additional prospects set for drilling campaigns in 2023 into 2024 – Allison Lake, Pennock Lake, and Wisa.
The Eastern Hub is home to the Seymour Project, with drilling underway at four highly prospective areas within the Seymour Project — Aubry Complex, Pye East Limb, Pye West Limb, and Forsythe. The company reports the Seymour Project remains largely underexplored and subject to fast-track development. Seymour is closer to production than Root, with permitting and a feasibility study expected sometime in 2024, with construction following and the first lithium hydroxide scheduled to be produced by 2027.
The combined Mineral Resource Estimate for Seymour and Root as of 22 July 2023 was 14.4 million tonnes. The company expects to be a significant supply source for multiple lithium battery manufacturers in the United States.
Sceptical investors should take note of the interest in Green Technology Metals from one of the world's foremost lithium battery manufacturers – LG Energy Solutions (LGES). LG invested AUD $20 million dollars in GT1 stock at a premium and signed a five-year offtake agreement to purchase 25% of Seymour Project production.
An analyst at BW Equities has a BUY recommendation on GT1 shares on the strength of the LGES investment and Green Technology Metals expanding lithium resource base.
Related Articles