Pointsbet holdings listed on the ASX on 11 June 2019, touting its innovative betting products and services, including Fixed Odds Sports and Racing along with Points Betting and iGaming and something new – Spread Betting.
Trading at $0.89 per share on its first day, news of successful moves into US states drove the price to an all-time high of $15.81 on 2 August 2021.
Thrilled investors bid up the Pointsbet Holdings stock on the announcement of this new penetration in the US. However, the company was haemorrhaging cash on its US expansion, relying on revenue from its Australian operations.
On 14 May 2023, investors were shocked to learn the company had entered into an agreement to sell its US business, sending the stock price plunging. In July 2023, the company is finalising the sale of its US business.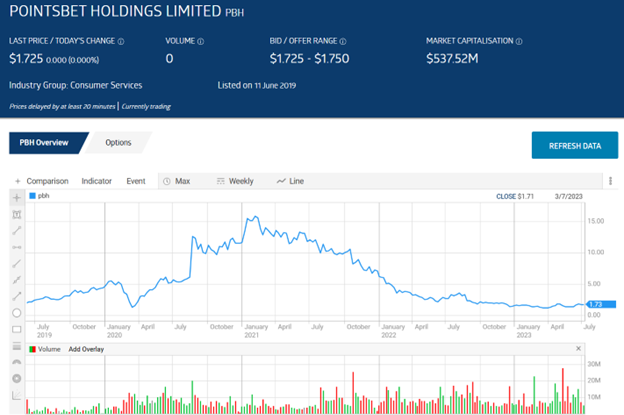 Source: ASX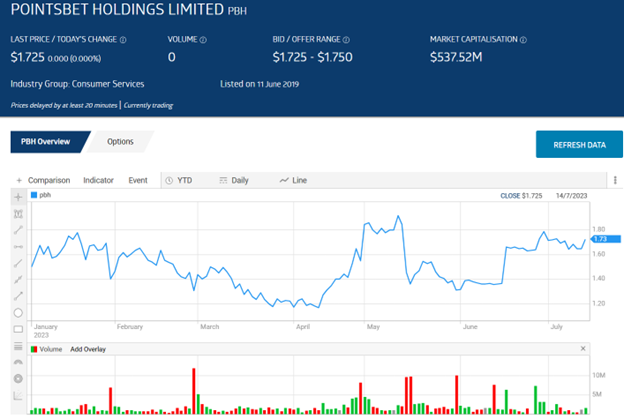 Source: ASX
Disappointed investors on the initial news of the sale were more than happy to bid up the stock once a brief bidding war for PBH ended, with the PBH Board recommending approval of a sale for USD $225 million dollars, USD $75 million dollars above the initial offer price.
Lost in the investor euphoria was the chance that Pointsbet might exit the business entirely. In an announcement on 28 December 2022, the company confirmed a rumour appearing in The Australian that Pointsbet was in discussions to sell its Australian business to Australian gambling company Betr.
In a 28 April Investor Presentation, Pointsbet management said earlier discussions of the sale of the Australian business to Betr had terminated but that the company was in talks with other third parties expressing interest.
In a 30 June Letter to Shareholders, management pledged the "new" Pointsbet would maintain the company's proprietary sports wagering and iGaming technology into the future.
Stockopedia has a SELL recommendation on PBH, citing stiff Australian competition.
Related Articles