Summit Minerals has three lithium projects in development, along with a REE asset in Western Australia and antimony assets in New South Wales.
Antimony is a metal suitable for liquid metal storage batteries for large-scale applications.
Promising drilling results at the company's Stallion Rare Earth Elements Project with the potential for an early initial resource estimate.
Summit listed on the ASX on 4 August 2022, closing its first day of trading at $0.146 per share. With a current share price of $0.14, the movement is essentially flat, although not without some volatility, allowing opportunities for buying on the dip.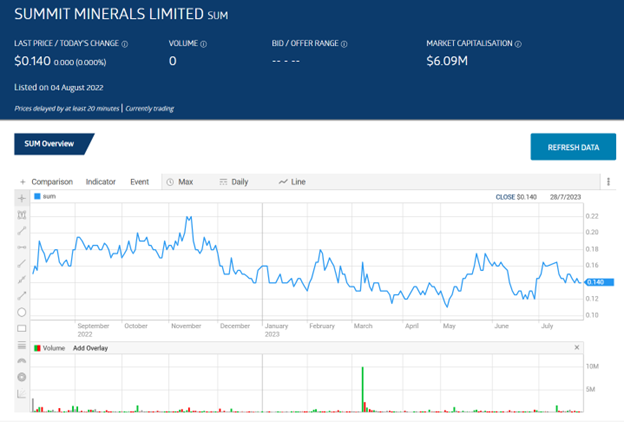 Source: ASX
Summit's flagship project is the Stallion Rare Earth Element (REE) Project in Western Australia. The project has a history of positive drilling dating back to 2010. It is now in its second phase of current drilling, with a third phase expected with initial resource estimates pending results.
The company has a combination Northern REE/Lithium Project at Gascoyne in Western Australia along with the Bridgetown and Philips River Lithium Projects, all in earlier stages of development in Western Australia.
In New South Wales, Summit has two Antimony projects in development – Magwood and Windfall, also in earlier stages. A US-based start-up spawned by the prestigious Massachusetts Institute of Technology (MIT) — Ambri Inc. — is developing a liquid battery storage system for solar and wind-powered generating farms utilising calcium and antimony.
On 12 July, the company acquired an 80% interest in the Castor Lithium Project in the world-class James Bay lithium district in the province of Quebec, Canada. Plans are pending for an early field exploration program to determine priority targets.
An analyst at Peak Asset Management has a speculative BUY on Summit shares, citing the company's potential and the recent acquisition of the Castor Lithium Project.
Related Articles