IAG has been plagued by losses from claims, both home and auto, from weather-related disasters over the past 15 years.
Premium hikes to combat losses and inflation have boosted the company's financials in the recent past.
The company posted a loss following COVID but has returned to profitability, although profit lags pre-COVID levels by a wide margin.
Over the last 15 years, Insurance Australia Group has paid more than $1.3 billion dollars in claims due to weather-incurred losses in New South Wales alone. Inflation has now joined the growing problem with the weather in Australia affecting property and casualty insurers like IAG. Over the past four fiscal years, IAG revenues remained essentially flat.
IAG Financial Performance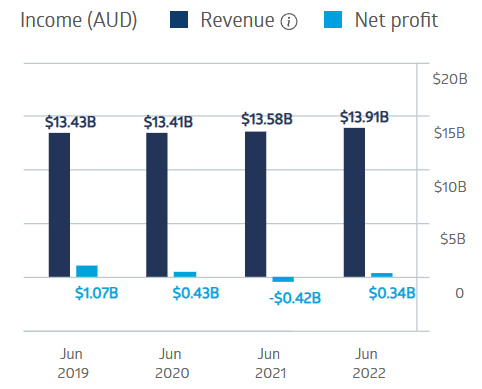 Source: ASX
Half Year 2023 financial results improved considerably, with a 7.5% increase in gross written premium (GWP) – from $6.5 billion dollars to $7.1 billion – along with a 172% increase in net profit after tax – from $172 million dollars to $468 million dollars. The profit included a $252 million dollar business interruption payment of $252 million. The company added 100,000 new customers in the period.
The company increased prior guidance for GWP growth in the full year 2023 to 10%. Management is bullish beyond FY 2023, with an expectation of expanding its customer base from one million customers to 9.5 million by FY 2026.
Over ten years, the IAG share price has been essentially flat. Still, the company has remained a consistent dividend payer, with a five-year average payment of $0.22 and an average dividend yield of 3.73%.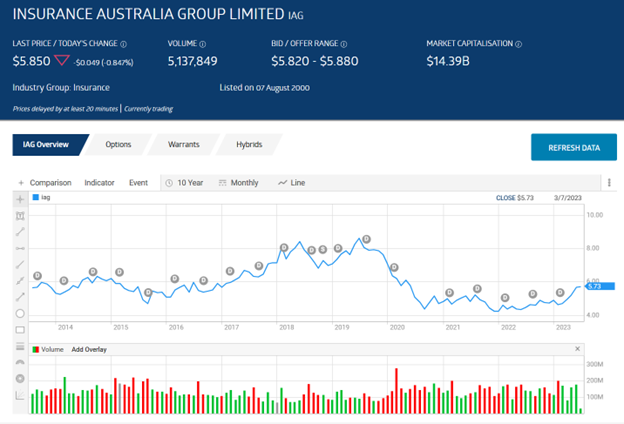 Source: ASX 
Year over year, the IAG share price is up 38.9%. An analyst at Red Leaf Securities has a HOLD recommendation on IAG shares, citing rising premiums and interest rates.
Related Articles