Centaurus Metals trades in the US OTC (over the Counter) and on the ASX. (ASX: CTM / OTCQX: CTTZF)
The stock is under the radar of most investors
Analysts are bullish on the stock.
Junior Miner Centaurus Minerals has two promising prospects in Brazil: the Jaguar Nickel/Sulphide Project, acquired from Vale in 2020, and the Jambreiro Iron Ore Project, both wholly owned by Centaurus.
A pre-feasibility study (PFS) was completed on Jambreiro in 2019, with the project awaiting an offtake agreement.
Drilling began at Jaguar immediately after the acquisition, with two scoping studies completed in 2021. The positive results led to a definitive feasibility study (DFS) that is now underway, with completion expected in mid-2023.
The DFS was delayed due to the increasing scope of the project as resource estimates continued to climb. Centaurus management expects production to begin late in 2025.
Year over year, the stock price has lost 12.4% and year to date, it is down 21.4%.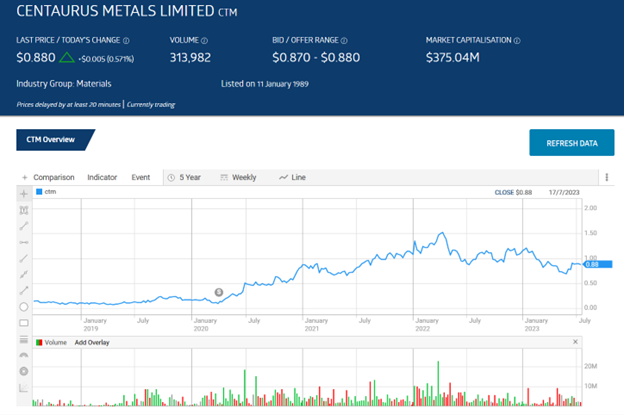 Source: ASX
Over five years, the stock price is up 486.6%. Yet, the ninety-day average trading volume of 707,000 Centaurus shares per day trails the 816,000 average daily volume of manganese and iron ore miner Jupiter Minerals, with a similar market cap. The 19 June announcement of the revision of the offtake and royalty arrangements with Vale from the original acquisition and a positive presentation at the 28 June Macquarie Critical Minerals Forum led to a brief and fleeting flurry of investor interest in the stock.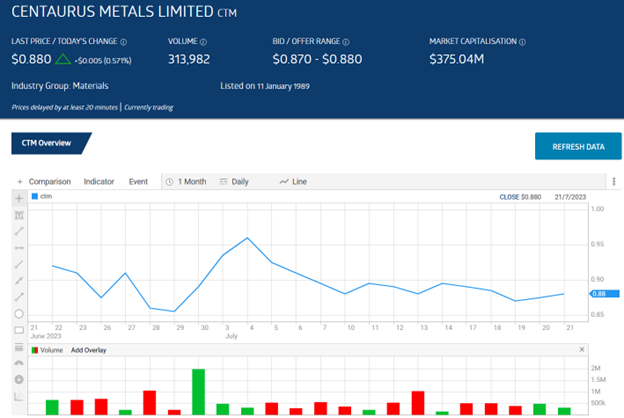 Source: ASX
Centaurus trades in the US, where five analysts have a BUY rating on the stock, with one at OVERWEIGHT and an average price target of USD $1.83.
In Australia, two analysts have a BUY rating and a price target of AUD $1.58.
Relevant articles