Energy from various sources provides the lighting and heating we all benefit from. It also powers machines in our homes, offices and factories. ASX-listed energy companies are the providers of that power, and we have some helpful information for those interested in investing in this market sector.
Investors in the mid-1900s had three energy-producing sources to consider – petroleum, gas, and coal. Choices from ASX energy stocks proliferated as multiple other sources came into play. The graph from ourworldindata.org/energy illustrates the change: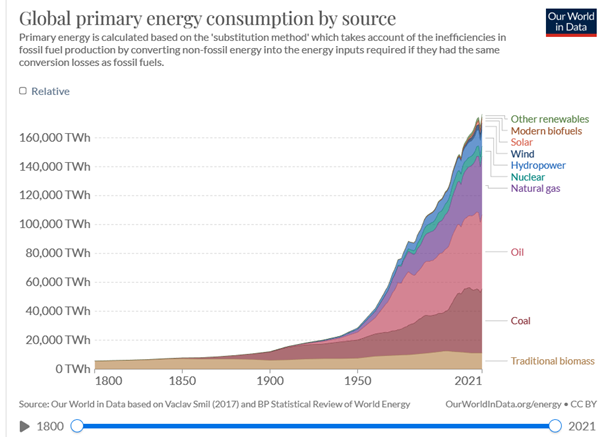 Source: ourworldindata.org/energy
The graph tells us that investors looking for the best ASX energy stocks to buy in 2023 have choices beyond the more traditional coal and oil producers.
Businesses and governments around the world are growing in their conviction that the pollution associated with energy production from oil and coal necessitates their replacement with clean energy. The International Energy Agency (IEA) claims governments are increasingly investing in clean energy start-up companies.
The many available renewable resources, such as solar and wind, hydrogen, and nuclear energy, are all entering the global energy mix through a growing number of energy producers.
For traders looking to invest in energy, we have picked out the best ASX energy stocks to buy in 2023, particularly from the hydrogen, nuclear energy, and renewable sources sectors.

The Best ASX Hydrogen Stocks to Buy in 2023
Hydrogen as a fuel can trace its origins back to hot-air balloons and airships before progressing to liquid hydrogen powering space exploration. It gained prominence in the 1970s but failed to reach its full potential for two primary reasons.
First, hydrogen is highly flammable. Secondly, although hydrogen is the most abundant element on the planet, the process of producing hydrogen for use is costly and inefficient.
Hydrogen does not exist in isolation and must be separated from other elements via electrolysis. Historically, it was the source of the power needed to run an electrolyser that caused both experts and investors to dim their view of hydrogen as a best energy stock. Hydrogen produced using coal and petroleum emits high levels of carbon dioxide so that rather defeats the object.
The dramatic declines in the cost of solar and wind energy have pushed hydrogen back into the forefront as "green hydrogen". Green hydrogen is produced using the carbon-free renewable energy sources of solar and wind.
ASX listed stocks are taking notice of the "green energy" movement, with some of the best ASX hydrogen stocks to buy being three existing large-cap companies and one promising small-cap.
Woodside Petroleum Limited (ASX: WPD)
Known for its massive presence in the petroleum and liquefied natural gas (LNG) market, Woodside decided to move into the hydrogen market space with its first operation – H2Perth – producing blue and green hydrogen.
The company is taking a staged approach, migrating towards green hydrogen production. Its latest efforts include green hydrogen produced using renewable energy sources at H2TAS in Tasmania and H2OK in the US state of Oklahoma.
Over three years, the Woodside share price went from $19.76 AUD on 24 August 2020 to the current $38.46, a gain of 94.6%.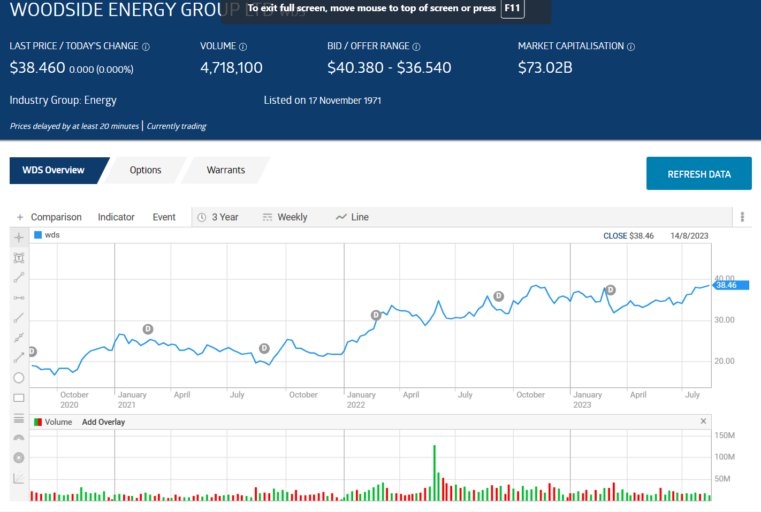 Source: ASX 14.08.2023
Fortescue Metals Group (ASX: FMG)
Iron ore giant Fortescue Metals has expanded its efforts toward green hydrogen production, from providing clean energy for its own operations to producing and exporting green hydrogen from renewables across the world. To that end, the parent Fortescue spawned a child – Fortescue Futures Industries (FFI). The subsidiary generated some controversy with its early prediction of fifteen million tonnes of green hydrogen per annum by 2030. FFI maintains the goal is achievable, given the company's technology enhancements, global presence, and exploding demand for green hydrogen. Fortescue is in the hunt to become one of the best hydrogen stocks ASX investors can buy.
Fortescue Metals Group's stock price has risen over five years from $3.12AUD on 20 August 2018 to $20.13 on 17 August 2023, an increase of 545.1%.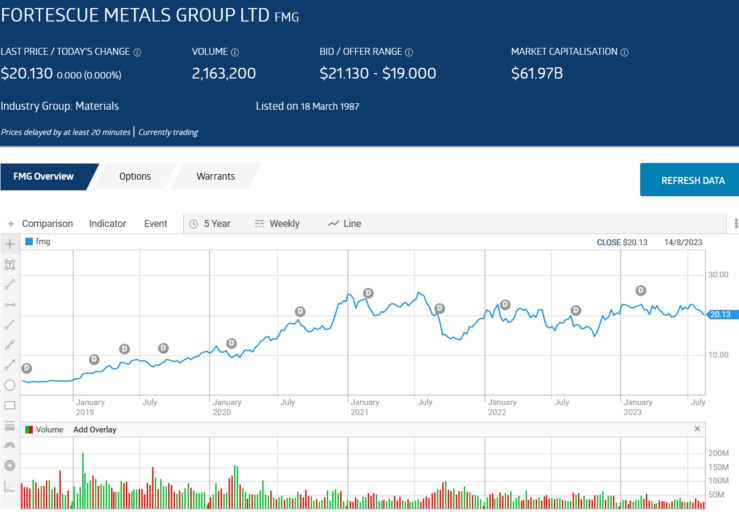 Source: ASX 14.08.2023
Sparc Technologies (ASX: SPN)
Sparc is a small-cap company with big plans. It has disruptive technologies in play to produce both graphene-based additives and green hydrogen.
The company is at the forefront of Sparc Hydrogen, a three-way joint venture between Sparc, Fortescue Futures, and the University of Adelaide. The Sparc technology uses the sun; in a single step, they use a photocatalytic water-splitting process that eliminates the need for electricity from solar or wind. The development of a pilot plant is ongoing.
Year over year, the Sparc share price is down 79%.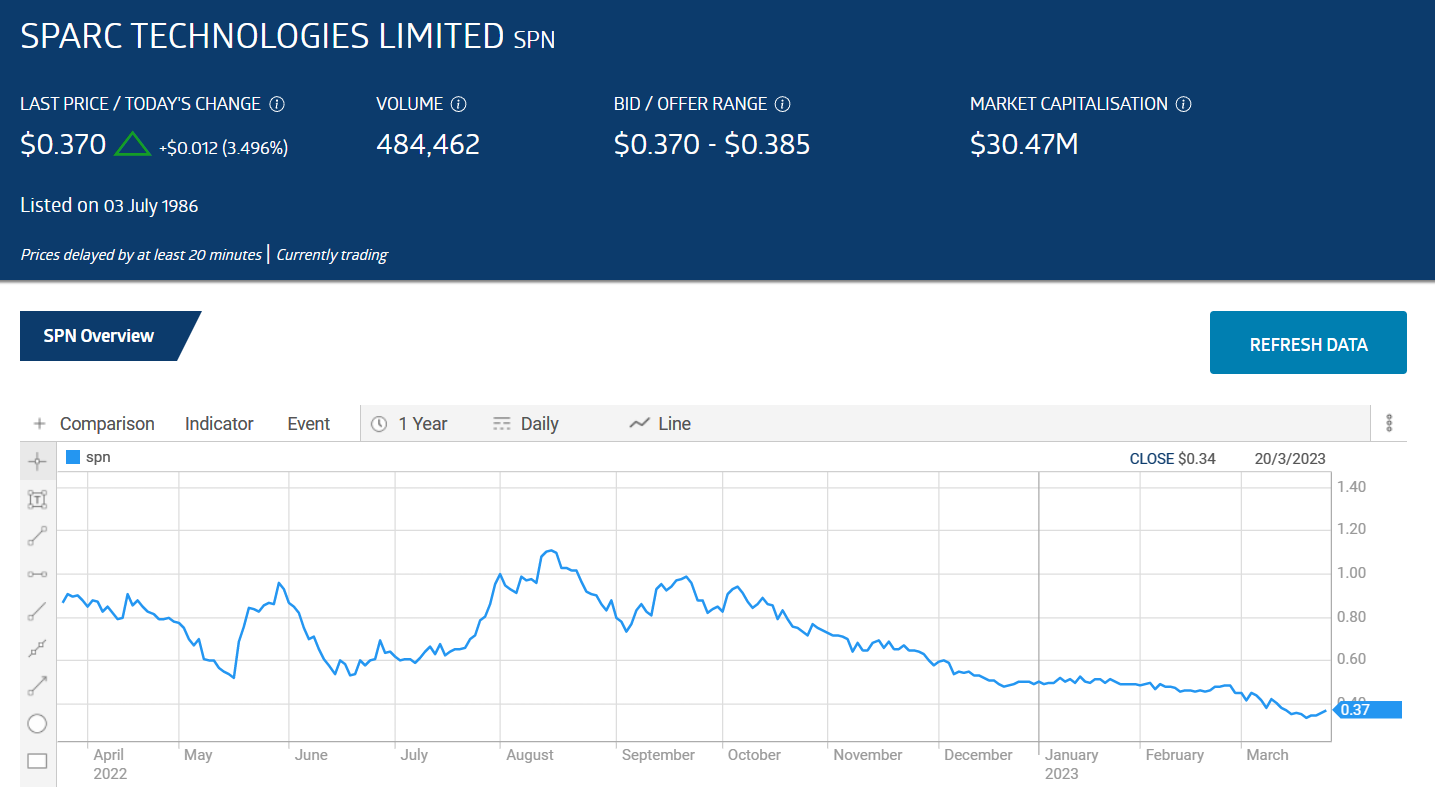 Source: ASX 23 14.08.2023
Lion Energy (ASX: LIO)
Lion Energy is an oil and gas exploration and development company that has expanded its focus to green hydrogen production.
The company's penny stock status means a high risk for investors. However, its success in oil explorations, alongside its sharply defined strategy for entering the green hydrogen space, seems to qualify Lion as a best ASX hydrogen stock.
On 13 April 2021, the Lion share price shot up 142% intraday on the release of the news the oil reserves at one of its assets had risen 203% from previous estimates.
Ten days later, the stock price saw another significant boost, up 65% intraday, on the announcement of a capital raise to advance its oil development asset and to enter the green hydrogen space.
Lion used the services of GPA Engineering, an expert in the field of green hydrogen, to develop a small to medium-scale strategy for entry, targeting the heavy transportation (trucks and buses) sector in Eastern Australia. The GPA analysis showed that green hydrogen, in the heavy transportation and public transport sectors in Eastern Australia, would be competitive with diesel fuel.
Year over year, the stock price is down 43.1%.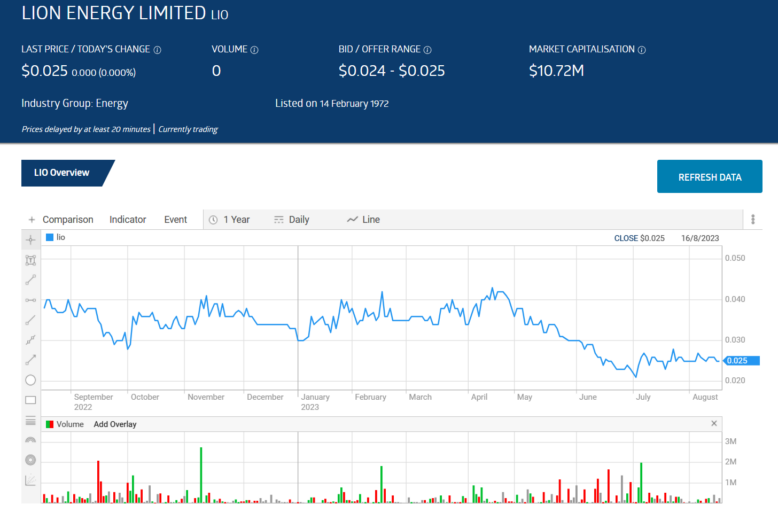 Source: ASX 14.08.2023
---
Don't Buy Just Yet
You will want to see this before you make any decisions.
Before you decide which shares to add to your portfolio you might want to take a look at this special report we recently published.
Our experts picked out The 5 best ASX shares to buy in 2023.
We're giving away this valuable research for FREE.
Click below to secure your copy
---
The Best ASX Uranium Stocks
The Fukushima reactor accident in Japan in 2011 pushed nuclear power out of serious consideration for clean energy. However, nuclear is back due to several reasons.
Primary among them is the daunting challenge that governments face around the world. Due to the increased risk of climate change and global warming, governments are asked to commit to
carbon reduction goals. Experts see some of these commitments as unattainable without nuclear power. New technology has bred a line of modular nuclear reactors, smaller in size and capable of moving from one location to another.
The UK is going ahead with plans to build a series of modular reactors, while France and Germany appear ready to scrap previous plans to shut down some of their operational plants. China reportedly has seventeen new plants under construction.
Here are some of the best uranium stocks on the ASX.
Paladin Energy (ASX: PDN)
Paladin produces uranium at its Langer Heinrich mine in Namibia and has diversified exploration assets in Australia and Canada. The company has a 70% stake in the mine, which went into care and maintenance in May 2018 due to falling uranium prices. With an improved outlook, the company plans to restart mining operations in this location.
The company has posted years of consecutive losses with a declining stock price since 2013. That is now reversing course, with some upward movement beginning in 2022.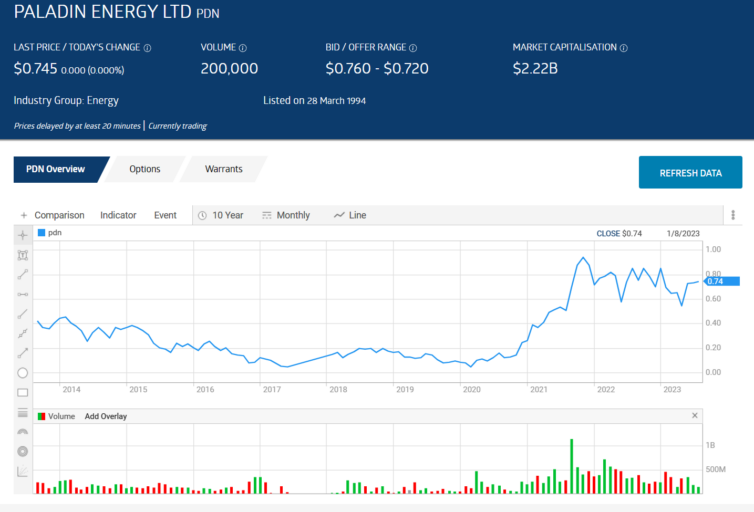 Source: ASX 01.08.2023
Boss Energy (ASX: BOE)
Boss Energy is the sole owner of the Honeymoon uranium project in South Australia. The Honeymoon mine was shuttered in 2013 by the previous owner, Canada's Uranium One, after a failed attempt to keep the mine going. Boss has now completed an EFS (enhanced feasibility study) confirming the company's decision to alter the mine operations from Uranium One's approach. The study corroborated the company's view that operational changes would lower costs and increase production. Honeymoon is expected to recommence production in the December Quarter of 2023.
Year over year, the share price is up 27.8%.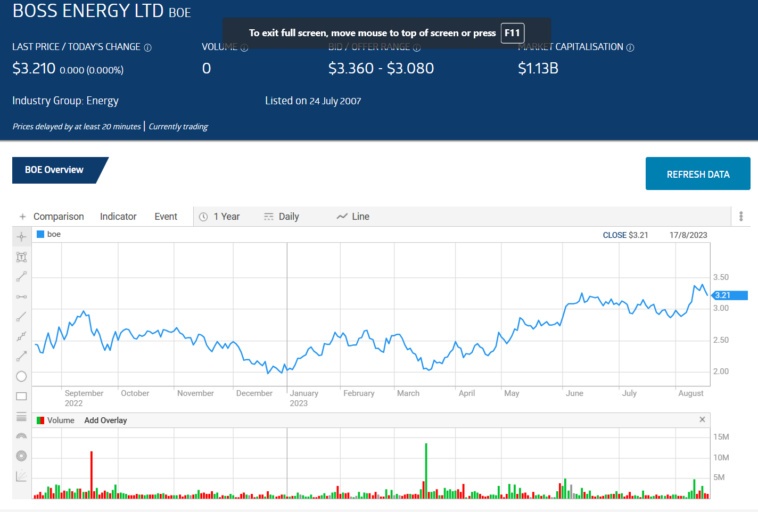 Source: ASX 17.08.2023
Deep Yellow Limited (ASX: DYL)
The company has multiple assets, two here in Australia and four in Namibia (Africa). The Mulga project in Australia is also in later-stage development, giving Deep Yellow the potential to begin production from two mines in rapid succession – Mulga plus the further advanced Tumas Project.
The Tumas Project in Namibia is the flagship operation, with a 1 February release of a   highly positive completed DFS (definitive feasibility study) on the project. Year to date, the share price is up 18.5%.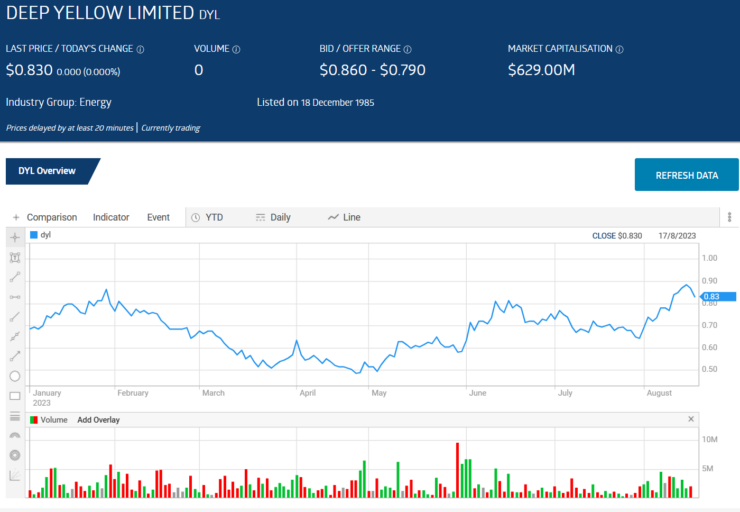 Source: ASX 17.08.2023
Deep Yellow has the potential to become Australia's largest uranium miner when Mulga and Tumas are operational. At present levels, the company's attributable mineral resource base of 389 million pounds puts the company at the top of all ASX uranium producers.
The Best ASX Renewable Energy Stocks
Renewable energy sceptics long ago claimed that the cost of solar and wind power would take decades (and longer) to become competitive with natural gas, coal, and petroleum. That has happened in a single decade. A recent article from the world economic forum includes data supporting the case for the cost efficiency of solar and onshore wind power.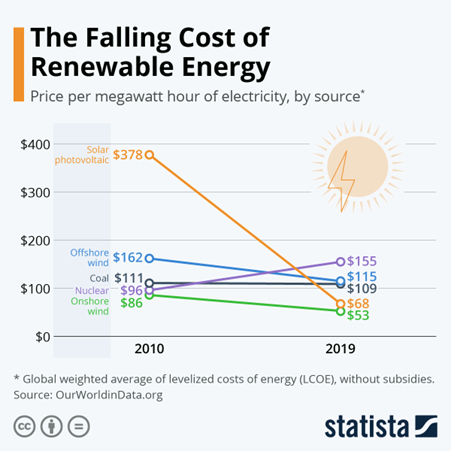 Renewable energy sources are expected to continue to gain market share from coal, oil, and natural gas, though to a lesser extent. The World Resources Institute predicts that if solar and wind continue at their historical growth rate, renewables could capture 45% of the electricity generation market by 2030 and 100% by 2033.
Here are some of the best renewable energy stocks ASX investors can buy.
Infratil Limited (ASX: IFT)
New Zealand-based Infratil is an investment fund focusing on companies in digital and social infrastructure, healthcare, and renewable energy. The company has been in business since 1984, with an impressive run of dividend payments and share price appreciation over the last decade. Over the past five years, the share price is up 190.5%.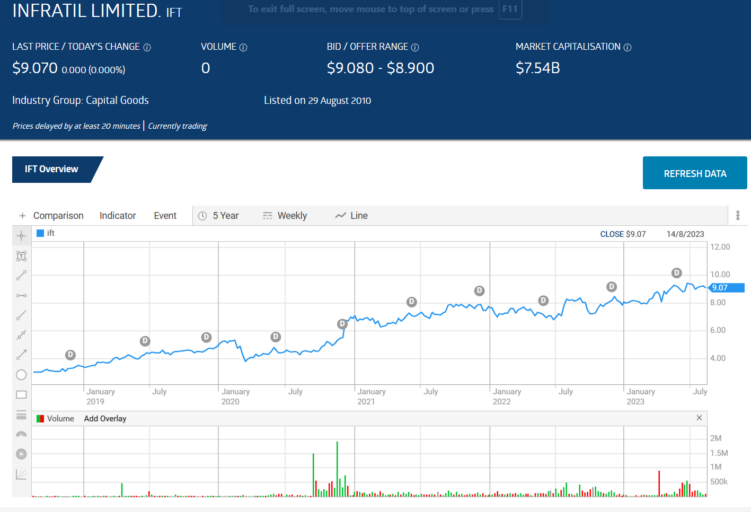 Source: ASX 14.08.2023
The company's investments in renewable energy companies span the globe, from Australia to New Zealand, the US to Europe, and Singapore. The largest holding is a 95% controlling interest in Gurin Energy, a Singapore-based company with a pipeline of renewable energy projects throughout Asia.
Next is a 75% stake in Australia's Mint Renewables, which is also developing wind and solar projects. Infratil holds a 51% interest in Manawa Energy, the fifth largest electricity producer in New Zealand, operating 26 hydropower generating stations.
Europe's Galileo Energy is developing wind and solar projects across Europe; Infratil holds a 40% interest.
Finally, Infratil holds 37.1% of the shares of US-based Longacre Holdings, with operational holdings developed internally and acquired across the United States.
Genex Power Limited (ASX: GNX)
Genex is a diversified renewable energy developer that extends beyond wind and solar to large-scale hydro and battery storage. The company has seven projects underway, with four clustered in the flagship project of Genex Power – the Kidston Clean Energy Hub in Queensland. Four projects make up the Kidston Hub –the operational Kidston Solar 1 (KS1) is the first. The Kidston Solar 2 project will power what the company calls the flagship of the Kingston Hub. That is the Kingston pumped hydro storage project, the first of its kind in Australia in over 40 years. Genex has formed a joint venture to develop wind power at Kidston.
The company also has a BESS (battery energy storage system) project, an additional solar power operation in development, as well as a battery energy storage system in conjunction with a solar project.
Year over year, the Genex Power share price is down 40.9%.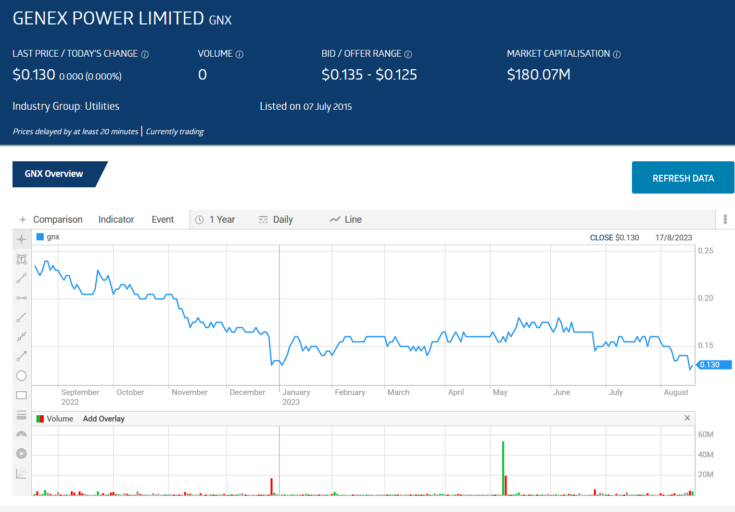 Source: ASX 17.08.2023
Meridian Energy (ASX: MEZ)
New Zealand-based Meridian Energy is that country's largest generator of electricity, with hydropower plants producing 90% and the remainder from wind farms. The company retails the electricity produced for residential, commercial, and industrial use in New Zealand, Australia, and the UK.
The company appears to have a competitive edge due to the range of electricity services it offers to a broad range of customers – from individuals to businesses, both large and small. Meridian is building a network of EV charging stations to support the company's charging plans offered to its customers.
Meridian is generating revenue and is profitable. Interim Financial 2023 Financial Results showed a 39% increase in net profit after tax.
Longer-term shareholders have benefited from Meridian's consistent record of dividend payments and a rising stock price.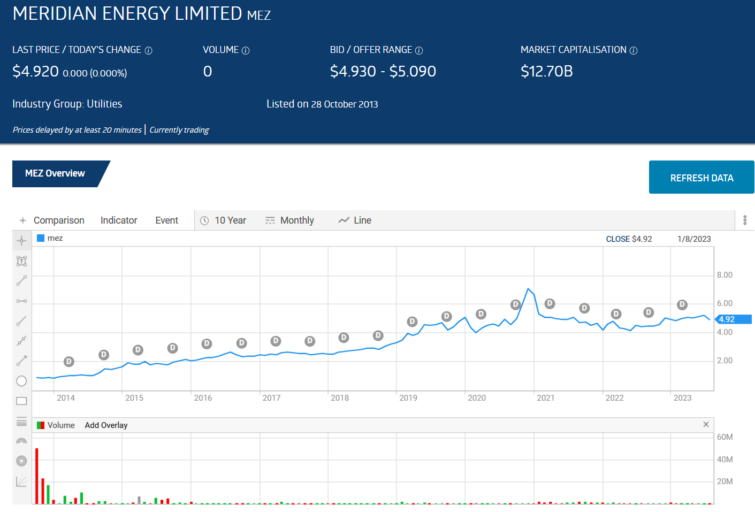 Source: ASX 01.08.2023
To power the machines we need in our lives as well as provide ourselves with heat and light, we need energy. Energy has always come from a mix of sources.
In the past, investors wishing to take advantage of the never-ending and ever-increasing demand for energy had limited choices (coal, oil, or gas). Today that has changed dramatically with the entry of new sources into the energy mix, including solar, wind, hydro, geothermal, nuclear, and hydrogen.
The ASX features some of the best hydrogen stocks, the best uranium stocks, and the best renewable energy stocks, giving investors a wide variety of best choices.
FAQs
What Are Energy Stocks?
Energy stocks are share of companies involved with the production and supply of energy. This can include the development of oil and gas reserves, renewable energy, power utility companies and more.
How to Buy Energy Stocks?
Energy stocks are widely available. Many Australian brokers will offer a range of energy stocks. To buy them you will first need to choose a broker and open an account. You will then need to do your own research and decide which stocks to invest in.
Is Nuclear Energy Renewable?
Although nuclear energy is a clean energy source that produces no carbon emissions, it is not renewable. It relies on the burning of nuclear fuels such as uranium and so it is not renewable like solar, wind and hydroelectric power are.
How Much of Australia's Energy is Renewable?
According to a report by the Clean Energy Council renewable energy accounted for 35.9% of Australia's total electricity generation in 2022, up from 32.5% in 2021. Coal still provides the majority of Australia's power, accounting for 59.1% with gas at 7.7%.