New Zealand-based Xero was listed on the ASX in 2012.
By mid-2018, the stock price began a dramatic rise.
With market darling status in hand, Xero was named in the WAAAX list of top technology stocks.
In response to the US acronym FANG stocks highlighting that country's top technology stocks, the ASX coined its own – the WAAAX stocks. Members included Wisetech Global, Afterpay, Altium, Appen, and Xero.
The technology downturn dropped coverage of WAAAX from many Australian stock market news sites. However, Xero, the innovative cloud-based accounting software firm focusing on small to medium-sized businesses and accounting firms, still attracts investors.
Year over year, the Xero share price is outpacing the remaining WAAAX stocks – Wisetech, Altium, and Appen.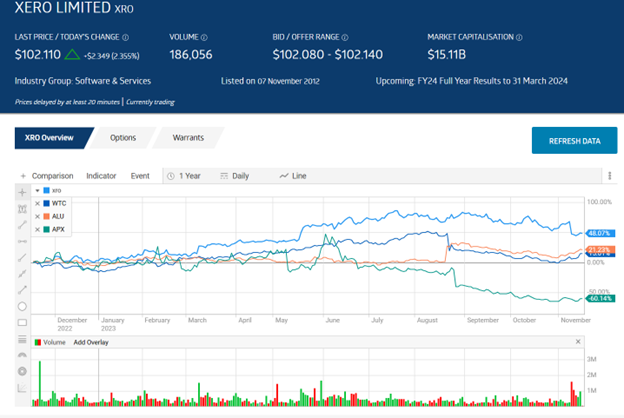 Source: ASX
Since listing, the stock price is up an astonishing 1,737%!
Xero went on an early growth binge, achieving a dominant market share in Australia and New Zealand and expanding into the UK market. Unbridled growth at any cost can negatively impact profitability. Over the last four fiscal years, the company's profitability has not kept pace with revenue growth.
Xero Financial Performance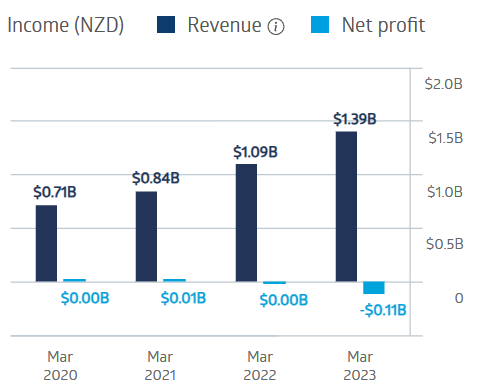 Source: ASX
The company's Half Year 2024 financial results released on 9 November saw the company make good its promise to stop chasing growth at any cost. Revenues rose 21%, and the company's Half Year 2023 loss of $16 million dollars NZD was replaced by a profit of $54 million NZD.
Investors were disappointed, apparently expecting more. The stock price has dropped 11.34% over the last month.
An analyst at Shaw and Partners has a HOLD on Xero, calling the company's accounting software the best in class.
Don't Buy Just Yet
You will want to see this before you make any decisions.
Before you decide which shares to add to your portfolio you might want to take a look at this special report we recently published.
Our experts picked out The 5 best ASX shares to buy in 2023.
We're giving away this valuable research for FREE.
Click below to secure your copy
Related Articles: