For decades, investors worldwide have had a love affair with technology stocks. In the US, the acronym FAANG stocks gained popularity to encapsulate some of the country's most successful technology companies – Facebook (now Meta), Apple, Amazon, Netflix, and Google (now Alphabet).
Not to be outdone, the Australian investing community used an acronym to pinpoint some of the best Australian technology stocks listed on the ASX – the WAAAX stocks.
Wisetech Global (WTC)
Afterpay Limited (APT)
Appen Limited (APX)
Altium Limited (ALU)
Xero Limited (XRO)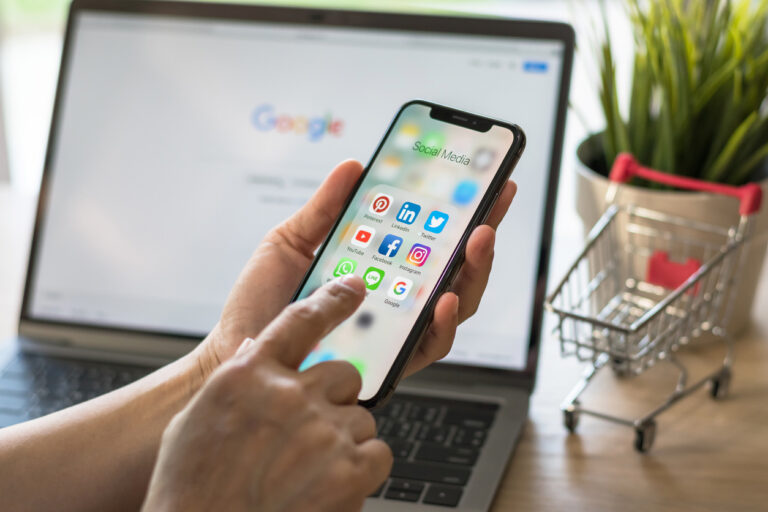 Tech stocks are engaged in operations many investors find fascinating and even glamorous. Some business sectors are staid and boring, but not technology. In addition, tech stocks are seen as drivers of the future, with, in many cases, seemingly unlimited potential for growth.
The downside of many such stocks is the risk, which can be daunting. Established tech stocks may generate revenue and profit, but there is often a competitor whose offerings may cut into market share.
Tech stocks in the early stages of the life cycle of a business often have more cash going out the door than coming in. That means debt and capital raising are necessary to generate the cash flow needed to reach a profit-generating stage.
Such debt exposes tech stocks to the challenges of inflation and rising interest rates. With central banks worldwide raising interest rates to combat global inflation, the once-favoured tech sector has become less attractive. However, there is some evidence that the tech sector may experience a muted recovery in 2023.
For risk-tolerant investors, we have listed some of the best ASX technology stocks to buy in 2023. The critical factor when considering whether to invest in these best ASX tech stocks is their financial stability. Start-ups can get the blood pumping, but should inflation and interest rates lead to a global recession, reasons for buying can quickly evaporate.
Xero Limited (XRO)
Xero is a SaaS (software as a service) provider with a cloud-based accounting platform targeting small to medium-sized enterprises (SMEs) needs. Although individually small in size, SMEs as a group represent a huge and historically underserved market for technology innovations.  Lacking the resources of blue chips and large caps, SME companies are often left out in the cold. In 2021 there were a reported 332.9 million small and medium enterprises in business around the world.
Global Small and medium-sized enterprises (SMEs) — 2000 to 2021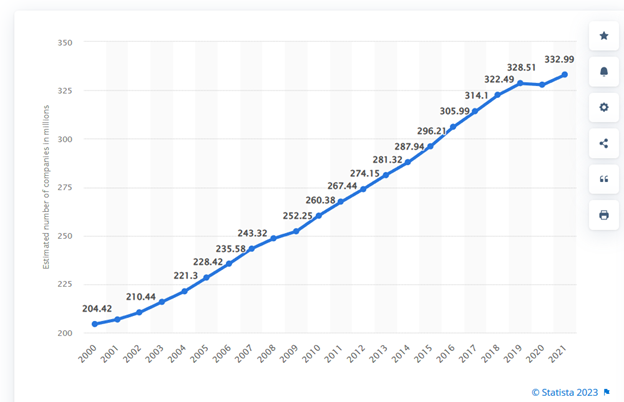 Source: Statista.com/statistics
The company has expanded from its home base in New Zealand to become the largest SaaS accounting company in the region, with an eye towards continued  expansion into both the US and the UK markets
Xero was listed on the ASX in early January 2011, with the share price hitting rock star status until it hit the skids in late 2021.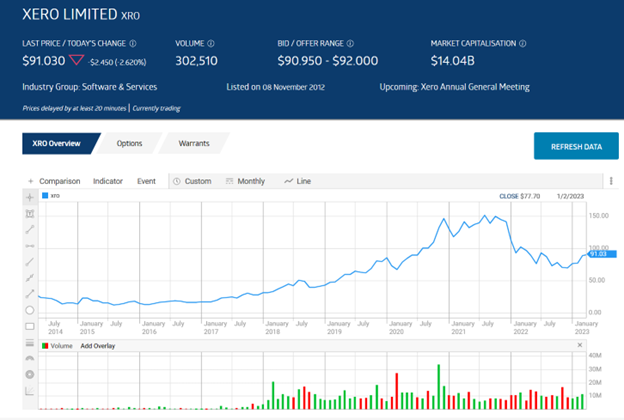 Source: ASX 8 March 2023
The company's growth strategy is hyper-aggressive, with multiple acquisitions and partnership relationships. However, that comes with high costs, especially in the more expensive acquisition markets in the US and the UK. Xero defends this strategy, citing the global market potential at 45 million customers and its existing client base of 3.5 million customers. Investors and analysts are pinning their hopes on Xero's solid revenue growth.
Xero Financials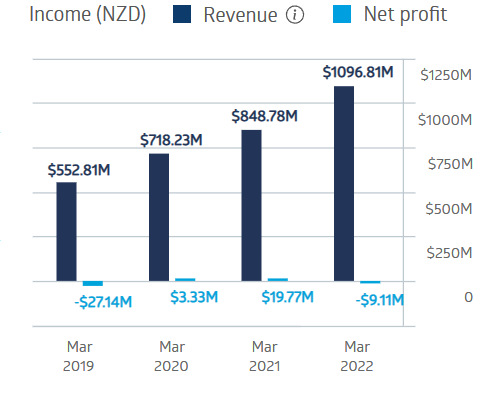 Source: ASX 8 April 2023
Half Year 2023 Financial Results released in November of 2022 continued the trend. Operating revenues were up 30%, and Xero customers increased by 16%. Still, operating expenses continued to eat into the company's profitability, with the half-year loss rising by 172% over the previous corresponding period (pcp). The company's growth strategy requires constant product innovation, leading to 35% of operating revenues used in product design and development.
The Half Year Results were announced on 10 November 2022. On 11 November, global investment bank Goldman Sachs reiterated its BUY rating on XRO with a price target of $115.00 per share. It cited the continuation of the strong trends in revenue growth and customer subscription.
Megaport  Limited (ASX: MP1)
Megaport operates as a 'network-as-a-service' (NaaS) company, providing a desperately needed single connectivity platform to a world drowning in digital connection needs. Today's businesses must connect their internal ICT (information and communication technology) networks to multiple cloud providers, managed services providers, and supplier and partner networks.
Megaport operates globally, offering its customers connections to the largest cloud providers on the planet, including Amazon Web Services, Microsoft Azure, Google Cloud, Oracle Cloud, IBM Cloud, Salesforce, and others. The company claims 2730 customers worldwide served by 802 enabled data centres.
Megaport has become a "poster child" for the battered and beaten ASX tech stocks that are considered growth stocks but are continuing to post losses. MP1 ranks fifth on the 31 March 2023 Top Shorted Stocks on the ASX list. Year over year, the share price has dropped close to 70%, while Xero has fallen by almost 12%.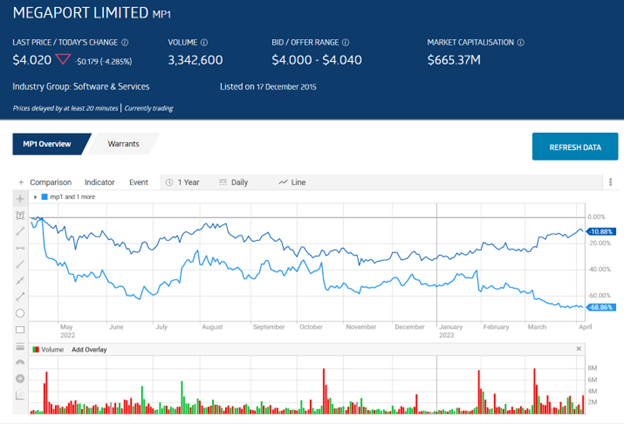 Source: ASX 8 April 2023
The company was hit hard by the pandemic. Despite maintaining revenue growth over the last three fiscal years, the profit/loss situation showed no signs of recovery, while alarmingly significant losses were incurred.
Megaport Financials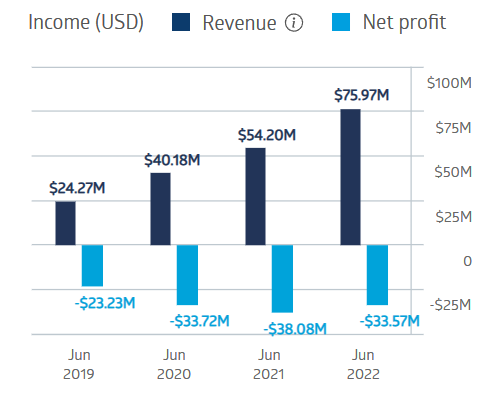 Source: ASX 8 April 2023
The Half Year 2023 Financial Results finally breathed a gasp of recovery – the posted loss of $13.5 AUD million dollars improved on the previous half-year loss of $20.2 million dollars, a 33% improvement. Revenues were up 38%.
The profit drought may be coming to an end in 2024. Fourteen of Australia's information communication technology analysts predict the company will post its last loss in 2024 before turning moderately profitable in FY 2025.
Silex Systems Limited (ASX: SLX)
Silex Systems has developed laser technology for enriching uranium. Governments worldwide realise how difficult it will be to meet their ambitious carbon reduction targets without nuclear energy. The war in Ukraine has intensified the push for nuclear power, ending the Fukushima nuclear disaster tailwind for uranium stocks.
While most ASX tech stocks were on the chopping block in 2022, Silex shares were up dramatically, hitting a ten-year high on 22 February 2023.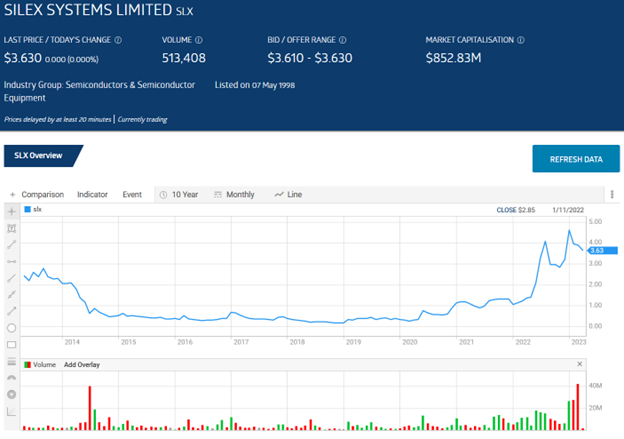 Source: ASX 8 April 2023
The reversal of the upward momentum of the share price followed the release of the company's Half Year 2023 Financial Results. While revenues were up 77.9%, the company's loss deepened substantially, declining 95.9% from the previous corresponding period. Immediately following that release, the company announced a capital raise.
The Silex laser uranium enrichment technology is being jointly developed with US-based Global Laser Enrichment (GLE). There are plans for a full-scale demonstration uranium production operation by the end of the decade, a timeline under review for earlier completion.
The company is also exploring the use of the technology to enrich silicon for use in quantum computing and medical radioisotopes. The Silex/GLE joint development operation recently signed its third LOI (letter of intent) with a US utility to explore areas of cooperation.
The Silex financial performance highlights the challenges of investing in a company in a race to generate sufficient revenue and lower costs to yield a profit.
Silex Financials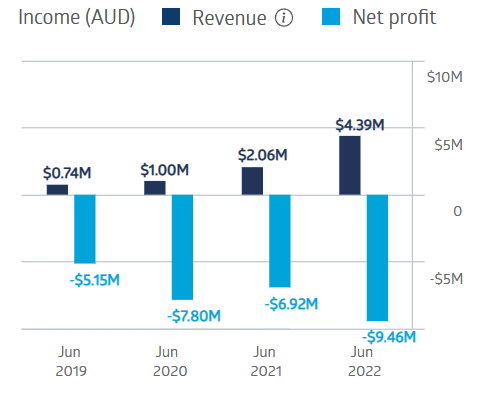 Source: ASX 8 April 2023
Technology One Limited (ASX: TNE)
Technology One is another ASX tech stock whose share price escaped the tech crash in 2022 and continues its upward momentum.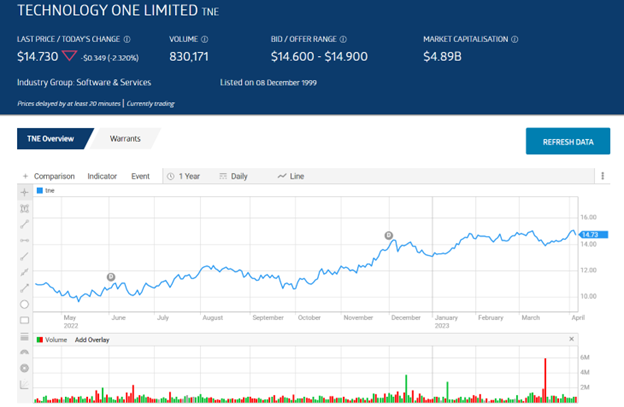 Source: ASX 8 April 2023
The company operates as a SaaS provider of its researched, designed, and developed information communications technology solutions for enterprise customers and as an ICT consultant.
Its extensive customer base includes governments, healthcare operators, educational institutions, financial services, utilities, and other corporate customers. Available software solutions are equally expansive, ranging from human resource management to accounting and billing to asset and project management and payroll.
The company is financially stable enough to pay dividends, with a five-year average dividend yield of 1.35%. TNE managed to grow both revenue and profit throughout the pandemic and the collapse of most of the Australian tech stocks.
Technology One Financials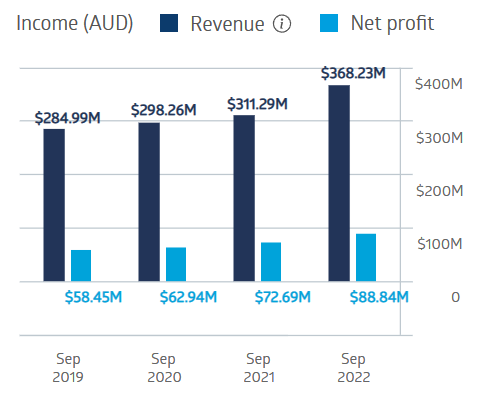 Source; ASX 8 April 2023
Hansen Technologies Limited (ASX: HSN)
Hansen is another financially stable dividend payer that deserves a place on any watchlist of the best ASX tech stocks to buy in 2023. The company is a SaaS provider of billing software and consultancy services for the utilities and communications sectors. In business for 50 years, Hansen operates in over 80 countries.
Hansen's stellar financial performance slipped a bit between FY 2021 and FY 2022, with a 4% decline in revenue and a 27% fall in net profit.
Hansen Technologies Financials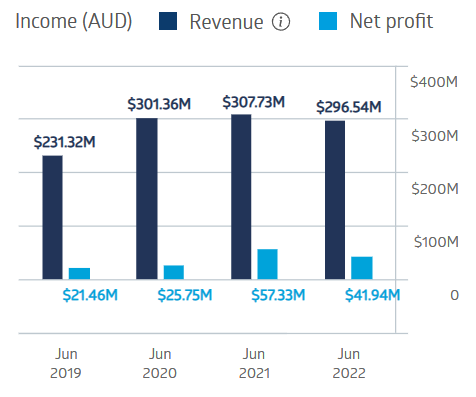 Source: ASX 8 April 2023
The Half Year 2023 Financial Results showed more of the same, with a slight increase  (+0.1%) in revenue and a profit decline of 29.7% while maintaining dividend payments decreased by 28.6%. The Full Year 2022 dividends were at record levels. Hansen's five-year average dividend yield is 1.91%. The company's outlook for the remainder of FY 2023 remains positive.
Analyst opinion on HSN shares is mixed, with one analyst at STRONG BUY; one at BUY; 2 at HOLD; and one at UNDERPERFORM.
The most significant innovations of the last century have come from the technology sector. Many investors see virtually unlimited growth potential in the best Australian technology stocks.
Investors must be mindful that the high growth potential often comes with high risk, even among the best ASX-listed tech stocks. The most profitable of the best ASX tech stocks are subject to pressures from competitive technologies.
Tech stocks in the early stages of development frequently rely heavily on borrowings to fund operations and growth initiatives. In addition, inflation carries twin risks for tech stocks in the current economic climate. Inflation raises the input costs of most tech stocks, and to combat inflation, central banks worldwide have been raising interest rates. That has impacted the cost and the availability of debt financing for tech sector stocks.
The best ASX tech stocks to buy in 2023 might be the most financially stable.
FAQs
What Are Tech Stocks?
Tech stocks are publicly traded shares of companies involved in the technology sector. This can include a wide range of business activities such as telecommunications, software development and digital products.
What Are FAANG Stocks?
The acronym FAANG is used to refer to a group of major US companies in the technology sector. These companies are Facebook (now Meta), Apple, Amazon, Netflix and Google (now Alphabet).
What Are WAAAX Stocks?
Like the FAANG stocks in the US, the WAAAX acronym groups together some of Australia's most prominent technology companies. These companies are Wisetech Global, Afterpay Limited, Appen Limited, Altium Limited and Xero Limited.
Why Invest in Tech Stocks?
Technology stocks have grown in popularity in recent years. The tech sector is growing rapidly and many of these companies have very strong fundamentals. Technology represents a key part of the future global economy and so tech stocks are an essential part of any portfolio.
How to Buy Tech Stocks
Technology stocks can be bought via a regulated Australian broker. Many brokers will offer a range of Australian technology stocks. Once you have opened your account you should then research the different stocks available and decide which ones, if any, are the right investment for you.