Dicker Data's product vendors includes the likes of Microsoft, Samsung, LG and Hewlett Packard.
The company has been a consistent fully franked dividend payer over the past decade.
The volatile share price in 2023 has seen large rises and falls mirroring financial results releases.
The wholesale distributor of hardware, software and cloud services, and related products Dicker Data saw a steep drop in share price following the release of its Full Year 2022 financial results, only to see a steep increase following the release of its Half Year 2023 results.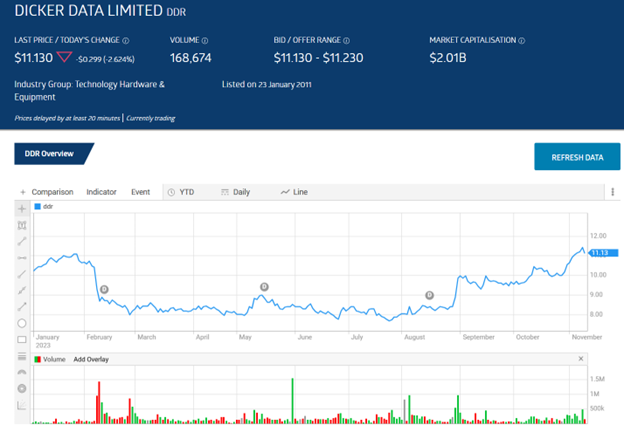 Source: ASX
Although revenues rose 25% in FY 2022, net profit remained essentially flat, down 0.7%.
Dicker Data Financial Performance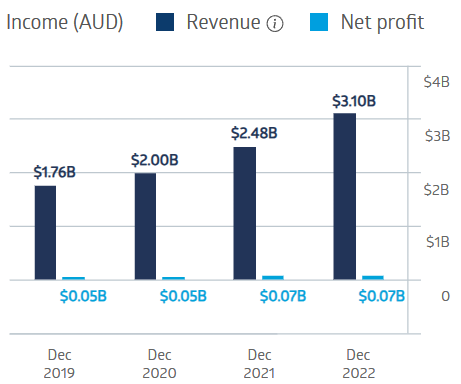 Source: ASX
Half Year 2023 results released on 29th August pleased investors, who sent the stock price upward. Statutory revenue rose 5.3%, while net profit after tax was up 9.4%.
The stock price got another boost on 30th October when the company released its update for Q3 2023. Unaudited results showed gross revenues up 8% and net profit before tax up 10.4%.
Beyond the numbers, Dicker management had welcome news for investors – "as one of the only distributors that represents all of the required technologies to deliver enterprise-grade AI solutions, [Dicker] is expected to benefit in 2024."
The company's five-year average dividend payment is $0.34 per share with a yield of 3.96%.
An analyst at Tradethestructure has a BUY recommendation on Dicker shares, suggesting that a technical perspective indicates that the strong upward price trend seen in August should continue.
Don't Buy Just Yet
You will want to see this before you make any decisions.
Before you decide which shares to add to your portfolio you might want to take a look at this special report we recently published.
Our experts picked out The 5 best ASX shares to buy in 2023.
We're giving away this valuable research for FREE.
Click below to secure your copy
Related Articles: