The company has mines and exploration projects in Australia, Southern Africa, and North and South America.
The South32 portfolio is diversified across ten commodities, including aluminium, alumina, nickel, manganese, and copper.
In 2022 the company added copper to its portfolio as well as a key mining asset in the US.
South32 has maintained its metallurgical coal operations while getting out of thermal coal.
South32 was a spin-off from BHP Billiton Group in 2015, with the share price rising 75.8% since listing. Year to date, the share price is down 3.75%.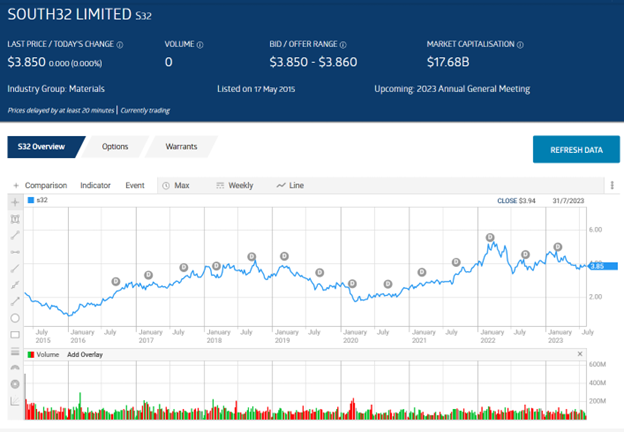 Source: ASX
South32 felt the impact of the COVID-19 Pandemic in the initial stages and throughout the variants, resulting in revenue declines and profit losses in FY 2020 and FY 2021. The company's financial performance in FY 2022 exceeded pre-Covid levels.
South32 Financial Performance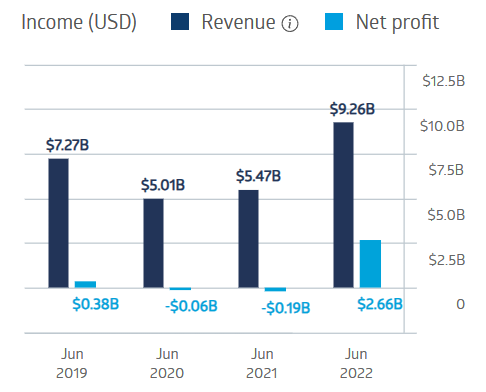 Source: ASX
The company's Half Year 2023 Results bore the brunt of commodity price declines, posting negative results in every major category, topped by a 34% decline in net profit. Only an increase in the share buyback programme kept the share price from taking a deep dive. However, management expressed confidence in an improved commodities outlook and the prospects of the manganese development at its Hermosa Project in the US state of Arizona.
The latest Quarterly Report released on 23 July highlighted record production levels for aluminium, copper, and manganese, along with an upgrade to the resource estimate for the US project.
South32 has paid dividends every year since listing, with a five-year average dividend payment of $0.13 per share and a five-year average dividend yield of 3.88%. The current yield is 7.23%.
An analyst at Bell Potter Securities has a BUY recommendation on S32 shares, citing its strong balance sheet and exposure to commodities vital to a lower carbon world.
Don't Buy Just Yet
You will want to see this before you make any decisions.
Before you decide which shares to add to your portfolio you might want to take a look at this special report we recently published.
Our experts picked out The 5 best ASX shares to buy in 2023.
We're giving away this valuable research for FREE.
Click below to secure your copy
Related Articles