Northern Star Resources is the second largest gold miner on the ASX, behind Newcrest Mining.
The company began its meteoric rise in 2010 following the acquisition of the Paulsens Mine.
Northern Star operates gold mines in Australia and North America, with two major development projects in progress.
Northern Star Resources was listed on the ASX in 2003, with an incredible share price appreciation of 7,398.8% since its first day of trading.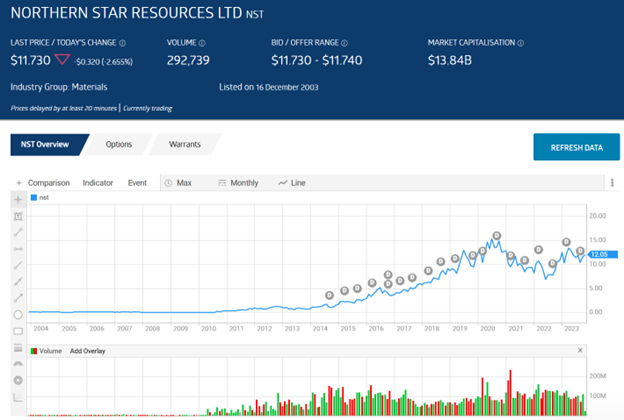 Source: ASX
Year over year, the share price has risen 25.85%. The company began paying dividends in 2013 and has since not missed a dividend payment. Northern Star's five-year average dividend payment is $0.17 per share, with a five-year average yield of 1.65%.
The company has three major gold-producing hubs – Jundee and Kalgoorlie in Western Australia and Pogo in the US state of Alaska. Northern Star has two major development projects in Western Australia and four additional developmental assets.
Historically, investors have viewed gold as a hedge against inflationary times and a safe haven in periods of economic downturn or uncertainty, with both conditions evident today.
The price of gold is in ascendance on the back of central bank purchases, not just individual and commercial investors. A report from the World Gold Council maintained that "this strong buying streak from central banks is expected to stay on course for the remainder of the year, indicating a robust annual total again in 2023."
The company's production outlook for FY 2024 calls for between 1.60 and 1.75 million ounces, up from FY 2023 production of 1.56 million ounces.
An analyst at Tradethestructure has a BUY recommendation on NST shares, citing the outlook as looking "bright on the back of potentially higher gold prices."
Don't Buy Just Yet
You will want to see this before you make any decisions.
Before you decide which shares to add to your portfolio you might want to take a look at this special report we recently published.
Our experts picked out The 5 best ASX shares to buy in 2023.
We're giving away this valuable research for FREE.
Click below to secure your copy
Related Articles: