Evolution Mining is the third largest gold mine on the ASX, behind Newcrest and North Star.
The price of gold in Australian dollars hit an all-time high in late October.
The surge comes amidst growing concern over the Mid-East war and the exchange rate with the US dollar.
Evolution Mining has been a top ASX gold producer for over a decade. Year over year, the share price – up 71.1% intraday on 31 October – has outperformed its larger rivals.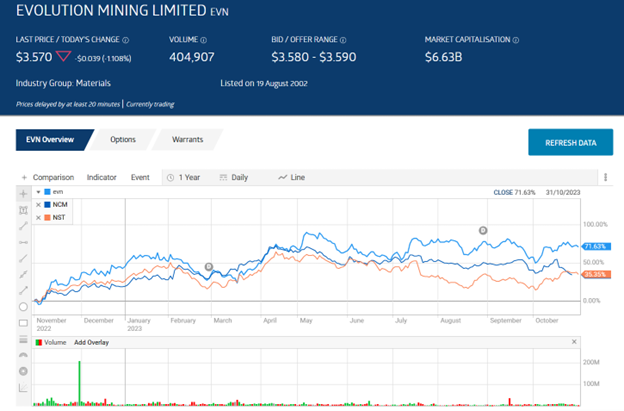 Source: ASX
Evolution has five wholly-owned operating gold mines – four in Australia and one in Canada. The company's financial performance is heavily impacted by the rise and fall in the price of gold, with a significant downturn in the gold price for much of 2022 and into early 2023.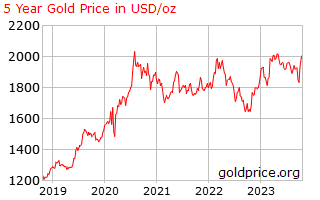 Source: goldprice.org
Evolution was hardest hit in FY 2023.
Evolution Mining Financial Performance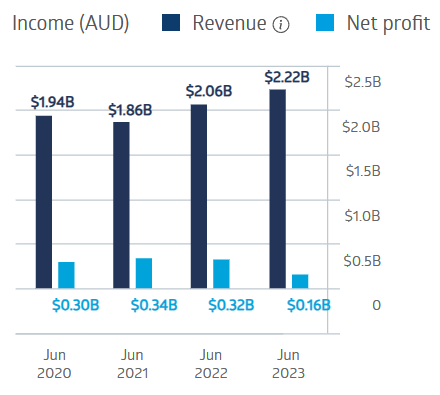 Source: ASX
The company's quarterly report for September showed Evolution maintaining prior guidance and reducing AISC (all-in sustaining cost) by 16%, along with positive drilling results at expansion development at three of the company's operating mines.
Evolution has been paying dividends for the last decade, with a five-year average payment of $0.10 per share and a yield of 2.46%.
An analyst at Fairmont Equities has a BUY recommendation on Evolution Mining, highlighting the company's "sustained fiscal year 2024 guidance of 770,000 ounces at an all-in sustaining cost of $1370 per ounce."
The World Bank outlook calls for geopolitical uncertainty to support gold prices through 2024.
Don't Buy Just Yet
You will want to see this before you make any decisions.
Before you decide which shares to add to your portfolio you might want to take a look at this special report we recently published.
Our experts picked out The 5 best ASX shares to buy in 2023.
We're giving away this valuable research for FREE.
Click below to secure your copy
Related Articles: