Mineral Resources began as a provider of mining services.
The company now offers its customers port-to-port mining and logistics services.
Mineral Resources now operates iron ore and lithium mines.
ASX lithium miners are all under pressure from the downturn in lithium prices. Mineral Resources is unique among them as the company also mines iron ore and provides a full range of mining services to other miners through its three subsidiary companies.
Mineral Resources is Australia's fifth largest iron ore producer, with three operating mines in Western Australia. The company has two lithium mines and an Energy division transitioning the powering of the company's mining assets from diesel fuel to natural gas.
The company has multiple exploration and development efforts underway, a key one being the Onslow Iron Ore Project. That site is forecast to produce 35 million tonnes of iron ore per year with a productive life of more than 30 years.
The share price is down 21.49% year to date.
Source: ASX
Full Year 2023 Financial results saw revenues increase by 40% over FY 2022 while net profit after tax fell by 30%.
Mineral Resources Financial Performance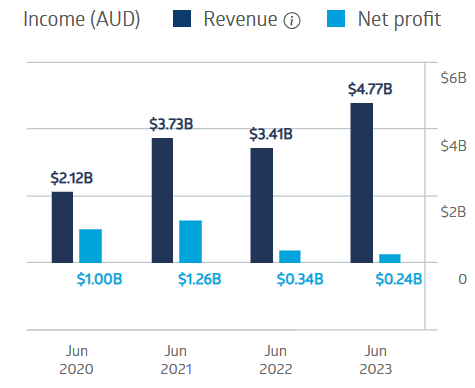 Source: ASX
The company's five-year average dividend payment is $1.36 per share, with a five-year average yield of 3.44%.
An analyst at Seneca Financial Solutions has a BUY recommendation on MIN shares, citing the share price dip in the mining sector as a chance for investors to own "this quality and well-managed company at a relatively attractive price."
Don't Buy Just Yet
You will want to see this before you make any decisions.
Before you decide which shares to add to your portfolio you might want to take a look at this special report we recently published.
Our experts picked out The 5 best ASX shares to buy in 2023.
We're giving away this valuable research for FREE.
Click below to secure your copy
Related Articles: