Allkem was formed through the merger of hard rock lithium producer Galaxy Resources and lithium from brine producer Orocobre.
The combined company operates a lithium hydroxide processing facility in Japan.
Lithium prices have been dropping, driving down the share price of AKE and other lithium miners.
On 10 May 2023, Australian stock market news outlets had another merger story to report concerning premier Australian lithium miner Allkem. The company is merging with lithium chemical products miner and manufacturer Livent.
FMC Lithium (renamed Livent Corporation) was a spin-off from US-based agricultural chemicals producer FMC Corporation. Livent processes lithium from brine deposits in Argentina.
The joint company will go by the name Arcadium Lithium. It will combine Livent's history of lithium processing technologies with Allkem's extensive resource base, with mines and projects in Australia, Canada, and South America.
The price of lithium fell below CNY (Chinese Yen) 165,000 per tonne – levels not seen since 2021. The Allkem share price has been in free fall for the last three months following a mid-year rally. Year over year, the share price is down 33.9%. Over the past three months, the price is down 35.5%, hitting a 52-week low — $9.11 – intraday on 1 November.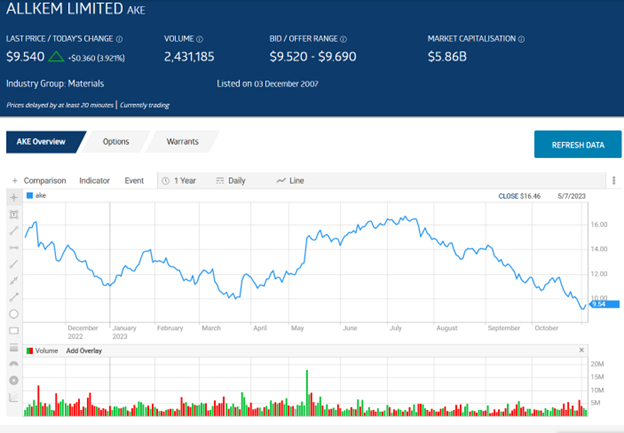 Source: ASX
The new low came as investors chose not to focus on substantial production increases and positive developments on project development and expansions in the company's September Quarterly Report but on Allkem management acknowledging the "drastic" decline in lithium prices.
Allkem had positive financial results in FY 2022 and 2023.
Allkem Limited Financial Performance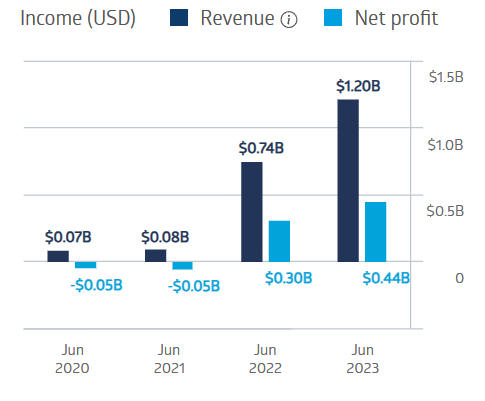 Source: ASX
An analyst at Sequoia Wealth Management has a BUY recommendation on Allkem, citing updates on the Livent Merger as a near-term catalyst for AKE.
Some Australian stock market news aggregator sites have AKE as a STRONG BUY.
Don't Buy Just Yet
You will want to see this before you make any decisions.
Before you decide which shares to add to your portfolio you might want to take a look at this special report we recently published.
Our experts picked out The 5 best ASX shares to buy in 2023.
We're giving away this valuable research for FREE.
Click below to secure your copy
Related Articles: