Brambles' "circular" business model resists economic downturns.
Brambles' customer base consists of predominantly "essential" businesses.
Brambles' management successfully adjusted to meet supply chain issues.
Brambles Ltd is a supply-chain logistics company operating in more than 60 countries with a unique "circular" business model. The company operates a container "share and reuse" model where customers use its wide variety of packaging containers and then pass them on via the Brambles' system to the next user. The company's flagship product is the CHEP pallet, supplemented by a variety of crates and containers.
Brambles has three operating divisions – CHEP Americas, CHEP EMEA (Europe, Middle East, and Africa), and CHEP Asia-Pacific.
The majority of the Brambles' customer base qualified as "essential" businesses during COVID-19 – food, groceries, healthcare products, and fast-moving consumer goods (FMG).
The company grew revenues and profit in each of the last four fiscal years, with minimal impact from COVID lockdowns and subsequent supply chain issues.
Brambles Financial Performance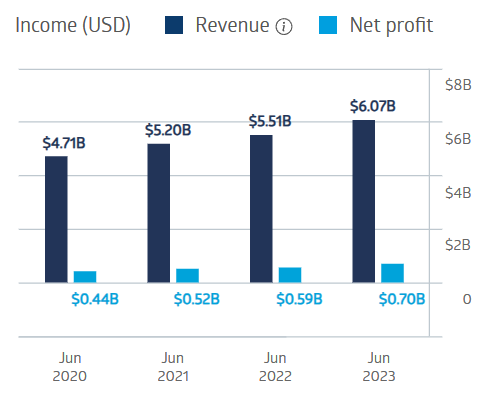 Source: ASX
Over ten years, the share price is up 57% and 22% year over year.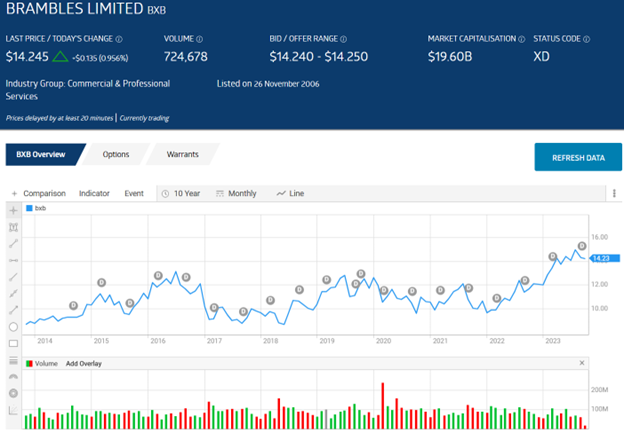 Source: ASX
Full Year 2023 financial results saw revenues up 14% and net profit up 19%, declaring a final dividend of $0.14 per share.
The results came despite challenges posed by supply chain disruptions. The first month of FY 2023 showed a continuation of some supply chain issues, but Brambles' management still forecasted revenue growth in FY 2024 between 6% and 8% and profit growth between 9% and 12%.
An analyst at Bell Potter Securities has a HOLD recommendation on Brambles' shares, questioning whether the company's "relatively resilient" revenue and earnings streams can continue to outperform.
Don't Buy Just Yet
You will want to see this before you make any decisions.
Before you decide which shares to add to your portfolio you might want to take a look at this special report we recently published.
Our experts picked out The 5 best ASX shares to buy in 2023.
We're giving away this valuable research for FREE.
Click below to secure your copy
Related Articles: