On 8th August the WTC share price hit an all-time high
On 23rd August the company's 2024 guidance released in its Full Year 2023 results disappointed investors
The share price fell 18.8% intraday
WiseTech Global (ASX: WTC) has been a market darling of the technology sector. The company's software logistics solutions serve a reported 44 of the top 50 logistics providers in the world. More than 17,000 customers use the company's products in over 170 countries.
Although WiseTech managed to continue to grow revenues during the COVID-induced disruptions in global supply chains, net profit fell in FY 2021 before rebounding in FY 2022 and 2023, exceeding pre-COVID profits in both years.
WiseTech Global Financial Performance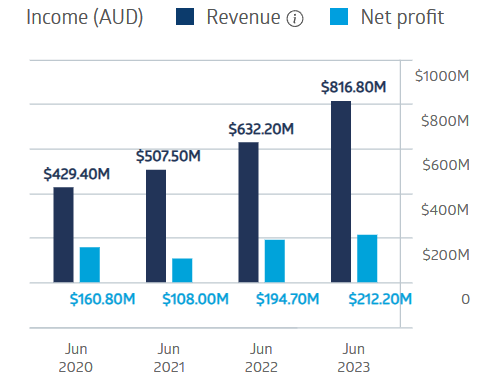 Source: ASX
FY 2023 financial results were strong, with revenues up 29%, statutory net profit after tax up 9%, and underlying net profit after tax up 30%. WiseTech began paying dividends in 2017, with 2023 dividend payments increasing 31%.
Revenue growth was driven by a 48% increase in the company's flagship software solutions platform, CargoWise. WiseTech increased its penetration in the US market.
The downside was the company's EBITDA guidance (earnings before interest taxes, depreciation and amortisation) coming in lower than the analyst consensus estimate.
The stock price plunged and is down 17.9% over the last three months.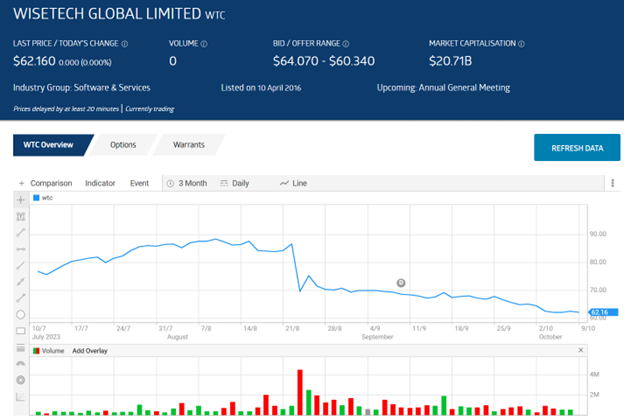 Source: ASX
An analyst at Bell Potter Securities has a BUY recommendation on WiseTech shares, pointing to a buying opportunity for investors following the recent sell-off.
Don't Buy Just Yet
You will want to see this before you make any decisions.
Before you decide which shares to add to your portfolio you might want to take a look at this special report we recently published.
Our experts picked out The 5 best ASX shares to buy in 2023.
We're giving away this valuable research for FREE.
Click below to secure your copy
Related Articles: