Telstra is on track with the T25 strategy, building on earlier T22 efforts.
Telstra's Full-Year 2023 Financial Results show growth in most operations.
The company's full-year dividend payment was up 3.0%.
Telstra is Australia's largest telecommunications provider, serving consumers, commercial enterprises, small to medium-sized businesses and government organisations. The company is known for its dividend performance, with consistent dividend payments over the last decade and as far back as 2000. The five-year average dividend payment is $0.12 per share and the average yield is 3.28%.
The company's financial performance over the last four fiscal years has seen ups and downs.
Telstra Group Financial Performance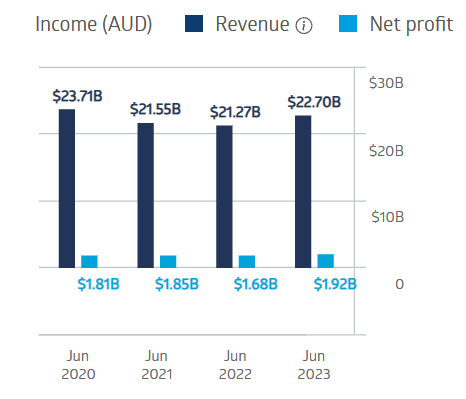 Source: ASX
Full-Year 2023 results saw revenues up 5.4%, with net profit after tax (NPAT) up 13.1%. All of the company's revenue streams showed growth, with the exception of Fixed Enterprise and Fixed Wholesale. International business led the way, up 84.2%. Mobile, the highest revenue generator with $4.6bn, was up 15.1%.
The company has moved beyond its previously announced T22 transformation strategy to T25, a continuation of improvements in customer service practices, product simplification and increased digitisation.
Investors were disappointed with the solid results, driving down the share price over the last three months by 12.56%.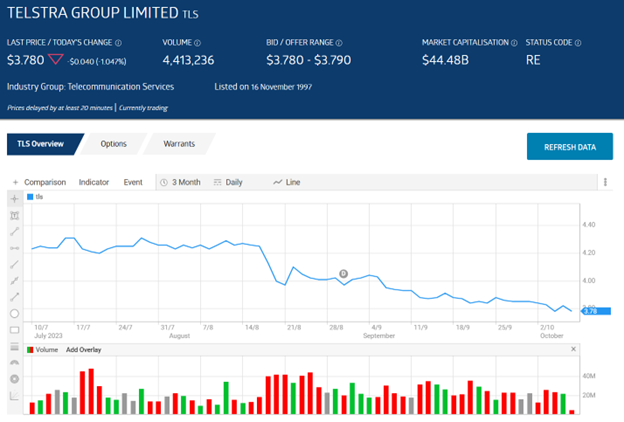 Source: ASX
An analyst at Morgans has a HOLD recommendation on Telstra shares, highlighting the company's "defensive qualities in volatile markets and during times of macroeconomic concerns".
Don't Buy Just Yet
You will want to see this before you make any decisions.
Before you decide which shares to add to your portfolio you might want to take a look at this special report we recently published.
Our experts picked out The 5 best ASX shares to buy in 2023.
We're giving away this valuable research for FREE.
Click below to secure your copy
Related Articles: