Global Lithium has resource estimates in place for its two lithium development projects.
A Definitive Feasibility Study on the flagship has begun, with drilling underway in both.
Over five years, the share price had risen 376.9%, wiped away in the face of falling lithium prices.
Global Lithium has two lithium assets in Western Australia, both wholly owned – the Manna Lithium Project and the Marble Bar Lithium Project.
Drilling is underway at both, with the mineral resource estimate growing – 18 million tonnes at Marble Bar and 36 million tonnes at Manna.
With a pre-feasibility study at Manna to be completed in Q4 of this year, the company has also embarked on a definitive feasibility study.
Global Lithium discovered the presence of rare earth elements adjacent to the Manna project.
Year over year, the share price is down 48.97%, intraday on 21 November.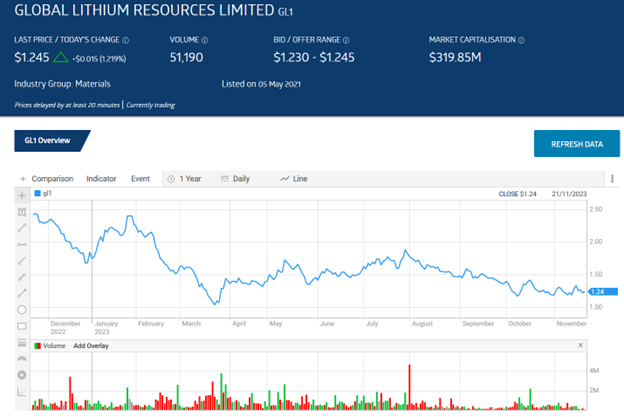 Source: ASX
An analyst at Argonaut has a BUY recommendation on Global Lithium, highlighting the current resource estimate, the possibility of further upgrades, and the 9.6% stake in the company by ASX-listed Mineral Resources (ASX: MIN).
Other analysts are bullish as well. Macquarie says Global Lithium "offers great near-term exploration upside".
Shaw and Partners were impressed with the drilling results at Manna.
The company's latest update on Manna came on 16 November, pointing to ongoing metallurgical test work as part of the definitive feasibility study. Native title mining agreements overall are advancing, as are approvals and funding.
Don't Buy Just Yet
You will want to see this before you make any decisions.
Before you decide which shares to add to your portfolio you might want to take a look at this special report we recently published.
Our experts picked out The 5 best ASX shares to buy in 2023.
We're giving away this valuable research for FREE.
Click below to secure your copy
Related Articles: