The Ramsay share price has steadily declined since hitting an all-time high in 2016.
The company operates multiple different medical treatment facilities.
Improving financial performance is contributing to bullish views on the stock.
The stock price of private hospital operator Ramsay Health Care (ASX: RHC) hit an all-time high of $82.06 AUD on 6/9/2016 and has been gradually sliding downward, reaching $57.37 AUD on 31/5/2023. Year over year, the stock price has fallen 26.45%.
COVID-19 savaged the company, as lucrative medical treatments were put on hold in favour of treating COVID-infected individuals. The company saw its profits fall from $540m AUD in FY 2019 to $280m AUD in FY 2020 before rebounding to $440m AUD in FY 2021, falling again to $270m AUD in FY 2022. Revenues increased in each of the last four fiscal years.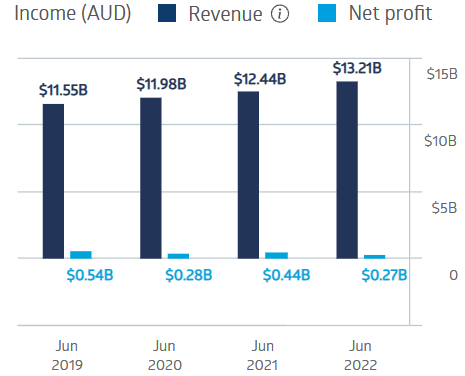 Source: ASX
Top Australian Brokers
Ramsay Health Care ASX: RHC (RHC)
Ramsay operates more than 460 treatment facilities in 10 countries, ranging from hospitals to diagnostic imaging centres, primary care and specialist centres, pharmacies, and in-home services.
Ramsay's Half Year 2023 results saw revenues up 13% and net profit after tax up 19.8%. The positive trend continued with a business update released on 3 May covering financial results to 31 March showed revenues up again by 10.9% and net profit up 19.9%.
Healthcare stocks were already set to benefit from the global ageing population and the rising middle class in emerging market economies, and experts are now telling us COVID has increased healthcare awareness.
Despite the poor share price performance, analysts are beginning to weigh in, promoting the stock as having an appealing entry point.
Healthcare analysts at Wilson's are forecasting CAGR (compound annual growth rate) for Ramsay of 36% between FY 2023 and FY 2025.
Related Articles