James Hardie Industries PLC ASX: JHX (JHX) is a defensive choice of stock.
James Hardie Industries sells its branded building materials across the globe.
The company's global reach and cross-market uses – for commercial and residential buildings – can provide investors with security.
James Hardie Industries PLC ASX: JHX (JHX) develop cement and wood fibres, both of which are instrumental in building construction.
The success of fibre cement locally and abroad has enabled James Hardie Industries to expand its footprint all over the world. These expansions have allowed James Hardie Industries to explore other applications of their materials, or variations on their products. By pursuing incremental development and cost minimisation, the company has demonstrated their investment in the future of the company.
Top Australian Brokers
James Hardie Industries ASX: JHX (JHX)
Keeping a lid on costs means that a greater proportion of the sales can be returned to shareholders. James Hardie Industries reported global sales of $3.8bn USD of sales through the year ended 31st of March 2023. This represents an increase of 4% from the same period in the prior year. Furthermore, profits after tax were higher by 12%.
James Hardie Industries has been buoyant on the market so far in the first quarter of FY 2024. Its profit is expected to end at around $145-165 USD, representing a 13-29% increase in profits in comparison to FY 2023.
Investors are optimistic about the prospects of James Hardie Industries; the company has shown sound growth on an internationally diversified sales platform, whilst also being a leader in the building materials sector.
Post-COVID inflation appeared to be a hurdle for buildings, but this hurdle seems to have been cleared for now. As a result, material suppliers are finding a healthy market for their products. Those able to keep a lid on costs – especially leaders and specialists in certain fields – are profiting handsomely.
James Hardie Industries represents decent value for the investor, even at a stock price. The stock retains its outperform recommendations with a number of analysts; it has an underlying growth profit anywhere up to 30%.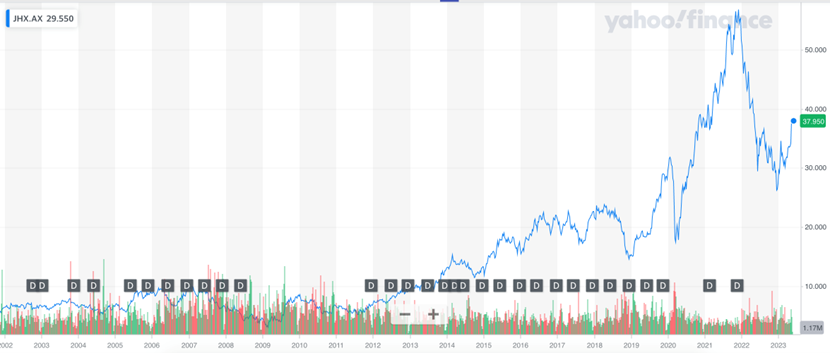 Source: Yahoo!Finance
Related Articles