Liontown Resources has seen a massive upside in its stock price since 2021, all without having produced a single ounce of lithium.
Bids for takeover, such as that which Liontown Resources have received, are often a positive sign of a company's value.
Liontown management is confident enough in the company's future to reject an attractive takeover offer.
In 2018, while the price of lithium was languishing, shares of Liontown Resources (ASX: LTR) could be bought for three pennies apiece. Five years later, the share price of this exclusively lithium mining company is up 10,367.69%.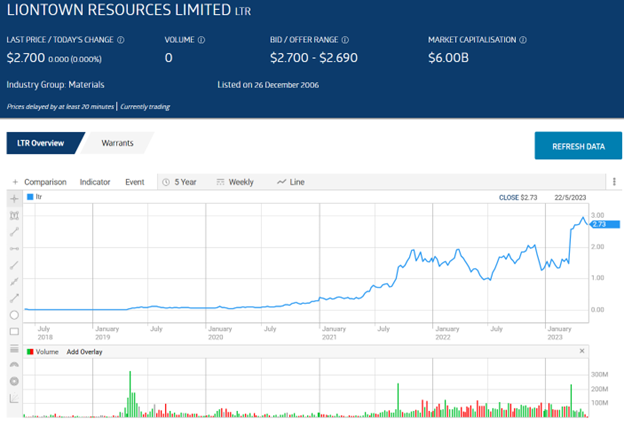 Source: ASX
Liontown Resources (LTR)
The price of lithium rebounded in 2021 but then fell 47% between mid-November 2022 and 17th March 2023. On 27th March, management for Liontown Resources announced a takeover offer from the world's biggest producer of refined lithium: US-based Albemarle Corporation (NYSE: ALB). The offer was valued at AUD $5.5 bn. Liontown Resources rejected the offer, claiming that it "undervalued" the company.
The company's rejection announcement made a strong case for its position, sending the stock price up almost 60%, alongside the rise in price of lithium.
A key flagship asset for Liontown Resources, at Kathleen Valley in Western Australia, is on track to begin production in 2024. On 16th February 2022, the company signed a five-year agreement with the world's largest electric vehicle manufacturer, US based Tesla, to supply 100,000 tonnes of lithium spodumene in 2024, followed by 150,000 tonnes for the remaining four years of the contract.
Lithium spodumene needs to be refined into lithium hydroxide for use in EV batteries. Liontown is considering adding refinery operations at Kathleen Valley.
Analysts are mixed on Liontown stock; one expects a 46% drop and another anticipates 21% more upside. Citigroup sees a new boom on the horizon, predicting that lithium prices could rise by as much as 40% by the end 2023.
The Australia-US Climate, Critical Minerals and Clean Energy Transformation Compact, signed by Prime Minister Albanese and President Biden, may lead to the US adding Australia as a domestic source of critical minerals. This agreement could lead to significant tailwinds for all ASX lithium stocks.
Related Articles