Karoon Energy now operates the Brazilian offshore oil fields in the Bauna field.
The company has two additional prospective fields in development – Patola and Neon.
Karoon recently completed an "intervention" program at Bauna, upgrading well-drilling equipment.
Karoon Energy has grown revenues substantially over the past four fiscal years, with net profit remaining inconsistent. FY 2023 was a banner year for the company.
Karoon Energy Financial Performance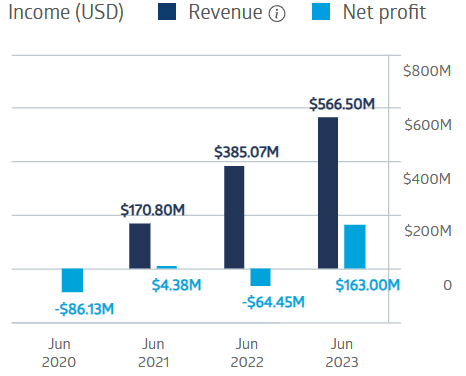 Source: ASX
The figures from the ASX website are statutory, not underlying operations only. In FY 2022, the company reported underlying net profit of $85.6 million, up 70% to $145.9 million in FY 2023.
Record production in FY 2023 continued into the first quarter of 2024. Karoon's September Quarterly Report saw production up 69% over the final quarter of 2023, along with revenues from oil sales up 66%.
Year over year, Karoon's stock price is essentially flat, moving in sync with the price of oil futures. The following chart compares the movement of KAR against the BetaShares Crude Oil Index ETF OOO.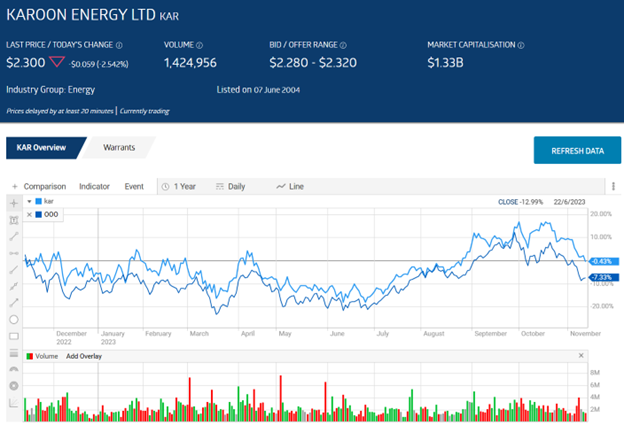 Source: ASX
The index does not directly track the spot price of oil but the futures contracts for West Texas Intermediate (WTI).
An analyst at Morgans has a BUY recommendation on Karoon Energy, citing the company's positive September Quarter Results, adding: "We're confident about KAR's positive trajectory in the energy sector."
Don't Buy Just Yet
You will want to see this before you make any decisions.
Before you decide which shares to add to your portfolio you might want to take a look at this special report we recently published.
Our experts picked out The 5 best ASX shares to buy in 2023.
We're giving away this valuable research for FREE.
Click below to secure your copy
Related Articles: