Metals explorer Alderan Resources listed on the ASX in 2017
The company closed its first day of trading at $0.47 per share
Within months the share price hit an all-time high of $2.18
Alderan Resources joined the ASX with four prospective copper/gold assets in Utah in the US, with the flagship at the Frisco Project.
Alderan delighted investors with an early announcement of a drilling program at Frisco, followed within a month by the news the company was expanding the project.
Positive drilling news at Frisco and other projects led to an ASX speeding ticket on 26th June, with a later ticket questioning Alderan's ability to continue given its cash flow burn, starting the company's plunge into sub-penny status.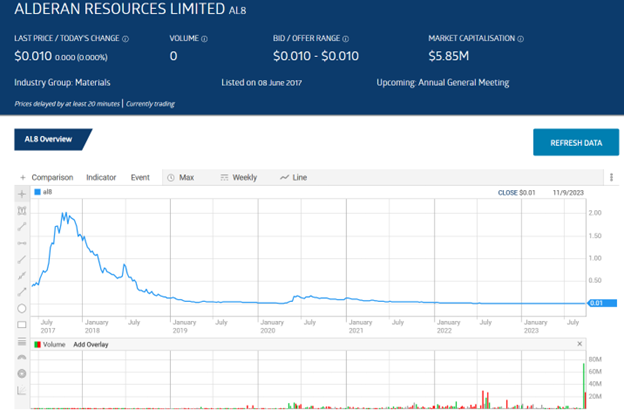 Source: ASX
On 4th June this year, investors were disappointed at the news on the ASX website that a US subsidiary of Rio Tinto (ASX: RIO) was exiting a previous options agreement with Alderan for the exploration of the company's Frisco Project.
On 14th September, euphoria returned as Alderan management announced via the ASX a significant move into Brazil's lithium triangle by acquiring 100% ownership of seven assets from privately held Parabolic Lithium.
The seven project areas include 24 granted exploration licenses in the region prospective for spodumene deposits. The news sent the share price back into penny status.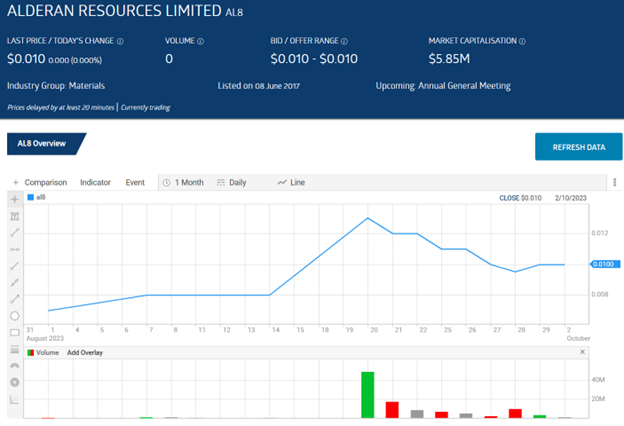 Source: ASX
An analyst at Peak Asset Management has a BUY recommendation on Alderan based on the scope of the project area and the confirmed presence of spodumene. According to the analyst, post-acquisition, Alderan will become "one of the biggest landholders in the highly prospective region."
Don't Buy Just Yet
You will want to see this before you make any decisions.
Before you decide which shares to add to your portfolio you might want to take a look at this special report we recently published.
Our experts picked out The 5 best ASX shares to buy in 2023.
We're giving away this valuable research for FREE.
Click below to secure your copy
Related Articles: