ASX-listed mining companies Allkem Limited (ASX: AKE) and Rio Tinto (ASX: RIO) have lithium projects underway in the James Bay Region of Quebec, Canada.
James Bay Minerals raised six million dollars in its recent IPO (initial public offering).
The company's share price shot up from its opening price of $0.20 per share to $0.52 per share in two days.
James Bay Minerals has substantial interests in major lithium projects in a highly prospective area of Quebec, Canada. The company's La Grande lithium project is directly adjacent to a lithium discovery from ASX-listed Patriot Battery Minerals (ASX: PMT). A second asset – the Troilus Project – borders a lithium deposit held by ASX-listed Sayona Mining (ASX: SYA). Both the Patriot and the Sayona projects have defined mineral resource estimates – 109.2 Mt (million tonnes) at Patriot's asset and 51.4 Mt at the Sayona asset.
Allkem Limited is developing the James Bay Lithium Project, while Rio Tinto has an option agreement with Canadian lithium miner Midland Exploration. Rio is now commencing lithium exploration on Midland projects in James Bay.
James Bay Minerals has a 100% interest in a major exploration portfolio, the LaGrande Project, comprising three properties covering an area of 22,438 hectares.
The share price has cooled since listing on 11 September, but it is still up 30% in little more than two weeks.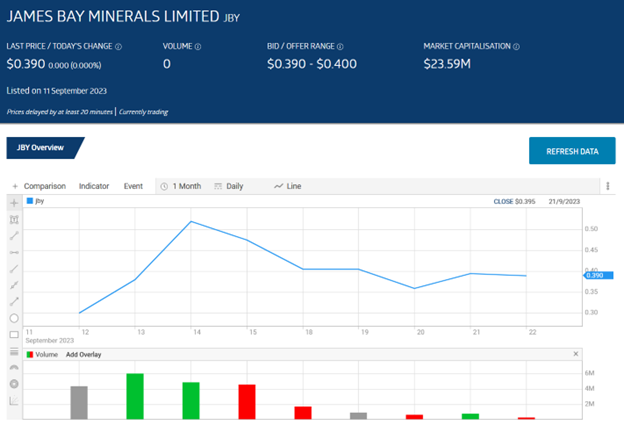 Source: ASX
On 18 September, one week after listing on the ASX, James Bay Minerals announced its first exploration program at one of the LaGrande properties.
An analyst at Seneca Financial Solutions has a BUY recommendation on JBY shares for "higher risk investors", citing the scope of the company's holdings and the expertise of its management team.
Don't Buy Just Yet
You will want to see this before you make any decisions.
Before you decide which shares to add to your portfolio you might want to take a look at this special report we recently published.
Our experts picked out The 5 best ASX shares to buy in 2023.
We're giving away this valuable research for FREE.
Click below to secure your copy
Related Articles: