Chalice Mining changed its focus from gold to battery minerals – nickel, copper, and platinum group elements.
In 2020, the company excited investors with the discovery of the Gonneville deposit in Western Australia.
In early 2020, gold miner Chalice Mining (ASX: CHN) caught fire on a gold strike at the company's Pyramid Hill Gold Project in Victoria.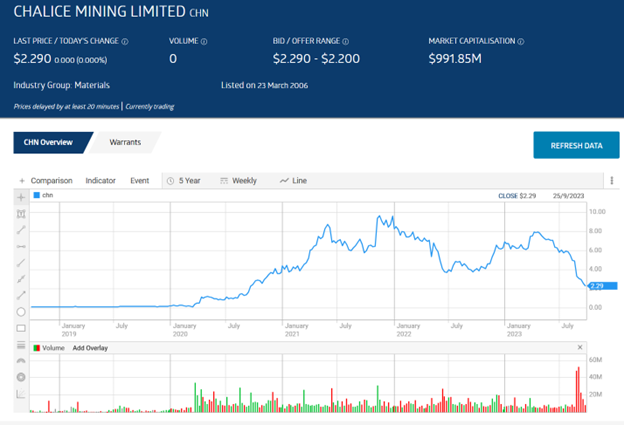 Source: ASX
In 2021, the company spun off most of its gold assets into a new company, Falcon Metals. It was done to focus on a new asset – the Julimar Nickel/Copper/Platinum Group Elements Project in Western Australia. The company quickly announced strong drilling results at the Gonneville Deposit within Julimar.
A long series of positive announcements on drilling results, resource estimates, the commencement of a scoping study, and successful capital raises held investor interest as the stock price rose with some volatility. Over five years, the VEA share price went up 1,377%.
On 29 August 2023, the results of the Scoping Study were released to eagerly waiting investors, replete with graph upon graph, listing of the stellar contributors to the study, mine life and production estimates, infrastructure requirements, and development costs.
At the very end of the report came the news that sent the Chalice share price crashing – the schedule. The company projects a final investment decision in 2026, with production commencing in 2029.
The time to production was not the only disappointment. Analysts questioned the optimistic commodity pricing assumptions in the study and the issues Chalice could face developing a mining operation in close proximity to the Perth Area.
While the Gonneville deposit at Julimar turned Chalice into a market darling, disappointed investors should consider the company's exploration portfolio, which includes six other nickel/copper/platinum group elements (PGE) assets.
An analyst at Seneca Financial Solutions has a SELL recommendation on Viva, citing the scoping study.
Don't Buy Just Yet
You will want to see this before you make any decisions.
Before you decide which shares to add to your portfolio you might want to take a look at this special report we recently published.
Our experts picked out The 5 best ASX shares to buy in 2023.
We're giving away this valuable research for FREE.
Click below to secure your copy
Related Articles: