A 2019 acquisition moved Worley Parsons into a transformational beginning.
The new Worley Limited aims to reduce its operations in the traditional oil and gas sectors.
The backlog in the sustainable solutions sectors is growing.
In April 2019, engineering consulting, technology, and construction management firm Worley Parsons changed its name to Worley. The change followed the acquisition of the energy, resources, and chemicals business of the US-based Jacobs Engineering Group.
Worley management hailed the move as enhancing its presence in energy, resources, and chemicals to guide the company and its customers through the "global energy transition."
Worley was quick to act, announcing on 28 October 2019 the £20m acquisition of UK renewable energy firm 3sun Group, an offshore wind power developer.
On 9 December, the company announced an engineering contracting agreement with Sasol South Africa for work on its Synfuels facility.
On the same day, Worley announced a joint venture agreement with Uzbekistan's Atomic Energy Development Agency for engineering services on that country's nuclear power infrastructure and facilities.
In its Full Year 2023 Financial Results release, Worley reported a backlog approaching $1.8bn in projects in Carbon Capture Utilisation and Storage (CCUS), low carbon hydrogen, battery minerals, copper, networks and energy storage, water, and low carbon fuels.
Year over year, the share price is up 15.2%.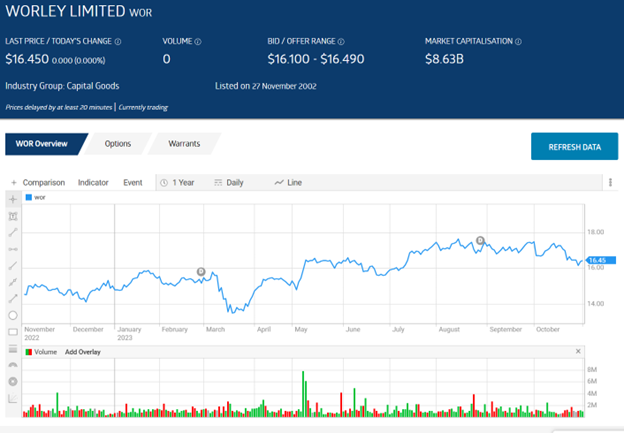 Source: ASX
An analyst at Baker Young has a HOLD recommendation on Worley shares, stating the "company's steady progress in growing renewable energy and low carbon industries underpin the longer-term outlook."
Don't Buy Just Yet
You will want to see this before you make any decisions.
Before you decide which shares to add to your portfolio you might want to take a look at this special report we recently published.
Our experts picked out The 5 best ASX shares to buy in 2023.
We're giving away this valuable research for FREE.
Click below to secure your copy
Related Articles: