JB HiFi has bounced on and off the Top Ten Shorted Stocks on the ASX for more than a decade
Higher interest rates are weighing on consumer spending
Full Year 2023 Financial Results saw a 4.3% revenue increase., and a 3.7% profit decline
More than a decade ago, online and brick-and-mortar retailer JB HiFi aroused the interest of the short-selling community as offshore online sellers threatened the company's position as a low-cost retailer.
JB HiFi adjusted its outlet and product mix, chasing the sellers away. It seems they return whenever there is a hint of softness in Aussie consumer spending.
JB HiFi is now sixth on the Top Ten list. The company has increased revenue in each of the last four fiscal years, increasing profit until inflation and high-interest rates cut into consumer spending in FY 2023.
JB HiFi Financial Performance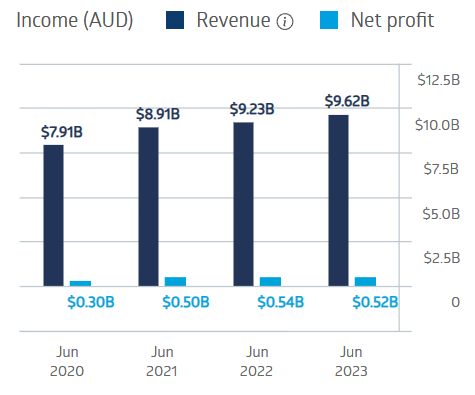 Source: ASX
The company sells consumer electronics and appliances. Over ten years, the stock price has risen from $19.70 to $45.09 on 28 August, rewarding its shareholders with dividend payments every year.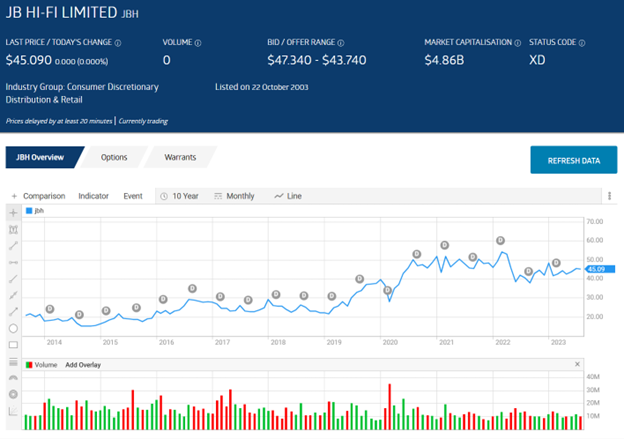 Source: ASX
The company's track record shows it can withstand headwinds. The high short interest presents an opportunity for existing shareholders to hold their shares and risk-tolerant investors to buy on any dips.
Short sellers bet a company's shares will fall. The shorts "borrow" shares of the stock at market, with the funds deposited in their trading accounts. When the stock price falls, the shorts buy the shares at the lower price, pocketing the difference as profit.
The risk can lead to a "Short Squeeze" as panicked shorts rush to buy the shares to cover their bet as the price goes up instead of down.
An analyst at Alto Capital recommends investors SELL JBH to lock in profits in the event consumer spending continues to fall.
Don't Buy Just Yet
You will want to see this before you make any decisions.
Before you decide which shares to add to your portfolio you might want to take a look at this special report we recently published.
Our experts picked out The 5 best ASX shares to buy in 2023.
We're giving away this valuable research for FREE.
Click below to secure your copy
Related Articles