Company's share price has shown high volatility since listing on 21 June 2016
In the past year, DroneShield announced multiple new contract signings
DroneShield continues to develop new hardware and software systems
Historically, many technological advances have had both positive and negative applications. Unmanned aerial vehicles are creeping into delivery systems, benefitting businesses needing topographical mapping, such as the mining sector.
Increasingly, the world's defence and government sectors are becoming alarmed at the harmful use of drones, paving the way for a high-tech firm like DroneShield to prosper.
The company has seven hardware and software systems, some designed for both "detect and defeat" and some for detection and monitoring. The systems range from handheld to surface mountable platforms, suitable for use from vehicles and ships.
DroneShield operates in Australia and the US, serving the Military, Government, Law Enforcement, Critical Infrastructure, and Commercial sectors globally.
Since listing in 2016, the share price has climbed from $0.23 to $0.30 per share, with significant volatility allowing ample opportunity to buy on the dips.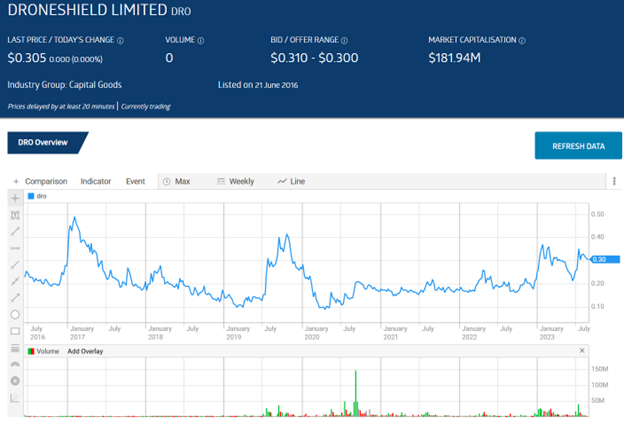 Source: ASX
Company announcements of new contracts typically spark the stock price, as did a 17 July announcement of a $33 million dollar contract with a US government agency. The stock price shot up 32% intraday.
In a recent investor presentation, management pointed to its $60 million dollars in awarded contracts in progress and a sales pipeline of $200 million, representing 80 different projects.
The company has yet to turn in a profit, but between FY 2021 and FY 2022, the loss decreased by 82% while revenues rose 59%.
DroneShield Financial Performance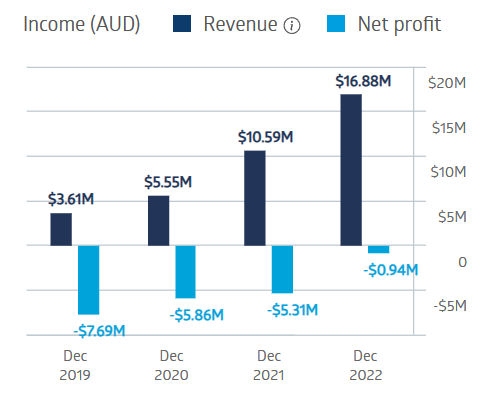 An analyst at Red Leaf Securities has a HOLD recommendation on DroneShield shares, citing the $33 million dollar contract as an example of the company's prowess at attracting new business.
Don't Buy Just Yet
You will want to see this before you make any decisions.
Before you decide which shares to add to your portfolio you might want to take a look at this special report we recently published.
Our experts picked out The 5 best ASX shares to buy in 2023.
We're giving away this valuable research for FREE.
Click below to secure your copy
Related Articles