Macmahon Holdings offers its clients services from mine development and planning to materials delivery
The company serves miners of multiple commodities throughout Australia and Southeast Asia
Macmahon has been in business for 60 years
Macmahon has a surface mining division providing mine planning, blasting, crushing, and equipment maintenance. The company also operates an underground mining division and a mining support and civil infrastructure division.
The stock price was boosted on 29 June when the company announced an upward revision of its prior Full Year 2023 guidance. Over the past three months, the shares are up 28%.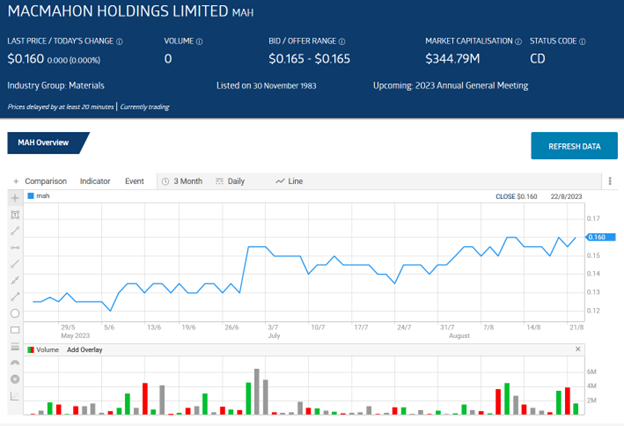 Source: ASX 
The Full Year 2023 Financial Results released on 22 August showed a 12% revenue increase: a 7% increase in underlying net profit, and a 110% increase in statutory net profit, with FY 2023's $57.7 million dollars beating 2022's $27.4 million.
On 1 July, the company began a seven-year, $1.1 billion revenue contract with Talison Lithium at the Greenbrushes Lithium Project, expanding Macmahon's commodities portfolio.
Macmahon Holdings Financial Performance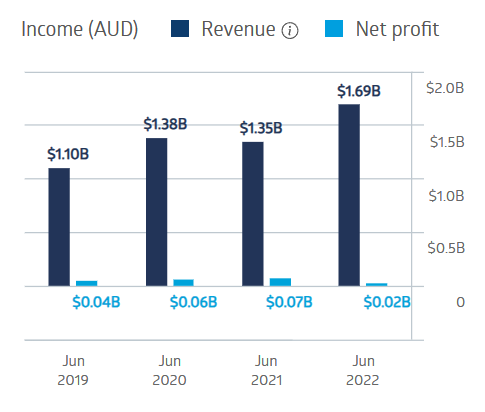 Source: ASX
Bargain hunters should take note of the company's valuation. On every measure, Macmahon beats the index average.
The Price to Earnings Ratio (P/E) of 7.11 tops the index average of 13.84.
The Price to Sales Ratio (P/S) of 0.18 crushes the index average of 2.26.
The Price to Book Ratio (P/B) of 0.60 tops the index average of 2.11.
At a share price of $0.15 per share, one analysis suggests MAH shares were trading at up to 30% below their intrinsic value.
An analyst at Trade The Structure has a BUY recommendation on Macmahon shares, citing the updated guidance and new projects on the company's order book.
Don't Buy Just Yet
You will want to see this before you make any decisions.
Before you decide which shares to add to your portfolio you might want to take a look at this special report we recently published.
Our experts picked out The 5 best ASX shares to buy in 2023.
We're giving away this valuable research for FREE.
Click below to secure your copy
Related Articles