Kogan.com ranks in the top ten of Australian online retailers
COVID-related lockdowns pushed the share price to all-time highs
The company failed to anticipate consumers returning to brick-and-mortar stores as lockdowns ended
Kogan.com listed on the ASX in 2016, achieving market darling status in the eyes of Aussie investors. The shares hit an all-time high in October 2020.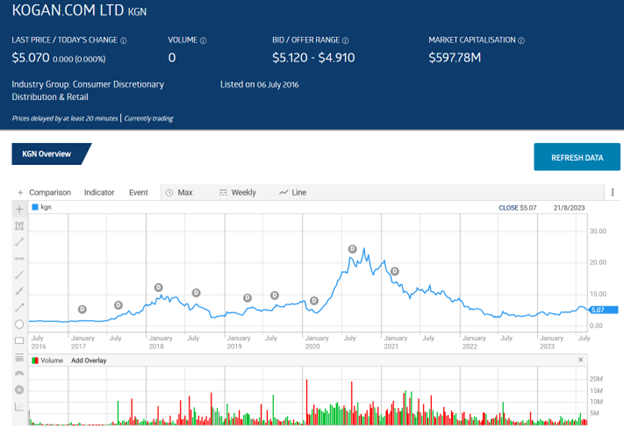 Source: ASX
Although known for its massive array of private-label and third-party goods of all kinds, Kogan operates in multiple other areas, including insurance, travel, and mobile phone plans.
The COVID-19 pandemic sent stay-at-home consumers flocking to the Kogan website. In the expectation the boom would continue once the lockdowns ended, company management went on a buying spree of its own, loading up on inventory. The mistake was costly as consumers were eager to escape their homes, and the share price suffered as a result.
On 27 February, the company issued a market update, announcing its inventory position was "largely" resolved, and Kogan's "return to profitability was on track. Investors were unimpressed, sending the stock price into a decline accelerated by the Full Year 2023 Financial Results, announced on 22 August, with the stock price dropping from $571 at the opening of trade to $5.07 at the close.
Although Kogan management claimed the second half of the year was profitable, the full-year results showed declines across the board. Investors ignored that the posted profit loss of $25.9 million dollars was an improvement over FY 2022.
Kogan.com Financial Performance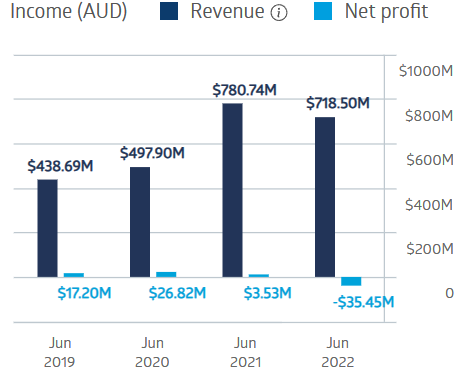 There were other positives buried in the report, including a decrease in the cost of doing business and the progress of the company's transition to more of a platform-based enterprise, with no inventory required and lower costs. The platform businesses include the Kogan Marketplace sellers and Kogan verticals (insurance, travel, mobile phone plans.)
An analyst at Trade The Structure has a SELL recommendation  on Kogan shares, citing potential downward share price pressures should consumer spending decline.

Don't Buy Just Yet
You will want to see this before you make any decisions.
Before you decide which shares to add to your portfolio you might want to take a look at this special report we recently published.
Our experts picked out The 5 best ASX shares to buy in 2023.
We're giving away this valuable research for FREE.
Click below to secure your copy
Related Articles