James Hardie Industries makes an array of fibre-cement-based building products
The company's primary target is residential construction, but it also serves commercial construction customers
James Hardie Industries is the largest producer of fibre-cement backer board and siding in the world
James Hardie's global markets stretch from Australia, New Zealand, and the Philippines to Europe and North America. The company's primary revenue source is North America, generating close to 80% of its revenue.
JHX stock is not defensive, as residential and commercial construction can suffer during economic slowdowns – actual or anticipated.
The share price has risen from around $10 per share in late August of 2013 to the current price of $45.20.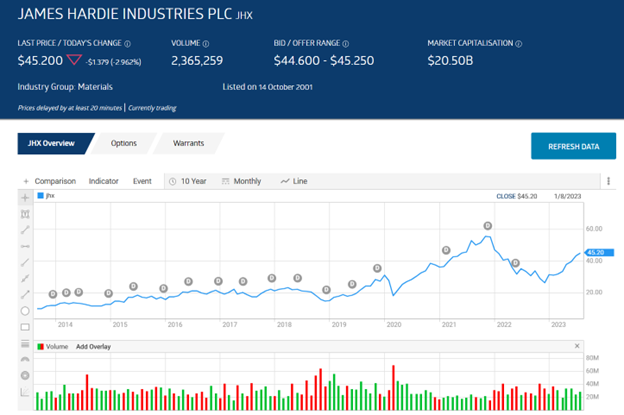 The calendar year 2022 was not kind to global stock markets, as inflation, rising interest rates, and fears of global recession dampened investor enthusiasm. While those issues remain in play, recessionary fears have faded somewhat while inflation in North America softened. Year to date, JHX shares are up 71.2%.
The company's year-end financial results were posted in March, but the FY 2021 results were impacted by the continuing COVID-19 pandemic. James Hardie remained profitable, with increasing revenue in each of the last four fiscal years.
James Hardie Industries Financial Performance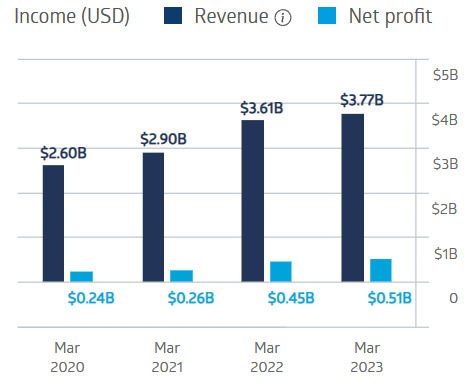 Source: ASX
On 17 May, the company announced Full Year 2023 Financial Results as well as fourth-quarter results. For the full year, global net sales set a record at $3.8 billion dollars, up 4%. Sales in the key North American market rose 9%. Fourth Quarter sales dropped 5%.
On 8 August, the company released financial results for the first quarter of FY 2024, with global net sales again dropping 5%, but adjusted net income rose 13%. James Hardie's management also cautioned on "uncertain" global conditions, with an anticipated 5% decline in North America.
An analyst at Fat Prophets has a BUY recommendation on JHX, speculating on possible interest rate cuts spurring housing activity in the US.
Don't Buy Just Yet
You will want to see this before you make any decisions.
Before you decide which shares to add to your portfolio you might want to take a look at this special report we recently published.
Our experts picked out The 5 best ASX shares to buy in 2023.
We're giving away this valuable research for FREE.
Click below to secure your copy
Related articles