After a solid financial performance during the onset of COVID, the ResMed share price began a modest decline.
ResMed has opened a new revenue stream, expanding into digital health software.
The company operates in a market with substantial growth prospects due to an ageing population, obesity, and the number of undiagnosed sleep apnea patients.
ResMed Is a respiratory care business, making a full line of CPAP (continuous positive airway pressure) devices for alleviating sleep apnea. The firm also makes related accessories along with ventilation equipment. The company is aggressively expanding into the digital health space, operating as a SaaS (software as a service model), allowing healthcare providers to monitor patients digitally.
Top Australian Brokers
ResMed ASX: RMD (RMD)
The company offers five software platforms for healthcare workers to streamline various processes involved in using their devices. This is a significant growth area for the company, currently generating 12% of total revenue. Between the third quarter of FY 2021 and the third quarter of FY 2023, SaaS revenues rose 45.8%.
Global market share for sleep apnea devices is expected to grow at a CAGR of 6.2% through 2023. However, this estimate is suspect since sleep apnea (Obstructive Sleep Disorder (OSA) is a largely undiagnosed condition.
Growth will also be fuelled by the ageing population and increasing obesity in some countries. In addition, a ResMed competitor has a product recall. By some estimates, ResMed already has 55% of the OSA market.
Unlike many other healthcare companies, the COVID-19 pandemic boosted the company's ventilation business and stock price.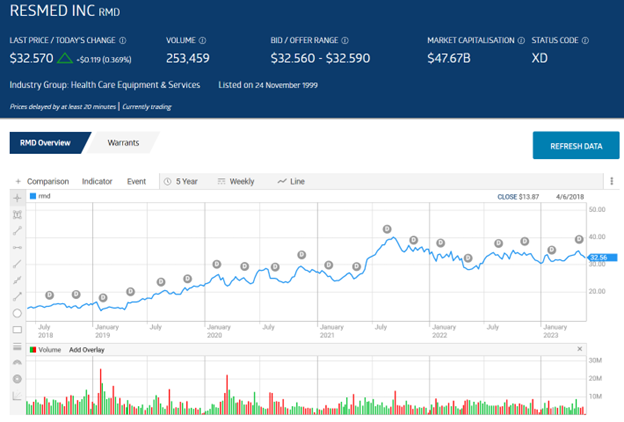 Source: ASX
Over five years, the share price is up 141.05%.  The company's financial performance improved in the early days of the pandemic before slipping slightly and then roaring back in FY2022.
ResMed Financial Performance
Related Articles