Red Metals is a junior minerals explorer with assets that span multiple commodities.
The ninety-day average trading volume of 357,648 shares per day shot up into the millions after the announcement of a new discovery of Rare Earth Oxides.
The share price went up from $0.11 per share to $0.12 per share following this same announcement.
Red Metal has five exploration projects underway throughout Australia, in various stages of development. Commodities include copper, copper-gold, copper-nickel, and silver-lead zinc deposits. They now have a sixth project – Sybella – which has added Rare Earths to its exploration portfolio. The company has sixteen granted exploration tenements, with sole ownership in fourteen of those.
Sybella is a new project; Red Metal completed proof of concept drilling of 19 holes following inhouse research that identified a "unique" rare earth oxide deposit in granite. The initial announcement on 31st July was followed by the release of positive assay results from the drilling.
The company claims that the discovery is the first of its kind globally and that there is a large potential of Rare Earths, made accessible by the granite extractable that has a "weak acid solution".
Year-to-date, the RDM share price is up 31.25%, driven by investor reaction to the Sybella news.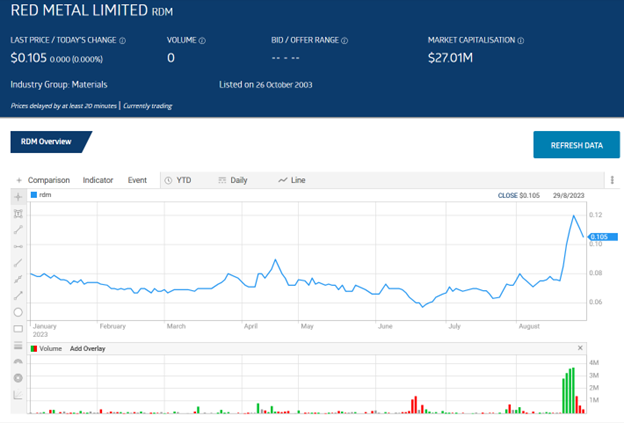 Source: ASX 
The massive increase in trading volume faded somewhat within a day.  As of the most recent quarter (MRQ), Red Metal had $11.25m dollars in total cash and $625.33 thousand in total debt.
An analyst at Alto Capital has a speculative BUY recommendation on RDM shares, based on the company's exploration success at Sybella.
Don't Buy Just Yet
You will want to see this before you make any decisions.
Before you decide which shares to add to your portfolio you might want to take a look at this special report we recently published.
Our experts picked out The 5 best ASX shares to buy in 2023.
We're giving away this valuable research for FREE.
Click below to secure your copy
Related Articles