Nuclear Energy is back on the hunt for solutions to increasing carbon emissions.
A 2020 report by The International Atomic Energy Agency (IAEA) suggested Nuclear Energy capacity could double by 2050.
After the Japanese Fukushima nuclear disaster in 2011, there was a declining interest in nuclear energy. In the midst of this disaster, Australian uranium producer Paladin Energy shuttered its flagship operation in Namibia: the Langer Heinrich Mine.
With nuclear energy gaining supporters around the world, Paladin is reopening the Langer Heinrich Mine, as well as restarting exploration and development activities on the company's other uranium assets in Canada and Australia.
By 1st August of 2022, Reuters was reporting that Paladin had raised close to AUD$400m in capital raises to fund its start-back operations. In addition to Langer Heinrich, Paladin has a 75% interest in the Michelin Project in Canada and wholly owns the Mt Isa and Manyingee Projects in Australia.
In an August presentation at the Diggers and Dealers Mining Forum, Paladin management reported that the fully funded Langer Heinrich Project was 65% complete. A return to production is anticipated in the first quarter of 2024. In addition, the company has reached offtake agreements with "leading global counterparties". The company has USD$126m in available cash.
Paladin is bullish on the future of nuclear energy, which could be due to rare support from both political parties in the US, tax credits for clean energy in the US Inflation Reduction Act, and the push towards small modular nuclear reactors around the world.
An analyst at Red Leaf Securities has a BUY recommendation on Paladin shares, citing nuclear energy's return to favour here in Australia.
Over five years, the PDN share price is up 326.6%.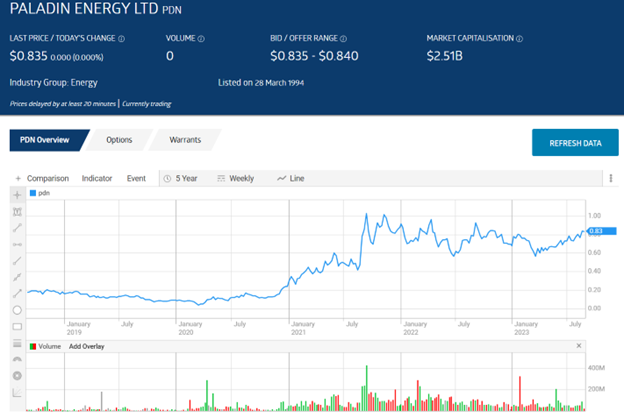 Source: ASX
Don't Buy Just Yet
You will want to see this before you make any decisions.
Before you decide which shares to add to your portfolio you might want to take a look at this special report we recently published.
Our experts picked out The 5 best ASX shares to buy in 2023.
We're giving away this valuable research for FREE.
Click below to secure your copy
Related Articles